US international Timmy Chandler had his season come to an abrupt and unfortunate end just as he seemed to be putting it all together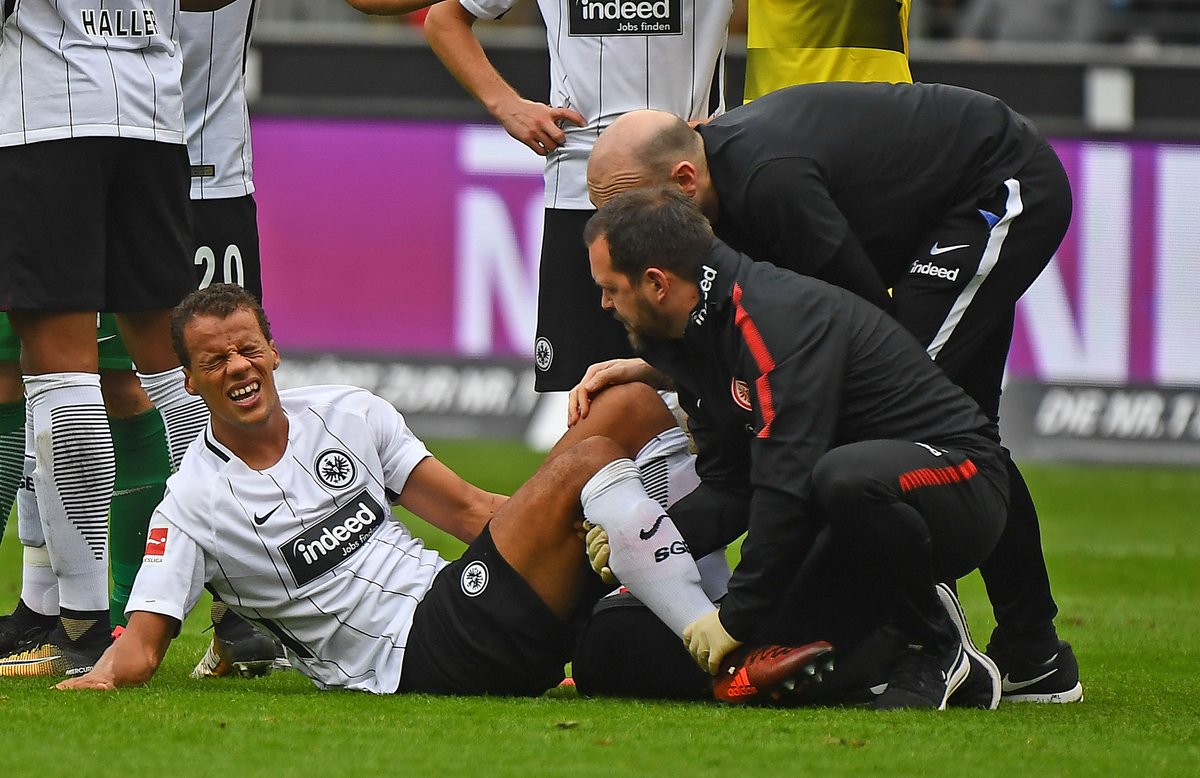 On Bundesliga matchday 9, Eintracht Frankfurt played brilliantly to draw Borussia Dortmund 2-2 at home. However, followers of the US men's team should know that Timmy Chandler blew out his knee when running off the ball in the 37th minute. Until further notice, Chandler's season is done.
It's a pity because during these last, say, 14 months, Chandler had been playing arguably the best football of his career. (One odd piece of supporting evidence: take a look at Chandler's estimated market value chart. See that recent spike? Yup.) In the aftermath of the US failing to qualify for the 2018 World Cup chances are high you'd completely forgotten about the curly-haired fullback toiling away on the right flank.
Your forgetfulness is understandable. Chandler's most recent appearance with the US was during the January 2017 0-0 friendly against Serbia in San Diego. Previously, he collected only 55 minutes of playing time in US World Cup qualifiers—back in November 2016. Prior to that? Nothing in World Cup qualifying. At least he was at the 2014 World Cup.  
In recent times, Chandler has become the "Forgotten One" for the US. Unfortunately, Chandler's past 2-3 seasons have been punctuated by injuries. For example, he was on the WC qualifying roster in May 2017, but had to withdraw because of a hamstring injury. Back in 2016, Chandler had another hamstring injury that knocked him out of the 2016 Gold Cup. And so on.
As Chandler has battled injuries, while trying to develop into a top-shelf Bundesliga fullback, one narrative has tarred him with an "un-American" brush, as if he was looking for an out from US duties. However, Chandler himself publicly discredited this. The other narrative is that Chandler, while succeeding in the Bundesliga at Eintracht Frankfurt and previously at 1.FC Nürnberg, has underwhelmed with baffling performances in a US shirt. But here you can counter that Chandler has sometimes been played horribly out of position (left back in a back four?) or that, because of the injuries, has missed key opportunities to train and play with his US teammates for extended periods—e.g. during the 2016 Gold Cup.
All of which bring us to the past 14 months.
Please don't tell me that the US, which failed to qualify for the 2018 World Cup (be numbed thou, my weeping heart), was better off without with Chandler, who until two weeks ago, had been healthy and playing the best football of his career along Eintracht's right flank.
Chandler consistently played at a high level during the 2016-17 Bundesliga season, as he finished with one of the Bundesliga's top rates for crossing efficiency and passing entering the opponent's box. As was becoming clear last season, Chandler has been solidified his role as an attacking threat as a full-blown "modern fullback"—i.e. deep overlapping runs, becoming a passing outlet in the attacking corner, passing work into the box, elite throw-in and corner-taking skills.
Chandler's mature skillset was on full display during the 37 minutes he started against BVB before blowing his knee out. I'll illustrate with three scenes involving Chandler from the match.
First, Timmy Chandler launched a throw-in so far it would make Tony Pulis smile. The ball looped high, covering half the pitch it seemed, landing somewhere past the center circle. A teammate received the ball, dribbled into wide space, re-launching the attack. A single throw-in launched a promising attacking opportunity. In the words of the Men in Blazers, Chandler did it "quarterback-style."
Second, spoiler alert: this scene isn't glamorous. But it's important. Eintracht had just lost the ball close to the sidelines when attacking. Chandler and a teammate mugged the BVB player with the ball; Chandler recovered it, then played a difficult pass (while almost falling over) to said teammate. The Eintracht attack was renewed. Again.
Third, Chandler overlapped his run (as usual) along the sideline with an Eintracht attacking midfielder in the final third. Chandler received the pass, then sent in a cross, which deflected off a defender's shoulder. Out of bounds. Eintracht ball. Still. Chandler took the corner. The attack was renewed. Possession retained.
As fullback, Chandler has become invaluable for his ability to, not only extend attacks, but also to renew an attack after a turnover or dead ball situation. Furthermore, as sides like Eintracht switch to a three-man backline, "modern fullbacks" are freer to do their "bombing up the pitch," as we say. This freedom has benefitted Chandler, who's been able to showcase his attacking directness and skills more so now than ever before in his career. For example, Chandler's passing volume (34 per match) occurred further up the pitch in 2016-16 than in previous seasons. Moreover, Chandler's seasonal heatmap has shifted further up the right flank as well, again indicating an increased attacking role for Chandler.
Chandler augments his higher positioning with his elite throw-in skills (Instat Football ranks him as one of the world's best in this category), excellent crossing delivery, and eye for a couple key passes per match. To these specific skills, Chandler adds his above-average pressing abilities for winning the ball back after turnovers. Plus, physically, Chandler wins around 54% of his challenges.
What I'm trying to say is that, if he was given the modern fullback assignment with the US, Chandler would have been an extremely useful player, especially since he had been healthy these past 15 months. However, Arena recently lined up the US with four-man backlines. Not a total no-no for utilizing Chandler, but this shape certainly robs a far-flung "modern fullback" like Chandler of the freedom needed to bomb forward. In this formation, you're more likely to see a "neutered" Chandler, of the sort who's made defending gaffes when on the US in the past. Moreover, by way of explaining Chandler's absence from the squad, perhaps Arena simply believed that Chandler just wasn't a good fit within the bread-and-butter formations he trotted out in the last round of World Cup qualifiers.
But, boy, would I have loved to see Chandler on the right flank, deep in Trinidad and Tobago's half of the the pitch. Chandler is a width-providing player, which means more space gets opened up elsewhere on the pitch, which the US sorely needed during that historic loss.
Anyhow, Arena and the US certainly have wasted Chandler's best 14 months as a footballer, which is a double pity, given that Chandler (at 27) was riding his career prime and that now, with a blown knee, Chandler will miss even more time to integrate himself back into the US. However, since the US missed out on the 2018 World Cup, it's not hard to imagine that Chandler simply retires from national team play at this point, especially without a big tournament in the near future to play for, even assuming that Chandler's knee heals and that he's re-integrated into the US.
A pity. In the big picture, I can't help but think the US squandered Chandler either by playing him out of position, or by not finding ways to incorporate his modern fullback skillset in the starting XI.
Let's just hope similar mistakes aren't made with other yanks playing abroad, as the US rebuilds after the World Cup qualifying disaster.
---
Follow Travis on Twitter @tptimmons. 
Contributors
Travis Timmons
TAGS
WELL, IT DEPENDS ON WHAT YOU MEAN BY "FREE."
Enter your best email for full access to the site.