A sampling of the unmatched luxury at Mercedes-Benz Stadium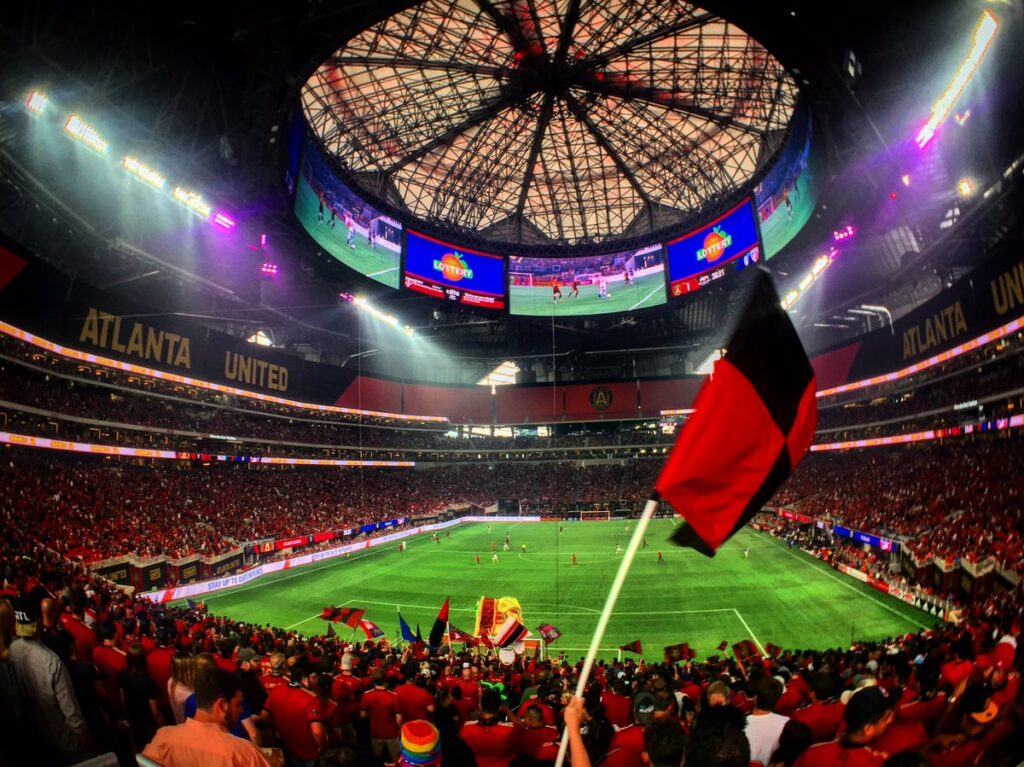 Last Sunday, Atlanta United christened the new Mercedes-Benz Stadium with a 3-0 win over FC Dallas. Tata Martino and The Five Stripes put on a dominant performance, but the real attraction was a new state-of-the-art stadium. The growing trend in stadium construction is in creative experiences offered to supporters with greater disposable incomes than the average MLS player. MSB builds upon that and provides a truly one of a kind experience.
Sounds from @MBStadium ? pic.twitter.com/MO4Xv3kEbU

— Atlanta United FC (@ATLUTD) September 10, 2017
Below are some of the amenities offered.
Atlanta United Hall of Fame
Relive Atlanta United's history at the Atlanta United Hall of Fame brought you by Waffle House. From Yamil Asad's goal against New York Red Bulls in the inaugural game to Josef Martinez's hat trick against Minnesota United in the inaugural second game, every moment is there. Want to know how some of the first fans felt? Listen to video testimony from nearly year-long Five Stripes supporters. Hear their voices rise with excitement describing the epic 3-2 Open Cup win against Charleston Battery three months ago. These retellings will make you feel like the match just happened!  Remember to pay tribute at the Kenwyne Jones Memorial. All donations at the memorial will benefit the recouping of TAM for the missing Trinidadian striker.
Stadium Tour by Ludacris
International recording artist and ambassador to the Dirty South, Ludacris, gives a detailed tour of the new facilities. The DTP owner will take you through the Atlanta United locker rooms, the commentators' booth, and much more. Luda will answer any questions to the best of his ability. Are you shaky on the exact rules of offsides? No worries, so is the Fast and Furious actor. He will try his best to explain, though. He may have a rough understanding of soccer, but he will make up for those shortcomings with sheer confidence. Each tour ends with Ludacris taking you to the former site of the Georgia Dome. Once there, he will demonstrate exactly how he had sex on the 50-yard line.
Shower Box Suites
Mercedes-Benz Stadium offers unparalleled access to the athletes of Atlanta United. For the truly dedicated fan, try the Shower Box Suites. A glassed-in luxury box, located in the corner of the showers, gives supporters a front-row access to a staple of post-match hygiene. Ever wondered what Miguel Almiron uses in his hair or if Harrison Heath even bothers to shower after not touching the turf?  Get the answers with your own eyes! Along with a complimentary bucket of beer, and all-you-can-eat lemon pepper wings, you and seven of your closest friends can catch a glimpse of everything that would earn the players a yellow card for exposing on the pitch!  
"Be an Atlanta United Player" Experience
Everyone wants to experience the life of a professional footballer. Now you can with the "Be an Atlanta United Player" experience. This all-inclusive package puts you in the boots of your favorite player. Train with Tata. Walk out in front of the Terminus Legion. Score a goal off a Greg Garza cross. The experience doesn't stop there! After the game, you get to go to the players' homes, sleep in their bed, play with their children, and try to figure out which HDMI port is for the Apple TV. For a few thousand dollars more, you unlock the diamond plan. Here you can attempt to try and keep a DUI charge out of the press and keep your wife from meeting your girlfriend! Don't miss out on this special opportunity.
Atlanta Silverbacks Mind Wipe Dome
Atlanta United demonstrated that Atlanta, and the South in general, is a hotbed for soccer. This narrative can grow murky if you include the complete lack of interest in the former NASL side, Atlanta Silverbacks. No longer feel responsible for letting a team slowly fall into ruin! Mercedes-Benz Stadium offers the Atlanta Silverbacks Mind Wipe Dome. After four sessions, season ticket holders would lose any memory they had of refusing to go see the 2013 NASL Soccer Bowl runners-up. Supporter Groups who backed United before a ball was even kicked instead of supporting a team that sat just outside the perimeter, can let all guilt fade away as they rep soccer in Atlanta.
Away Fans Acting Troupe
A disappointing issue with MLS is the physical distance between clubs. These miles make traveling supporters scarce. Atlanta United offers a first-of-its-kind Away Fans Acting Troupe. Now, regardless of how far away the opposing team's home is, you'll have a group of fans to actively hate. Don't worry, they will always be less organized than the home support. Laugh with your buddies as they sing out of tune and struggle to unroll a tifo with a weak pun. These former Walking Dead extras are highly trained actors and are ready to take all your vulgar insults. Live the tough lifestyle safely. For a few extra dollars, security will turn their backs as you chuck cans at the troupe. Plus, age appropriate "Lil Hooligans" are ready to assist any children wanting to join in on the fun.
---
Follow Julien on Twitter @JulienLlerena.
Contributors
Julien Llerena
TAGS
WELL, IT DEPENDS ON WHAT YOU MEAN BY "FREE."
Enter your best email for full access to the site.