There is no chill on the Pulisic hype train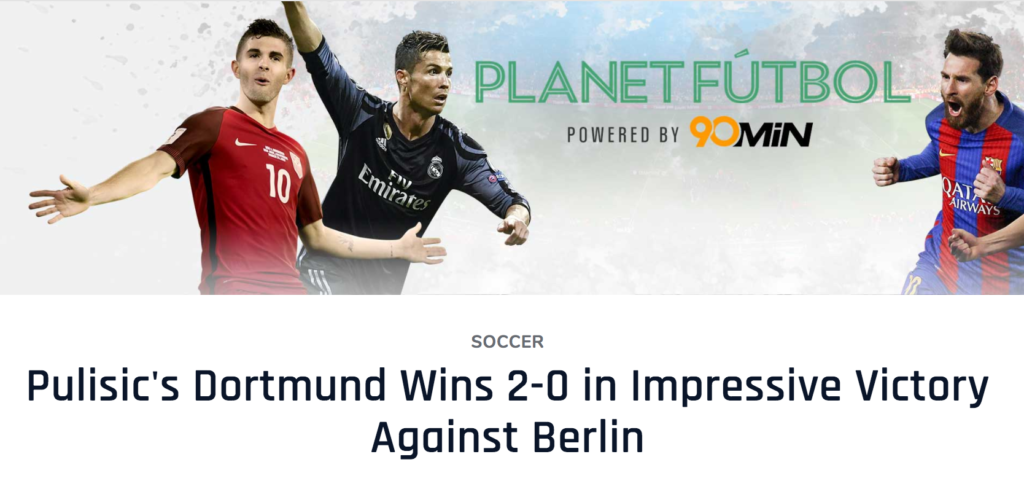 Borussia Dortmund defeated Hertha BSC 2-0 last weekend. Christian Pulisic started his third consecutive game for the North Rhine-Westphalia side and soccer media in the United States are all-aboard the hype train for the 18-year-old midfielder. Below are a few of the latest headlines from American news sources for one of the biggest leagues in the world.
Borussia Dortmund Cruises Past Hertha BSC 2-0 at Signal Iduna Park
Christian Pulisic Shines in 2-0 BVB Win Over Hertha BSC
Pulisic Watch! Dortmund Continues Great Start With 2-0 Triumph Over Hertha BSC
Baby Angel Christian Pulisic and Some Randos Beat Down Non-Pulisic Team 2-0
Is the Ballon d'Or His to Lose? Pulisic Registers No Assists and No Goals in Dortmund's 2-0 Win Over Hertha BSC
RB Leipzig Shines in 4-1 Victory Over Freiburg, Would Probably Win 7-1 With Christian Pulisic
Is Christian Pulisic Too Good for Borders? Experts Tap the Playmaker as Frontrunner for Premier League Player of the Year Award, Even Though He Plays in Germany.
US National Team Legend Eric Wynalda Sounded like he was Weeping with Joy on Live Television During Pulisic Highlights
Can Freddy Adu Still be the Next Christian Pulisic? 
Should the US Capital be Moved to Hershey, Pennsylvania, Birthplace of Christian Pulisic, After Dortmund Defeat Hertha BSC 2-0?
"I Looked Into Pulisic's Eyes, and Now I Believe in the Existence of a Higher Being" Says Hertha Player After Loss to Dortmund, Probably
"CHRISTIAN PULISIC BABY! GONNA WIN THE GODDAMN WORD CUP! LOLZ @ MEXICO" Yells Justified Man to Only Mexican at Pick-Up Game After Borussia Dortmund Take Three Points Against Hertha
Midfielder or Miracle Worker? Scientists in Awe as Child Cured of Illiteracy After Witnessing Pulisic's Heroics in 2-0 Dortmund Win
FIFA Changes Name to IFSN (It's Fucking Soccer Now) to Celebrate Christian Pulisic's Demolition of Hertha BSC by Himself. No One Else Was There. Don't Google It. It's True.
---
Follow Julien on Twitter @JulienLlerena.
Contributors
Julien Llerena
TAGS
WELL, IT DEPENDS ON WHAT YOU MEAN BY "FREE."
Enter your best email for full access to the site.