A club born from a grassroots movement sets an example for other clubs to follow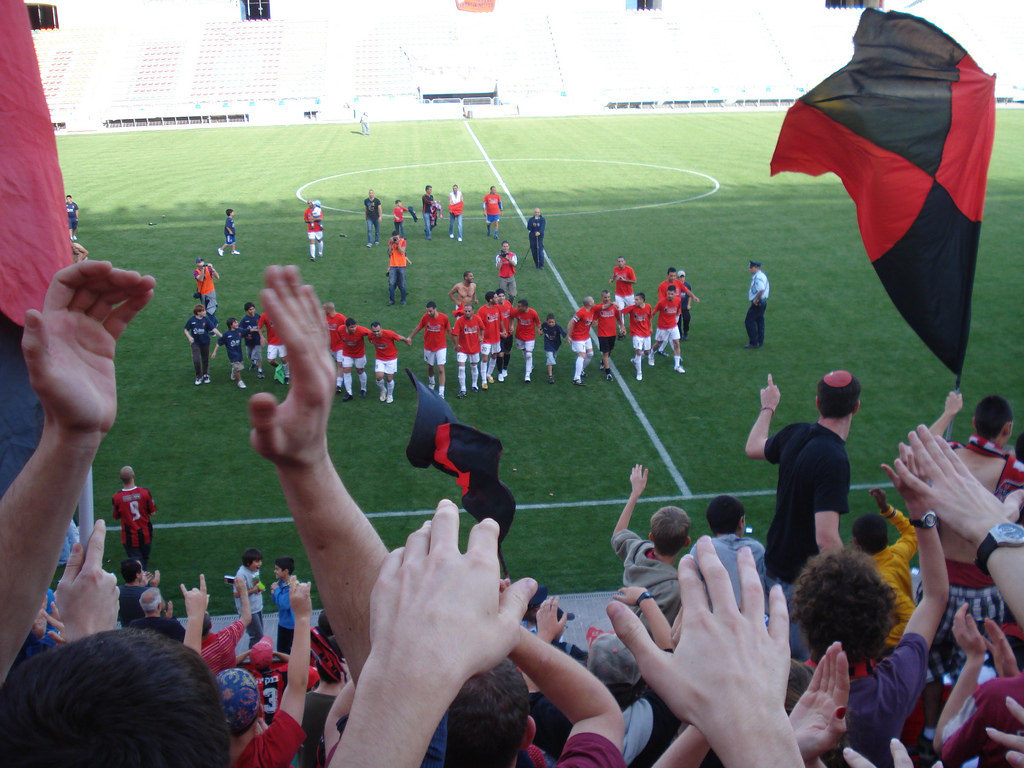 To the casual observer, Jerusalem begins and ends with exclusivity.
The Old City itself is divided into Jewish, Christian, Muslim, and Armenian quarters. A major part of final status negotiations in the Israeli-Palestinian conflict involves just who will have sovereignty over the city.
Its soccer scene is notionally similar. The city's most prominent sporting ambassador is traditional powerhouse Beitar Jerusalem. In recent years it has gained infamy and condemnation for having never signed an Arab player and allowing the violence and racism of its far right-wing hooligans, La Familia, to spiral out of control.
But in the shadow of Beitar Jerusalem—its stadium co-tenant, in fact—lies the team, brand, and movement that is Hapoel Katamon Jerusalem. Beitar Jerusalem divides. Katamon is much different. Its mission statement, as taken from its website, is a call to action for "a strong social-oriented vision of educating nonviolence in sport; fighting against discrimination and racism; enhancing internal dialogue between different sectors and groups of Israel's society."
It's well-known for changing out corner flags with the rainbow flag in solidarity with Jerusalem's Gay Pride Parade—an event that has been disrupted in years past by religious fanatics stabbing and murdering participants.
The team has partnered since 2010 with Bundesliga side Werder Bremen to combat anti-Semitism. The German city and club have a long history, going back to the 1970s, of using innovative sociological tactics to curb soccer violence and hooliganism. In Katamon, Bremen found a relevant (i.e. Israeli) team similarly motivated against anti-Semitism, which plagues Germany's lower leagues. The two clubs send delegations of supporters to each other. Bremen fans come to Katamon games as part of a voyage including the Knesset, Israel's parliament, and Yad Vashem, the national Holocaust Memorial Museum.
Most notably, though, Katamon has thrust itself into youth soccer and after-school programs open to all Jerusalem children regardless of their address, finances, sex, religion, sexual orientation, and physical/mental acuity—all of which can be controversial in Israel. Katamon's academy includes Israel's first ever girls' youth team — one of three it has now — along with four others for boys.
The club also works with the Special Olympics and runs youth programs in which Daphne Goldschmidt, the club's American-Israeli social media director, estimates 1,100 kids across Jerusalem participate. In its "Neighborhood Leagues" initiative, Katamon has created 58 teams for kids from diverse backgrounds to play soccer and receive tutoring.
Youth engagement extends to game-day itself. A full 90 minutes before kickoff, Katamon commences a barrage of activities, meant, as Daphne describes it, to create a "family friendly space to serve the community." A large section of the concourse to the right of the turnstiles is reserved, so kids can get their fill of bouncy castles, mini-tennis, drawing, board games, FIFA 17, and foosball. There's a breathing specialist prepping attendees for the vocal stresses of yelling. There's even a drawing station with a live rabbit on display, being caressed by a volunteer.
Volunteers run everything, contributing their skills and expertise however possible. Uriel Daskal, the sports business editor at the website Calcalist, recently estimated that the team has had 80,000 volunteer hours since its founding.
…
Katamon didn't start out as a message team.
Goldschmidt admits as much, saying the agenda behind the team was as simple as an intolerable ownership situation. As she says, "when someone doesn't want to sell what's yours, you make your own."
In 1995 real estate developer Yossi Sassi had purchased the team, and he was joined a year later by business partner Victor Yona. The team's first season of private ownership led to promotion, but the owner-fan relationship quickly went downhill. Yona and Sassi committed subsistence funds to the team, which ended up framing each season as a battle against relegation. It finally lost that battle in 2000 and hasn't returned to the Premier League since.
Uri Levy, the 28-year-old founder and owner of the soccer blog BabaGol, grew up a Hapoel Jerusalem fanatic, and he recounted to me the slow, painful descent of Hapoel Jerusalem.
Hapoel Jerusalem was his family. Results on the field were important, but not all-consuming. Part of the team culture was rooted in being clear second-fiddle in Jerusalem to Beitar, Hapoel Jerusalem's co-tenant at Teddy.
"Being a Hapoel fan is being a complete underdog," Levy says. "You'd get into a taxi and the driver would give you shit. Everybody gives you shit. Every time you read about your team it's in a bad connotation."
But over time he lost faith in the owners, who seemed more concerned with non-soccer investments in their portfolio. Local newspapers unearthed evidence of team funds being diverted for personal expenditures. An article in the Israeli newspaper Haaretz in 2002 viscerally remembers Yona climbing a fence to shout "I piss on you before spitting on them" at fans protesting his actions.
It's a tragedy to Levy. "They ruined the club. Hapoel Jerusalem was a community with huge potential to be an alternative in people's lives to Beitar Jerusalem not at the national level but at the local level."
By the time of the urinary statements, the cracks in Hapoel's ownership had already begun forming, and the team became just one more disputed asset, like a child fought over in a bitter divorce. In late 2006, an Israeli judge awarded ownership to Sassi, who still runs the club to this day. At the end of the season, the team was relegated to Israel's third tier. It was all especially humiliating when coupled with the Premier League championships and high-spending in the same era by Beitar Jerusalem.
Even though it had brought nothing but controversy, Sassi had never expressed interest in selling out. Before the judge's verdict, disgruntled Hapoel fans had spent years trying to find a buyer for the team to no avail. Afterwards, a group led by the esteemed sports journalist Uri Sheratzky made a last-ditch effort to purchase the team. It failed, making clear to Sheratzky and the group of supporters that had swelled around him that the only way forward was to break away and start anew.
…
In late September 2016 we're a long way from that.
Now, Katamon plays in Israel's second tier, Liga Leumit, which is the lowest professional league in the country's soccer pyramid.
Today I'm at Jerusalem's Teddy Stadium, Israel's second largest professional stadium, for Katamon's match against Hapoel Ramat Gan. It's a sunny, warm Friday afternoon, and I sit down behind a corner flag just in time for kickoff. I'm joined by Daphne. She's in her late 20s. Game-time is her only downtime. Otherwise, she's constantly working the stadium, saying "Hi how are ya" to dozens of familiar faces, snapping photos for Katamon's several active social media accounts, or even opening up separate sections of the stadium for private business discussions.
If it sounds like the work of a politician, well, she is one. In addition to her social media duties, she's one of four people elected to the team's decision-making board, along with three major financial sponsors. She's the first woman in Israeli history to be on a club board (though not an owner). This is her second term in office, and every April she has to stand for reelection. This year, 905 people hold their mandate above her.
Fan-ownership poses problems of its own, though. Those running the team are not professionals. They're still learning. Daphne puts it to me charitably, saying that "the last 10 years [with Katamon] have been on-the-job training."
A large part of the headache is related to money. Each club member has to pay a set amount in yearly dues for a home season ticket, away game ticket priority, and the right to participate in elections and confer on the budget. When the team started it was 1,000 shekels, or approximately $250 at a 4:1 ratio. The base rate for this season was 1,200 shekels. In a country where the average yearly salary is about $33,000, it's a significant expense. "It's not cheap," she says. Along with sponsorships, the membership dues form a major chunk of the team's yearly budget, and Daphne tells me that its year-to-year nature effectively makes Katamon prepare its team for each season from scratch.
Her compensation is purely based on pride. Though on the executive board, Daphne is still a volunteer. In fact, the only people at Katamon that actually receive money are the first team, the head coach, and a sabermetric analyst paid to play Moneyball with the squad.
In Leumit, Katamon's fan ownership is unique. This has minuses and plusses. It can cause a team to miss out on the lavish investment of an interested owner and make for difficult longer-term planning. At the same time, it spreads the budget burden. Katamon isn't subject to the calculations of a single person who could saddle the club with debts or abandon it when advantageous.
Professionalism was less of an issue for Katamon when the competition around them was also smaller and semi-professional. In its early days, the issue was just having enough money. Before the 2007–08 season, Sheratzky and the fans around him pooled funds to purchase a stake in another team in Israel's third tier on the brink of bankruptcy. Due to financial difficulties, they un-merged after two seasons, and the Katamon investors started afresh, establishing Hapoel Katamon Jerusalem. It started in Israel's lowest league, Liga Gimel, the fifth tier.
The next few seasons were nothing short of miraculous. Their first season, they won their division in the fifth tier. The next year they won the 4th tier. They slowed down a little bit afterwards, needing two years to gain promotion from the third tier. Levy had been initially unsure of Katamon's staying power, but the rapid ascent changed him. He recounts that that's when he realized "Woah, something big is going on. It was something new, something exciting, and very satisfying to see a strong red side in Jerusalem." In time for the 2013–14 season, they reached Leumit. Waiting for them was Hapoel Jerusalem.
…
The Katamon experiment is vibrant. In its attendance and impact on the community, Katamon has far and away surpassed its forebear. It's also now trumping Hapoel on the field. The first season they occupied the same league, only one point proved the difference between safety for Hapoel and relegation for Katamon.
Since, the trajectory has changed. Katamon bounced back for 2015–16. It finished fourth, six points shy of promotion to Israel's Premier League. Hapoel Jerusalem needed a playoff victory just to stave off relegation.
It's also provided the inspiration for a renaissance of fan-ownership in Israel. Eight teams across soccer and basketball have followed the path set by Katamon. One team in particular, Beitar Nordia, formed up in 2014 as an alternative to the violence and racism that had set in the club many of them used to follow zealously: Beitar Jerusalem. Like Katamon it's experiencing its own rapid rise through Israel's soccer pyramid, having clinched back to back promotions in May.
Still, despite the on-field success and off-field programming, Daphne tells me Katamon is a team in transition. Also, this season has been anything but easy. Unlike the year before, success will be survival. A miraculous late season run of form saw Katamon escape relegation pressure for the doldrums of being noncompetitive in a playoff promotion group. Hapoel Jerusalem could take no pleasure in Katamon's mediocrity. Hapoel clinched relegation to Israel's third tier on the final day of the season.
All of this raises a question 10 years on from the beginning of the experiment: is Katamon a means to an end or now an end in itself?
Katamon has attempted mergers with Hapoel Jerusalem a couple times already. In 2009, with the first version of Katamon's finances in peril, talks began and broke down over unacceptable demands made by Sassi. In 2013–14, the first season Hapoel Jerusalem and Katamon were in the same league, Katamon's club members had overwhelmingly voted in favor of merging only to be rebuffed again by Sassi.
It's an intensely personal matter to Uri Levy. He was among Katamon's original club members, and he estimates he's spent more money on his club membership dues than his day job: his soccer blog. He loves everything about the club Katamon has become—"The fans, the colors, the club, being a part of something big and positive." From Amsterdam he's been following Katamon, and a positive run of form in his absence has him joking that he should just stay.
But his joy in Katamon masks sadness. "Matches between Katamon and Hapoel Jerusalem are for me the saddest days of the year," he says. "Except days that there are terrorist attacks in Jerusalem."
"Why?" I ask him.
"Because I feel like I failed." Each game they play is a reminder of that.
When Levy left Hapoel Jerusalem as an 18-year-old, inspired by his uncle, the clear long-term objective was reunification. As he calls it, "a united, strong, one red side in Jerusalem." Leaving the club, paradoxically, was an act of pure fidelity predicated on "freeing Hapoel Jerusalem" of Sassi by starving him of supporters' cash.
Many of Hapoel Jerusalem's fans who stayed don't see it that way. Relations between fans of the two sides have leveled in recent years, but there's still an unmistakable history of grievance. To the Hapoel Jerusalem faithful, people like Levy are deserters. His justification is nuanced and highlights his belief in Katamon's transitory nature.
"A lot of people at Hapoel Jerusalem saw us as traitors," he says. "Because they say 'you can change your girlfriend but you don't change your soccer team.' Technically I agree with this. This is soccer."
Levy sees himself returning to Hapoel Jerusalem as soon as Sassi leaves, with or without Katamon. To stay afterwards would be unthinkable. "In the soccer religion, I will have become a sinner," he says in his final words on the matter.
For others though, Katamon has put down real roots. Becoming "Hapoel Jerusalem" again, as if nothing had happened, is equally unthinkable.
It must be one of the most familiar tropes in this tiny corner of the world: there are two familiar and related sides that can't agree on a subject pursued more with emotion than rationality. Many would prefer to resolve the conflict, but, as Levy concludes, "there are extremists on both sides" who won't want to compromise.
Whether the ultimate end is a one-team or two-team solution, at the very least, the status quo now enables Katamon and its brand of soccer, community, and philanthropy to flourish.

Sam Patterson is a former editorial assistant at Howler Magazine and is now based in Seattle.
Contributors
Sam Patterson
TAGS
WELL, IT DEPENDS ON WHAT YOU MEAN BY "FREE."
Enter your best email for full access to the site.