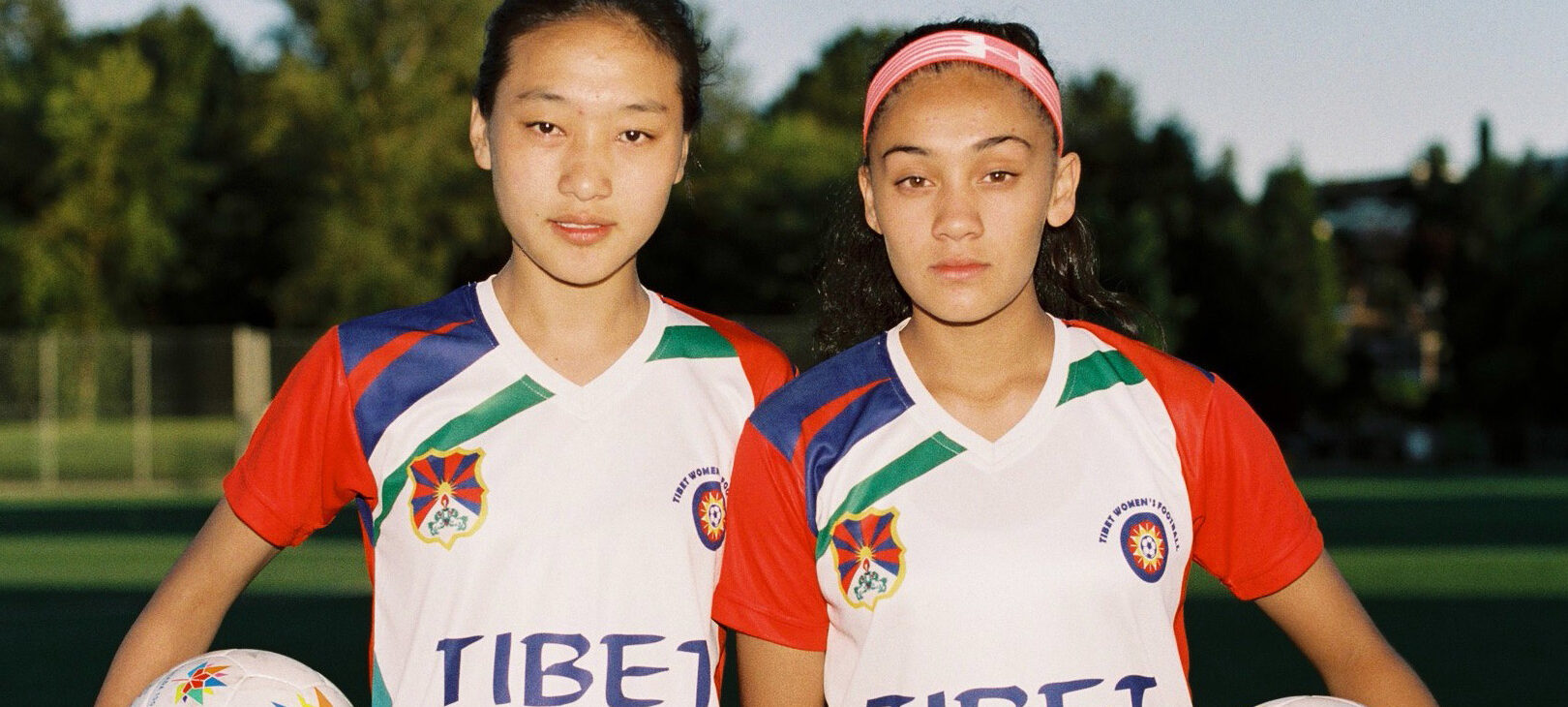 A Team in Exile
January 5, 2022
How a Tibetan Women's Team, Comprised of Refugees living in India and Nepal came to represent their Nation at the Vancouver International Soccer Festival is one of Soccer's remarkable Stories.
When I finished college I went to Thailand to teach English for a year. While there I became interested in Buddhism. So much so that I decided that as soon as my teaching job was finished I would go to Dharamshala in the Himalayas where the Dalai Lama lives to take classes about Buddhism and do meditation retreats. I just showed up by myself with plans to stay for maybe a month or two and then travel on. I ended up staying for six months. I fell in love with the place.
But then I went back to the U.S. to start my teaching career. During those five years I kept going back to Dharamshala whenever I could. I think I went back four or five times in five years, just because I loved it. I was there during the 2010 World Cup. We had the greatest time watching it. It was so much fun.
The Tibetan National Sports Association did a photo exhibition about the history of Tibet and soccer. I went to the exhibition, and I realized that I was the only woman in the room, and there were no photos of women playing. I was like, "What! They're not playing soccer? That's crazy." I said this to my Tibetan friend who was with me, and he said, "No girls don't play sports." I mean, in literally five seconds I formulated a plan. It was like an epiphany. "I'm going to help them do this."
There was a guest book and I signed my name. "I think Tibetan women should be playing soccer. If you want my help, here's my email." I think I left India the next day to go back to my teaching job. A month later I got an email from the general secretary of Tibetan National Sports Association saying if you're serious about helping us, you can come and do it.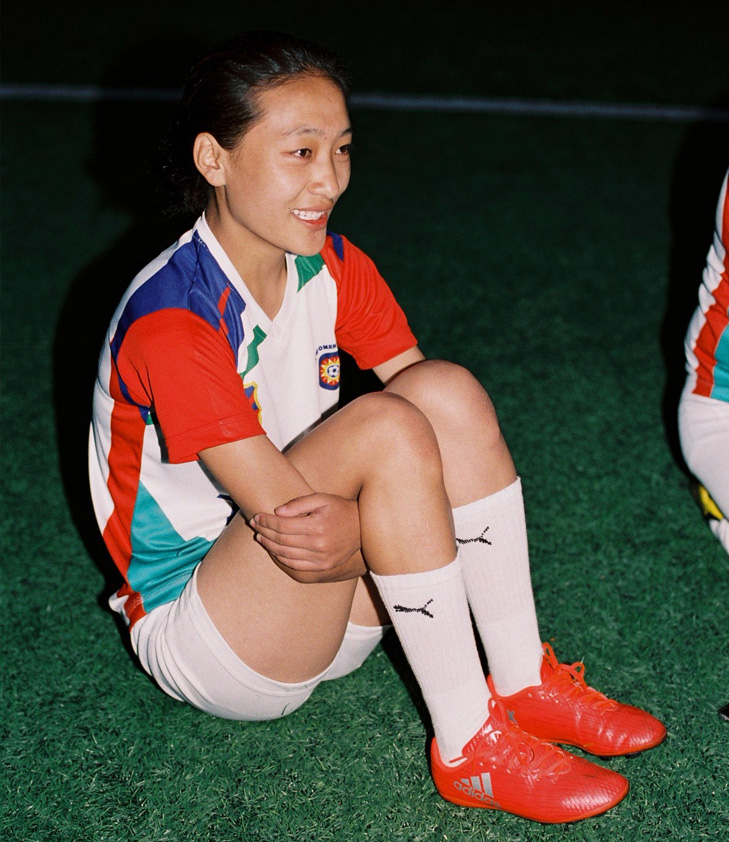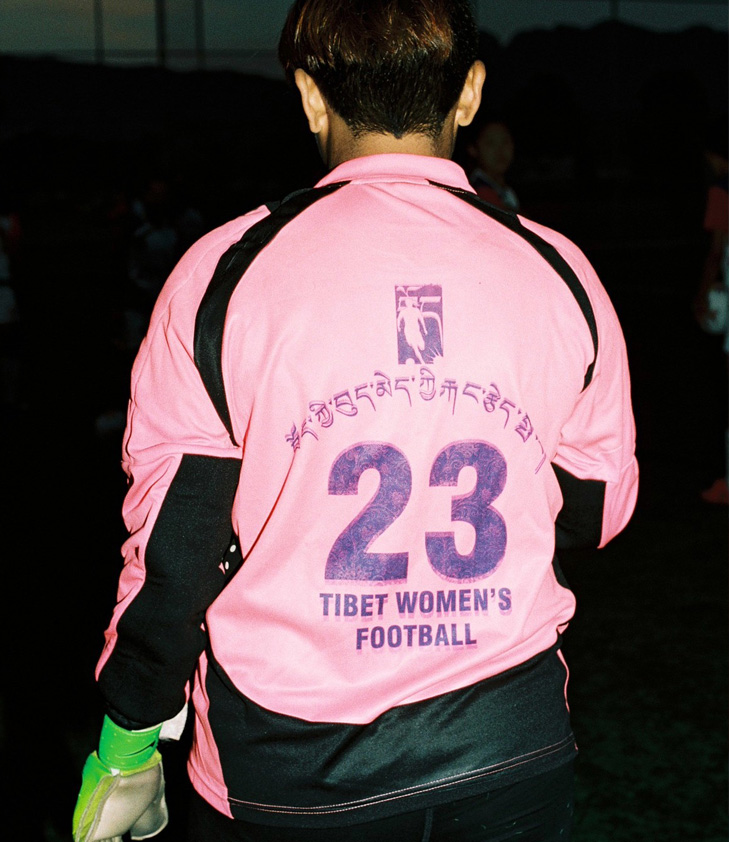 I spent a year planning it as a women's empowerment program using soccer as a tool. I did all the fundraising here in the U.S. I had absolutely no idea what would happen, if it would be received well. I didn't have any idea if Tibetan girls would even want to play soccer. I didn't know if I would come up with problems with men, I just didn't know. And so a year later I went back and I started.
At this point there was no organized sports for Tibetan girls at all. Nothing.
There are about 70 Tibetan schools in India and so we thought we'd start with nine. We invited nine male phys ed teachers together and did a coaches training. We had a professional player from Denmark give a training on how to actually coach, and we coached female sports psychology and positive coaching techniques. The men went back to their schools and we asked for three girls, volunteers, who wanted to learn how to play soccer. Twenty-seven girls showed up, ranging from 12 years old to 18. I had them for a month, the entire month of this camp and I was the only person on staff. I'm the only person there besides somebody cooking for us and stuff like that.
I had coached before but not on a high technical level, but I didn't need it at that point because they didn't know how to play. Most of them had never even kicked a soccer ball before. Some of them had, most of them hadn't. And not only that, they had absolutely no confidence. It's like they were scared to walk out onto the field. You could see it in their body language.I realized I needed to open them up, get them talking and expressing, and that's going to translate onto the soccer field.
I designed this curriculum where every morning we would do hard physical exercise, yoga, meditation and running. And then after that we would do like two hours of empowerment: Trust-building and team-building. They started sharing their stories—we got them to open up little by little. In the afternoon we played soccer for two, three hours. All of that stuff that had been coming up emotionally would just get worked through their bodies. By the end of that one month, the girls were screaming and laughing and I couldn't get them to shut up. They just wanted to tell everybody everything. And not only that, they were playing beautiful soccer.
On the last day we broke into two teams and had a scrimmage. After that match, the whistle blew and there are girls crying. I was thinking, "I didn't realize they'd get so upset that they lost the scrimmage." Then I realized they're crying because camp's over.
Then I realized they're crying

because camp's over.
Almost all Tibetan kids in exile go to boarding school and a lot of them don't have adults that allow them to express themselves. A lot of them go through life as quiet as they can. This camp was the first time for most of them that they could just be who they wanted to be. They were totally accepted and encouraged to express their opinions and it really meant something to them. That's when I knew this is going to be successful.
Every year in Tibetan exile community, there's a big men's soccer tournament.
There are Tibetans settlements around India and Nepal, and each sends a team. Thousands of people come to these matches. I said, "Can't we do a girls exhibition match on the opening day?" Everybody agreed. We found an Indian girls team that was willing play us. I selected the top players from that camp and we only had two days to prepare. The girls were really nervous because the day of the match there were at least 7,000 Tibetans there, all these important people in Tibetan society were there. The girls were like, "We're going to walk out there and play our first game ever in front of all of these people?" So we go out there and we have no idea what's going to happen. And they played beautifully. The girl who scored the first goal—the first goal in Tibet women's soccer history—runs into the middle of the field and does a flip, which I can't even tell you enough how big of a deal that is there. The crowd goes wild. I mean they really loved it. From that moment on everything changed. That's when people started taking it seriously. That's when we realized we could set our goals high—we could get a national team ready, the first women's national team in any sport for Tibet.
People were totally shocked. They thought it was going to be a total joke. At that point the girls were still pretty much beginners, but they played decent football, they played aggressively, they played seriously. People were really surprised.
They flew me to Dallas twice to set up logistics. Everything was set. It was first class. The plane tickets were reserved and paid for. Beautiful hotels, homestays for the girls, brand new uniforms, matches against local clubs set up. We were going to go to an NBA game, Six Flags. It was a dream come true for a Tibetan girls who have never been anywhere and have very hard lives. We were going to carry the Tibetan flag into the Cotton Bowl at the opening ceremony of the Dallas Cup in front of thousands of people which is a huge act of sports diplomacy. Just to carry the Tibetan flag at a FIFA-sanctioned tournament—it was a really really big deal. So the only thing that was in our way was getting visas for the team.
This was right after Trump took office. And of course one of the first things he did was ban certain countries from coming. So that's all going on in the political climate and meanwhile I'm over in India with these girls and they're Tibetan refugees, true refugees. They don't have Tibetan passports because there's no such thing. They don't have Indian passports because they're not considered Indian citizens. They have these travel documents that serve as passports but they're not official passports. It's difficult for them to get visas to go anywhere in the world, let alone the U.S. which was becoming even more of a fortress at that time.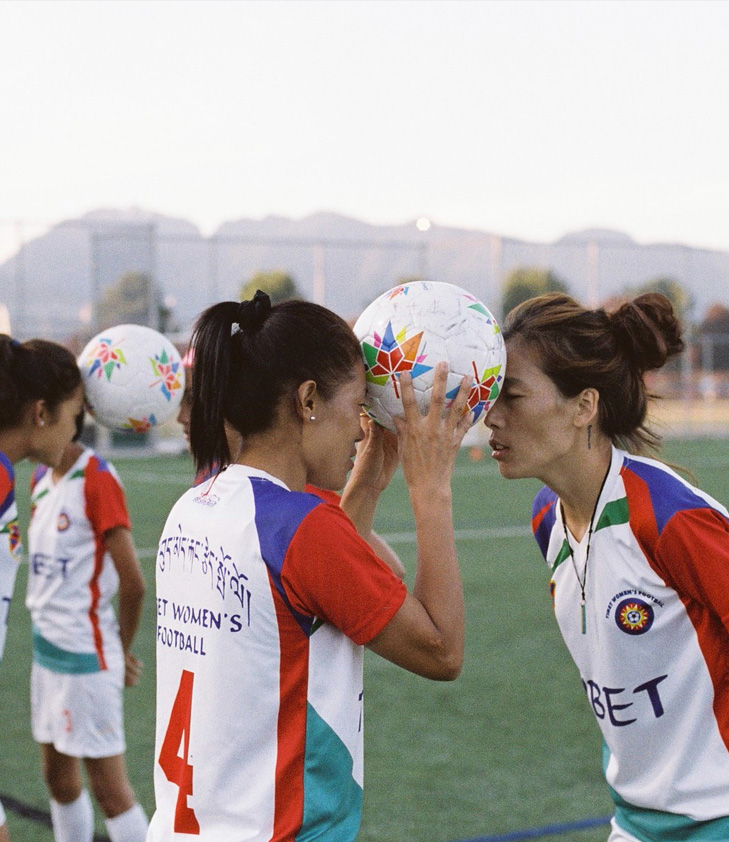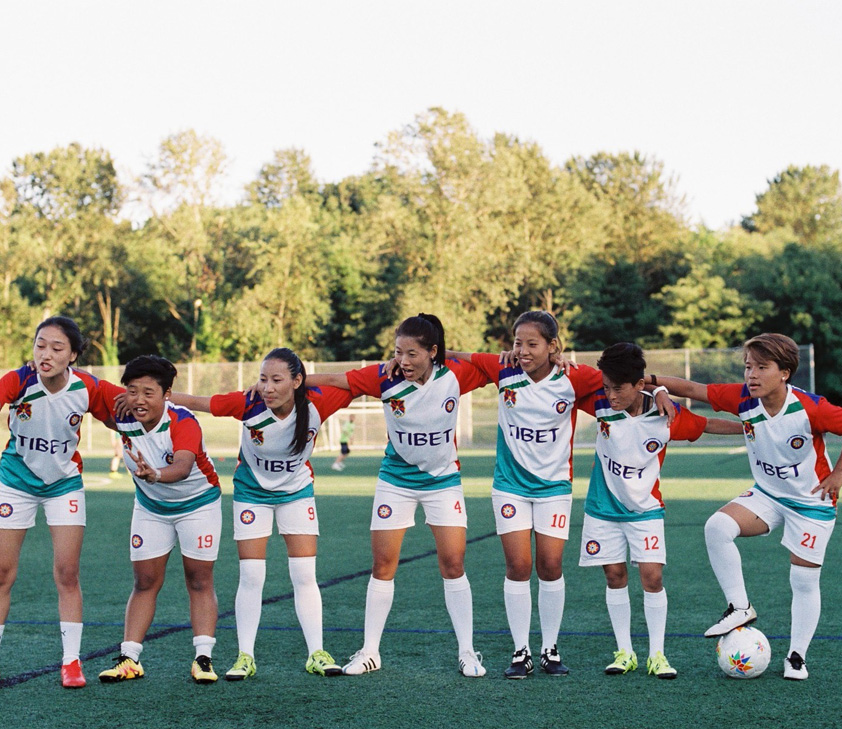 We knew it was going be hard but we were really well prepared. We had letters from the Dallas Cup. Full itineraries. Proof that it was all paid for. Health insurance for the girls for when they were in the U.S. We had to bring the whole team to the U.S. embassy in Delhi, which was no small feat getting them there because they live around all of India. We had to get 22 girls to Delhi for this interview.
And then we go to the U.S. embassy. Even though I'm the one U.S. citizen I'm not allowed to go in with them. We weren't allowed to have phones; we all had to leave our phones in the hotel. They went in by themselves. And they were prepared because we practiced questions that they could be asked.
I was sitting there on the curb. My heart pounding. About 45 minutes later I saw the first girls come out. And I could see they still had their passport things in their hands which meant they didn't get the visas.
I know there's worse things in life, worse tragedies. But that was the worst moment of my life. It was just awful watching them come out of there. According to the girls, the woman who interviewed them said, "Well, I don't think you have any good reason to go to the United States, so I'm denying your visa." That was it.
We were just asking for a tourist visa. It's not like we're looking for an immigration visa or something.
So the girls file out and we're all just sitting there on the curb in front of the embassy in shock that this was happening. The girls have been through so much in their lives and they're so resilient—immediately the captain of the team says, "Cassie, we can't give up. We have to write a letter to Gordon Jago right away. And we have to ask him to help us."
I was kind of in a daze, so I was just like, "Yeah, write a letter. Yeah. And she's like, "Well we're gonna to write the letter right now."
And so they sit down on the curb. Somebody has a piece of paper and they start writing. Then they read the letter to me and I'm like, whoa, this is a really good letter. I said, "We should make a video of the letter and we should send it to Gordon Jago right away. But we had no phones. So we asked some guy walking down the street "Can you just take a video of us?" So they read the letter, standing there at the U.S. embassy in the background, and they read the letter to Gordon Jago. It was so powerful. We sent it Gordon and I posted it on my Facebook page, just to let friends and family know what was going on. The next morning I realized the video had gone viral. Immediately my phone starts ringing. I think the first call I got was from the BBC. Then The Guardian called me. CNN calls me. And then I get a phone call from Julie Foudy from the U.S. women's team, who is my childhood hero. She called me. I don't even know how these people are getting my phone number at this point. It became a media storm.
There were a lot of people trying to help us actually, Republicans and Democrats, which was kind of interesting. We were on hold for about a month where we had a lot of hope because people were trying to help us. But, nothing ever came through. And we realized that it was just getting too close to the time that we were gonna be leaving and it was like, this isn't gonna happen.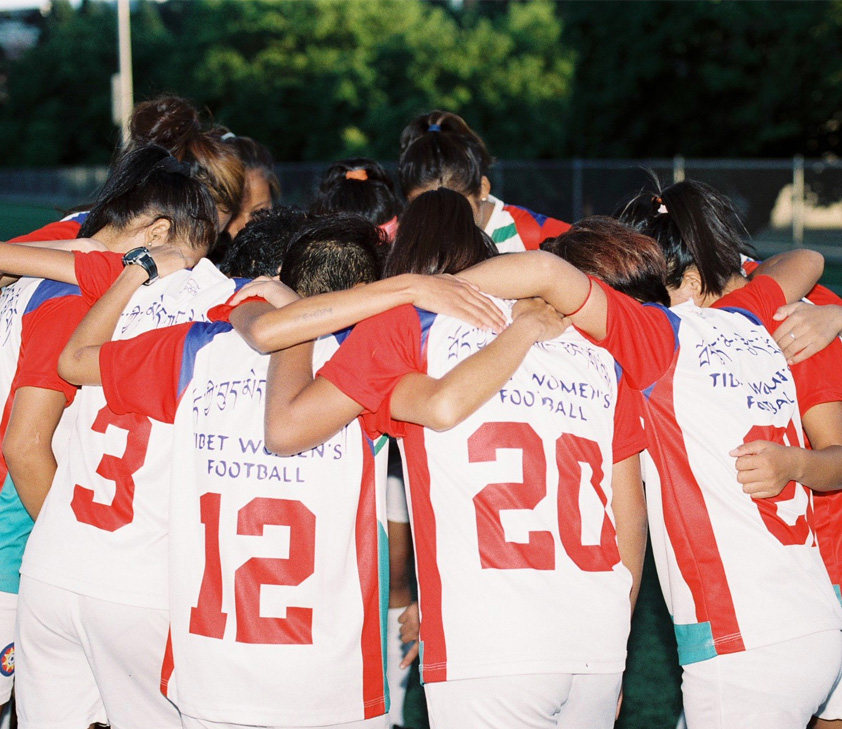 So we had to just give up. But there was a lot of good that came out of it. Because all of a sudden you have the whole world knowing about the team. Which gives these girls a platform to talk about Tibet as a whole and their situation as refugees.
So then I get another email. And this email is from a man named Adri Hamael from the Vancouver International Soccer Festival. He just saw us on the news. He said, "If you don't go to Dallas, we'd love to have you in Vancouver."
Just like that. I said, "All right, well, why don't we try for Canada?" This time, rather than go through this whole thing again, I went to Delhi by myself and I made an appointment at the Canadian embassy. I went and I talked to the guy there for visas and I told him the whole situation. He already knew about it. So we applied, we got the visas and purchased the plane tickets. Meanwhile, somebody had started a GoFundMe me page, so we have all this money rolling in. We have plenty of money to have the camp and get the girls to Canada. And the day that they arrived there it was awesome. The moment they walk through immigration and they came out where I could see them, it was just incredible. All these Tibetan people were there just from the local community, waving flags—it was the first Tibetan sports team to ever come to North America and represent Tibet. It was a pretty big deal. And they did all right. It was a good showing.
---
Childers is no longer involved with the team: "The team as we knew it disbanded. The Tibetan National Sports Association decided to start a women's team and only took a few of the girls. The rest were thrown to the wind. And they do these photo ops where they'll bring them all together for a training and then say, "Oh look, we have a women's team. Send us money." And I think they're using the team as pawns. They told them that they were taking them to England last year and they didn't. And then they told them that they were taking them to America this summer and they didn't. And I think the girls are starting to realize what's really going on."
Contributors
Cassie Childers
Cassie Childers currently lives in Southern Spain.
Alana Paterson
TAGS
WELL, IT DEPENDS ON WHAT YOU MEAN BY "FREE."
Enter your best email for full access to the site.