Letters from Bojan: A taste of glory
December 9, 2014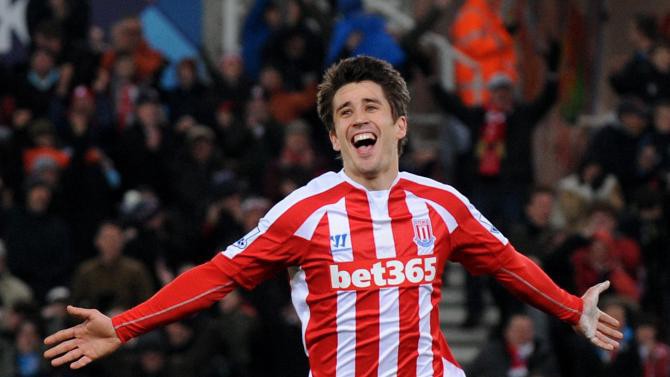 The earnest question of whether Lionel Messi could do it on a cold, wet night in Stoke has persisted as a cliched joke for a few years now. So when Barcelona surprisingly sold Bojan, a 24-year-old once hyped as the next Messi, to Stoke City, the only explanation was that Messi personally asked him to go there on an expedition to see if the conditions in this mythical place are as challenging as the fables suggest. This is Bojan's fourth letter back to his friend.
Dear Leo,
The air is chilled and damp and I am rising to the challenge. The despair I spoke of in my previous letter has bloomed into personal triumph as I have now scored two important goals over the last month to help Stoke to our only two wins in our last eight matches. I now start regularly, in part because I learned to flatter Mr. Hughes with favorable comparisons to Pep Guardiola, who he still insists is his close friend. I think he knows that I am lying to him, but it seems to be the only thing that brings him pleasure, so I don't feel so bad.
Our most recent match was against Arsenal, a team you might remember beating in the Champions League several times. Nevertheless, it was a tense affair. Usually the opposing villagers in this country aim their abuse at us, as they do in most countries. But Arsenal supporters seemed to hate their own team far more than they hated us. The Crouchie used his enchanted broomstick limbs to score another goal in the very first minute, which made me believe that my simple human appendages could do the same. And they did!
We were winning 3–0 at halftime and the beardless wizard in charge of Arsenal looked deeply troubled, as if his entire book of spells was now useless and yet he couldn't bring himself to throw it away. In the second half, they tried to come back and scored two goals to give us a scare, but they finished the match with 10 men and we won 3–2. To be honest, we should have only had 10 men too, because Charlie Adam, who is still not my friend, tried to strangle Alexis Sanchez at one point. As the season goes on, the worse Charlie the troll seems to get. I'm very afraid he might steal Christmas.
After the match, I told Alexis that I would be writing to you and he told me to pass along his best wishes. He says he is very tired because they make him do everything at Arsenal. He even has to work in their IT department and help treat the injured players, because there are so many of them.
Since The Crouchie is so much taller than I am, he experiences the coming weather long before I do. So I asked him if it will get colder and he said yes. He said the coming weeks will be especially difficult, but I feel I am ready, Leo.
I would say that I hope you are doing well too, but I have seen your many goals. You are in wonderful form. Charlie the troll stopped eating my lunch long enough to comment on this. He said you wouldn't score so much if he was there to tackle "your breadstick neck" with his "crushers." That's what he calls his hands. And every other part of his body. Be vigilant, Leo. He might have relatives under the bridges of Barcelona, too.
Yours in bravery,
Bojan
Previously in Letters from Bojan: The struggle becomes real
Contributors
Howler
TAGS
WELL, IT DEPENDS ON WHAT YOU MEAN BY "FREE."
Enter your best email for full access to the site.