Zlatan and Ronaldo: An enduring love story
December 1, 2014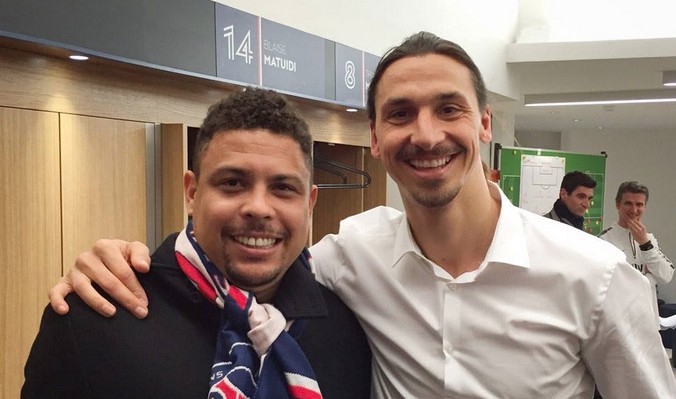 Though Zlatan Ibrahimovic recently described himself as "god," there is one person on this planet that he still thinks of more highly than himself. And that's the original Ronaldo, Il Fenomeno.
In Ibrahimovic's book, "I am Zlatan," he wrote a passage that came very close to veering into fan fiction.
"I put up photos of Ronaldo in my room. Ronaldo was the man. Not only because of his step-overs and goals in the World Cup. Ronaldo was brilliant on every level. He was what I wanted to be, a guy who made a difference. The players on the Swedish national side, who were they? There was no superstar, nobody who was talked about around the world. Ronaldo was my hero and I studied him online and tried to take in his movements, and I thought I was getting to be an awesome player. I danced down the pitch with the ball."
And if you think Zlatan was exaggerating about his love of Ronaldo, just take a look at this picture of his bedroom as a teenager.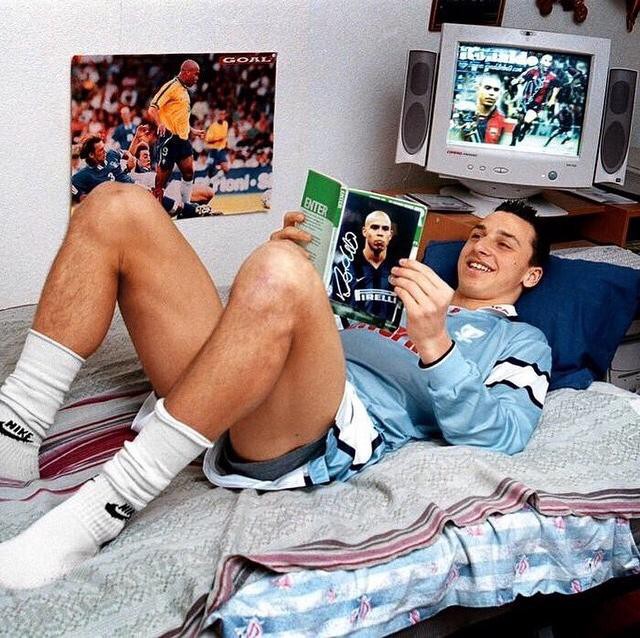 That's Zlatan reading a book about Ronaldo with a Ronaldo poster on his wall and pictures of Ronaldo as his computer background. There are about a dozen mentions of Ronaldo in "I am Zlatan" that make it clear that the Sweden captain has always compared himself by the Brazilian's other-worldly standard.
Zlatan joined Inter four years after Ronaldo left, but during Ronaldo's brief stint with Milan, they did play against each other. And Zlatan was just as overwhelmed by this experience as you would expect someone who once had the bedroom pictured above would be.
https://www.youtube.com/watch?v=_POxtvAotTE
Zlatan would again follow in Ronaldo's footsteps when he joined Barcelona (and played there for just one season, again like Ronaldo). In 2013, the now retired two-time World Cup winner visited Paris — the latest stop on Zlatan's domestic league domination tour.
Before a Ligue 1 match against Marseille, Zlatan presented PSG's distinguished guest with a personalized shirt and also took the opportunity to give his idol a hug.
https://www.gettyimages.com/
https://www.gettyimages.com/
Ronaldo visited the Parc des Princes once more on Saturday and Zlatan again took the chance to delight in playing the role of world's biggest fan boy.
https://www.facebook.com/ZlatanIbrahimovic/photos/a.204693916216684.52995.198744036811672/899030726782996/?type=1
Note that Zlatan says getting his picture taken with Ronaldo, a man he has met several times before, is "the best thing that happened last night." That might sound like he's finding a bright spot after a frustrating loss, but PSG beat Nice 1–0 that night and Ibrahimovic scored the only goal of the game from the penalty spot in the 15th minute. In other words, Zlatan Ibrahimovic — a person who lives to score goals and then praise himself for doing it — thinks that spending a few moments with Ronaldo is better than scoring a match winning goal.
So what does Ronaldo think of Zlatan? Here's how their dressing room meet and greet might have gone…
Zlatan: Oh myself, oh myself, oh myself! Can I get a picture with you Ronaldo? I love you so much — you don't even know!
Ronaldo: Sure, uh, Zander, right?
Zlatan: Actually, I am Zlatan, destroyer of worlds and deity to the universe. But you're Ronaldo, so you can totally call me Pep Guardiola if you want. I don't even care.
Ronaldo: Whatever you say, Zack.
Zlatan: Hey! Someone change the title on all of my books to "I am Zack." Now! Do it now!
Contributors
Howler
TAGS
WELL, IT DEPENDS ON WHAT YOU MEAN BY "FREE."
Enter your best email for full access to the site.