Home
Dirty Tackle
Frank Lampard's return to Stamford Bridge (as a title rival) in pictures
Frank Lampard's return to Stamford Bridge (as a title rival) in pictures
January 31, 2015
https://www.gettyimages.com/
After scoring a late equalizer against his former club earlier this season, Frank Lampard returned to Stamford Bridge for the first time since leaving Chelsea for Not New York. There were emotions. And signs. And another 1–1 draw.
Here's the photographic evidence…
"Look at my shirt! It's relevant again!"
The atmosphere was one of love for the returning hero…even if he did cost Chelsea points earlier this season.
http://www.gettyimages.com/detail/photo/462572454
But the village idiot was still kind enough to show up and offer a dissenting opinion.
And visiting City fans got in on the fun with a banner of their own that didn't totally make sense beyond the pun.
Frank with a weird feeling of deja vu before the match.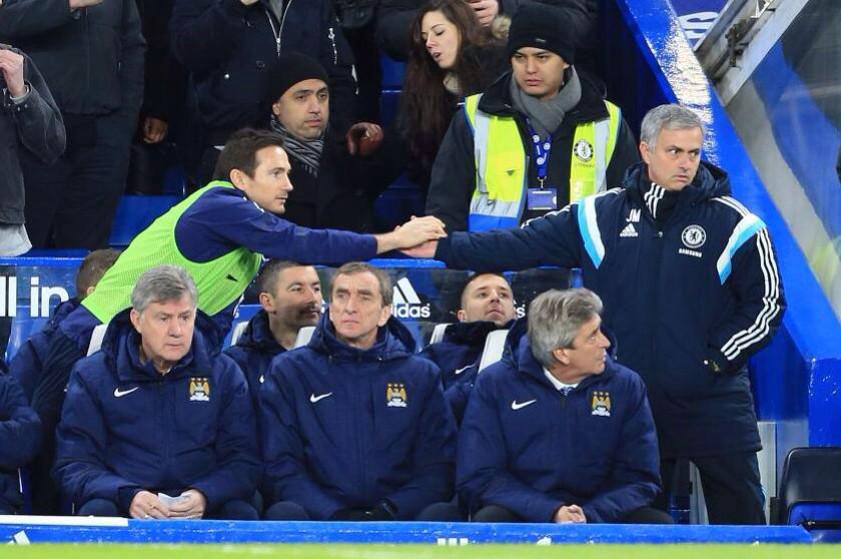 Jose Mourinho reached out to shake Lampard's hand while also making a point to avoid eye contact with Pellegrini.
(Then a bunch of football unrelated to Frank Lampard happened.)
During the second half, Lampard was sent to warm up and did so by soaking up the applause of Chelsea fans and applauding back to them.
As Lampard received instructions from Pellegrini and prepared to enter the match, Mourinho presumably whispered: "I miss u…"
Lampard finally brought meaning to the first place v second place clash when he came on in the 77th minute to a wave of a cheers peppered with a few boos.
(Then some more football happened.)
When the final whistle blew, the love-in began. John Terry refused to let go.
There were hugs, handshakes, and claps for everyone.
Lampard walks about applauding each stand in turn. All applaud back. "Super Frank" is sung at Stamford Bridge – perhaps for the last time.

— Chelsea FC News (@Chelsea_FL) January 31, 2015
And that's how all the lakes were filled with tears.
Contributors
Howler
TAGS
WELL, IT DEPENDS ON WHAT YOU MEAN BY "FREE."
Enter your best email for full access to the site.