He's a romantic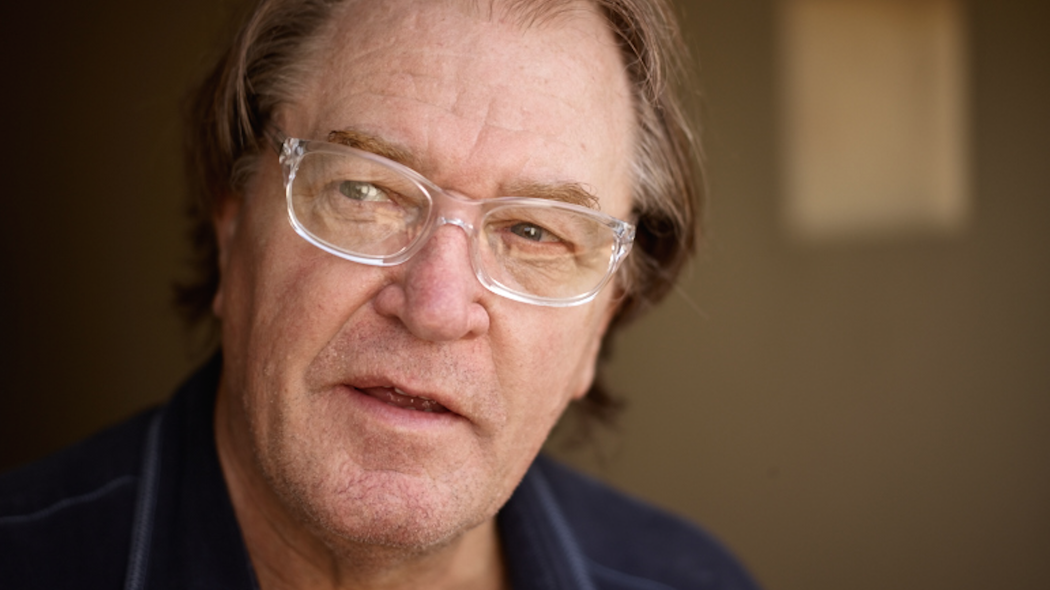 A little past noon on game day, his hair still wet and his face so freshly shaved that pinpoints of blood dot his chin, Ray Hudson walks around his house in a white cotton robe, looking for his eyeglasses. His vision isn't as good as it used to be. He's got a funny story about that.
"This was back when I was in D.C., coaching D.C. United," he says, heading over to a table where he finds his glasses resting near a plaster centerpiece of four soccer players fighting for a header, two of the players painted in white for Real Madrid, and two — including the player who rises to touch the ball — dressed in the blue and red of Barcelona, Hudson's favorite team. "I'd been there eight or nine months, and I was at me home, watching a game. I'm looking at the screen, and I'm noticing that the players are all blurry. 'Fucking hell!' I says. 'The cable's gone out again!'"
Hudson picks the Oliver Peoples frames off the table, squinting to make sure they're the pair he was looking for. When his hair is dry and styled, he looks both distinguished and cavalier, like a gracefully aging surfer, or perhaps a guitar player in the Eagles. Wet, with the strands shooting in every direction, he evokes a Nick Nolte mug shot.
"So I walk over to the set to fix it, to smack it with me hand or something, and the picture comes back into perfect focus. Clear picture. Perfect! But when I go back to the refrigerator to get a beer, it's totally blurry again! I walk back to the set to bang on it once more, and as I get closer I see the picture getting more and more focused. 'Oh, fucking hell!' I says. 'It's me fucking eyes!'
"I was crestfallen," he recalls, slipping on the frames and then smiling as the contents of his house come into view. "I was just so struck. I'm getting truly old."
Hudson, who considers himself "relatively young still" at age 58 ("I've got two more World Cup cycles in me at least, hopefully more"), is a former player and coach, and a current radio personality. Also, and by far most prominently, he's the main soccer color commentator at beIN Sport television network. He calls as many as seven games a week in the Italian Serie A, in the French Ligue 1, in World Cup qualifiers, and, best of all for Hudson as a fan, in La Liga, Spain's top division, home to the two clubs battling atop the dining room table. Hudson has been calling La Liga for the past year for beIN, and for eight years before that, he was with GolTV. His enthusiasm for the "sublime" soccer played by the galácticos of Real Madrid and especially for the "magisterial interstellar geniuses" of Barça have made him the most visible cheerleader for the game at its most beautiful.
"La Liga is the best of the best," he explains before darting back into his bedroom to get dressed. "It's the best of the game. Iniesta, Ronaldo, Casillas. Lionel Messi is Mozart playing football. This is God with his football boots on, and we get to watch it!"
A framed Barcelona jersey, number 10 and signed by Messi, rests near a sliding glass door that opens onto a small backyard. A scrubbing apparatus crawls across a pool floor, left over from the three years Hudson cleaned pools for a living, his vocation in the soccer-fallow period between his retirement as a player and the start of MLS. Sunning on a slab of coral rock is a bright green lizard, a common sight in South Florida, where Hudson has lived, with rare interruption, since joining the Fort Lauderdale Strikers of the North American Soccer League (NASL) back in 1977.
"It can be argued that football's just a game, sure. Just a bunch of men in shorts chasing around a bag of air, as me mum used to say. But it's been the central love of me whole life."
Hudson's house is light and masculine, a mature bachelor pad. White tile, black accents, silver leaf woven into the wallpaper. A Miró print hangs on one wall, a framed gallery poster of Austrian artist Friedensreich Hundertwasser on another. Dividers have been knocked down so that the kitchen, a bedroom, and the dining room all flow into one big space. Hudson likes to sit on a sectional couch in the middle of it all and watch sports on his 140-inch projection TV, the screen hanging in what used to be a separate room. A second big screen near the couch hosts a PlayStation on which Hudson watches DVDs of films by Kubrick, Kurosawa, and other auteurs. (Only movies. "I played an NFL game on it once. I was losing 62–0 in the first quarter, so I said Fuck. That.") Hudson keeps a third TV in his bedroom. A fourth, on top of a wet bar, is replaying the Juventus game he called two days ago."It's a nice, quiet house, perfect for me," he calls out from his bedroom. "When I bought this place with me girlfriend at the time, Diane, I loved it. And when Diane moved out, I loved it even more!"Hudson emerges, finally, dressed in a gray polo shirt he's had embroidered with the beIN Sport logo. He commissioned and paid for the embroidery on his own, as he likes to work in a uniform, even if no one else at the studio is wearing one. He grabs a bottle of blue Gatorade from the refrigerator and steps through his front door out to his driveway. He unlocks a Lexus sedan, choosing it over a more stylish Mercedes coupe he says he rarely drives anymore. It's a 30-minute ride to the beIN studios near Miami, where he's scheduled to call an early-season La Liga game, Real Madrid away at Granada. Hudson called that Juventus game two days ago. Yesterday he called Barcelona-Málaga, a match that featured the first sustained playing time for Brazilian newcomer Neymar. Today's Madrid game isn't particularly sexy. It isn't really notable at all, but as he slips behind the wheel, Hudson says even pedestrian mismatches can hold his interest.
"There's always that ray of hope," he explains. "It's David versus Goliath, of course, but sometimes David wins, and that's exciting. There's always the possibility of the little team overturning that big apple cart."
Part of his job is to sell the Granada game, to hype it. Hudson's enthusiasm still appears honest. His many fans — some of whom log his goal celebrations on YouTube and archive his quips on the Twitter feed @liverayhudson — know he can get worked up by just about anything involving a soccer ball. As long as there's quality play somewhere on the pitch, he's happy. Just one little moment of grace, and then nothing else — not the score, not the teams, not the coaches or the fans, and especially not the suits in the luxury boxes — tends to matter.
Proper technique on throw-ins is important to Hudson: two hands on the ball, feet on the ground. He's against "these newfangled modern boots that offer no protection at all." The contemporary crest of the Fulham Football Club bothers him greatly. "It's rubbish," he says of the insignia, which he feels is too clean and simple. "I hate it." Even when he's off the clock at beIN he likes to watch games, sitting at home with Charlie, his cat, as the satellite dish beams in matches from Argentina or Brazil, telecasts with one camera and a blurry lens that looks like it's been smeared with Vaseline, but where the working-class fans bring a fervor to the game that's often muted at the higher, European levels.
"I feel sports are really important," he says as he rolls out of the subdivision, heading for the Florida Turnpike. "It can be argued that football's just a game, sure. Just a bunch of men in shorts chasing around a bag of air, as me mum used to say. But it's been the central love of me whole life." He turns onto a main commercial artery clogged with oil-change shops and fast-food restaurants. When the Turnpike comes into view, he follows a ramp onto the southbound lanes, heading out of Fort Lauderdale and down toward Miami-Dade County. The car passes a horse track and then the stadium where the Dolphins play a different strain of football. Hudson grows quiet for a minute or maybe two. Which, in his company, can feel a bit like forever.
"It's probably the biggest part of my life now," he says finally, still speaking of his relationship with soccer. "Because I don't have children. I don't have a marriage. I don't have a circle of friends where I'm entertaining. It's not just an indulgence. It's my purest love. And probably always has been in the past."

"I don't want to say we went without food or we were living in a box on the street," Hudson says, recalling his youth. "It was never that bad. But we didn't live in a pretty place. This was the equivalent of the projects. And yet I was the happiest kid in the village, because I had me ball and I could play football after I came home from school until the moon came up at night."
Growing up in Gateshead, England, across the river Tyne from Newcastle, Hudson lived in government housing so dark and damp that mushrooms sprouted on his bedroom wall. He avoided the fungi by staying outside as long as he could, playing soccer with his friends on cobblestone streets illuminated by gas lamps. Sometimes he'd borrow his sister's yellow blouse so he could imitate the Brazilians. Other times he wore a red number 10 in honor of his favorite striker, Denis Law of Manchester United. The names of footballers he admired — artful playmakers such as Law, Alan Hudson, and the goalkeeper Peter Bonetti — found themselves tattooed onto the ball Hudson took everywhere he went.
"I always had me ball," he says. "Every time me and me friends would step out of the house, you brought your fucking ball. Wherever you went, you took your ball. One instance I come home, me neighbor Mrs. Johnson says, 'Raymond, would you run down and get us a pint of milk?'
"'Of course, yes.' So I run down the street right away. When I stepped into the store, the shopkeeper let out a gasp.
"'Raymond!' she cried. 'You're half-dressed!'
"I said, 'What do you mean?' I had all me clothes on. Trousers, shirts, socks, shoes, everything.
It was the first time the shopkeeper had seen him without his constant companion, the ball he kicked in the park and in the streets long after his mother called for him to return home. And then hours longer still when the city replaced the gas lamps with halogen lights that stayed bright and steady all night long. "It was like playing at fucking Wembley," he recalls. "Now we were never fucking going home!"
The skills Hudson developed in the streets won him a tryout with Newcastle United at age 17, and then a place on the squad. He found professional soccer preferable to the bookkeeping he'd been doing for money, but it was also a fight and a challenge — a job. For his friends, the game remained pure fun. Saturday nights drinking at the pub. Sunday afternoons lacing up the boots with the lads. All Hudson wanted to do was join them on the field. Like when he was a kid.
"The saddest day of your year, I mean, a really sad fucking day, was when they'd take the goalposts down at the park," he remembers. "We had three football fields at our park, and once the summer started and the football activity at the pub level and the leagues and everything stopped, the posts were taken down, and that was like, you know, you'd literally, you'd stand at the fucking fringe and be looking at 'em taking the posts away and think, 'The bastards are doing it again!'"

The BeIN studios hide inside a concrete warehouse plopped amid a bunch of other warehouses in a dusty Miami suburb zoned specifically for these warehouses. BeIN, fueled by the Qatari oil money that's transforming the global game, is only a year old, yet it is already expanding rapidly. The channel's executives razed an old police station next door to make room for another studio. Construction rubble occupies a lot in the back, leaving too few spaces for all the cars that need to park. Hudson rolls his Lexus into a narrow opening near one of the main studio's emergency exits. It isn't really a parking space, but there aren't any signs stating that, technically, it's not a parking space. "Nobody else but me has the balls to park here!" he says, smiling. He shuts off the engine, grabs his bottle of Gatorade, and heads inside.
Everybody loves Raymond — from the security guard at the front door to all those he passes on the stairs up to the beIN production offices. "Ray!" shouts Kay Murray, an on-air host, who breaks into a smile and steps over for a kiss. "Hey, Ray!" says an also smiling Adam Hirshfield, a new hire working on the station's website. "I'd been a fan of his for years," Hirshfield reports. "And it turns out in real life he's exactly the person you imagine he'd be. He's the same on the air and off."
"That's one ugly bastard" Hudson mutters. "He reminds me of the planet of the apes. If we look online, I bet we find a reference." Hudson types on his keyboard, then clicks his mouse. Up pops Bale's face photoshopped next to Charlton Heston circa 1968. "You see! That's one ugly bastard!"
Hudson steps into an executive office to discuss scheduling with a colleague: What games will he be calling next week, and the week after that? He steps back out to brainstorm a bit with Hirshfield, who wants Hudson to record short promotional videos for the site. Hudson doesn't really want to record the promos; too scripted, he feels. He's more comfortable giving his takes on the fly. But recording promo videos has become part of his job, and he'll do whatever the team asks. When he starts to make his way back downstairs to the broadcast booth, a woman in a white Cristiano Ronaldo jersey asks him for a Madrid win. He calls out hello to another woman, who's wearing a purple jersey for Italy's Fiorentina, also playing today. The rest of the staff wear either red or blue in honor of the afternoon's biggest game, Chelsea at Manchester United. "Who do you like, Ray?" Chelsea, he answers. He likes head coach José Mourinho.
The broadcast booth is a small and sunless room lined with purple eggshell foam to absorb sound. It's a closet, really, quite cramped. Two Aeron knockoffs face a desk on which rest two computer monitors and keyboards. Mounted on the wall between the computers, a 32-inch video screen waits to beam the live feed into the booth. A square box with dials, buttons, and headphone jacks sits on the desk between Hudson's chair and the one occupied by Phil Schoen, his primary broadcasting partner for the past decade."Ray!" says Schoen as Hudson sits down. They get to work. Schoen offers something about the starting lineups, and Hudson begins scribbling notes onto a piece of paper. Now the stats from Granada's last match, then from Madrid's. Both men surf the Internet for a while, gathering info that might inform the broadcast. Injury reports, an interview with Madrid coach Carlo Ancelotti. "Is that Granada's crest?" Hudson asks, pointing on his screen to a modern and simple design. "I don't like it. It's like the Fulham crest." Click, click. Gareth Bale to Madrid isn't done yet, though the transfer certainty dominates the soccer websites. Hudson scans a hundred references to Bale as he cycles through his prep.
"That's one ugly bastard," Hudson mutters. "He reminds me of The Planet of the Apes. If we look online, I bet we find a reference." Hudson types on his keyboard, then clicks his mouse. Up pops Bale's face Photoshopped next to Charlton Heston circa 1968. "You see! That's one ugly bastard!"
As the game moves closer to kickoff, the chatter fades away. No more talk about monkeys or movies or about a janitor Hudson once saw mopping an airport floor in Honduras, and how her smile was so beautiful he's never forgotten it. Clicking mice and clattering keyboards. Hudson turns off his cell phone. He flips shut the lid on his iPad. They both plug their headphones into the jacks.
At the top of the hour, the central screen shows a warm sunset and then the green grass of a field in Spain. The broadcast starts, and it's as if a switch is thrown. Both men suddenly animate, talking loudly and in a manner that's more than a little theatrical. It's disconcerting. They're not in a stadium; they're in a closet in Medley, Florida, and only minutes ago they were chitchatting like their colleagues upstairs in production. Yet now it's as if they're surrounded by fans, raising their voices to be heard over the cheers. Ray Hudson on the air is the same as Ray Hudson off the air, yes, but exaggerated. He's performing.
Schoen plays the straight man. His job is to draw a skeleton — who, what, where — for Hudson to flesh out. "Let Ray be Ray," is how Schoen put it before the game kicked off. "I probably talk half as much with Ray as I would with someone else." Their interaction is not a conversation. It's more like a series of monologues, the active mic bounding across the desk like a tennis ball. Schoen calls out player names as Madrid brings the ball upfield, until Luka Modric's right foot lifts a shot just above the crossbar. Over to Hudson.
"This would have been the best goal I have seen this year!" Hudson shouts. "It was the most intricate, sublime, beautiful football, and it's inches away from the upright. Truly magnificent football."
He's the emotion meter. His screams — think of a street thug stabbing Elmo — indicate that what just happened was a big deal. He wants the viewers to appreciate how magisterial that play was, how orgasmic that perfectly weighted pass by "Avatar Eyes" Mesut Özil. Did you see that? Did you notice? Hudson's Geordie brogue grows reedier as his excitement rises. The increasing strain on his vocal cords recalls a penny-arcade love machine. As the ball moves across midfield, his engagement escalates from "blah" through "clammy," "harmless," and "mild." If an attack develops, he fires up the green light for "naughty but nice." If it's a broadcast of, say, Ligue 1, and if Radamel Falcao approaches the box? Then we're at "wild" yellow. Is he in the box now? "Burning" orange. In the Copa del Rey final last year, there's a "passionate" purple pass from Messi to Gerard Piqué. The defender backheels a return to Messi's feet and we're at crimson, "hot stuff."
"What a pass!" Hudson cries. When Messi redirects the give-and-go into the net, Hudson is fire-engine red. "Uncontrollable."
"Excuse me for being excited, people, but we just witnessed a goal that would wake up a catatonic! Astonishing skill that literally takes the breath away. Phenomenal football, and there's no answer to that. You can't coach against this. It's pure genius is what it is."
Hudson's lines are not merely funny, though they often are. They are creative, too, and almost always apt. He recognizes the talent and skill inherent in, say, an Edinson Cavani strike, and he can transfer his admiration to the viewer. He sometimes seems like he's trying to slap the listener in the face: Wake up! We are witnessing brilliance here!
"Anyone can scream," says the author Joe McGinniss, a friend of Hudson's and one of his biggest fans. "Anybody can get frantic. There's no skill involved in just getting frantic. With Ray, it's his use of language. You wonder where he comes up with these things."
Things like this: "Ahhhhhhhhhh! Are you kidding me?! This man is absolutely mainline to pure footballing magic! It belongs in a different galaxy altogether than we are living in. Absolutely astonishing, jaw-dropping genius from Lionel. Watch this hesitation right there, three players inside a telephone box and he don't care. He emasculates them individually. He literally disperses his atoms inside of his body on one side of this defender and then collects them on the other. Magesterrrial, Lionel! Magnífico. Extraordinario. Barcelona bounce back, Messi leading the way with his brilliant gallbladder flag. It is on fire, and he sticks it into the hearts of Atlético and puts up a warning to Bayern Munich."
And this: "Genius. That's the only word you can use. They should name a constellation in the heavens after Lionel Messi. This run is uncontainable. His pass is unstoppable. Look at this, how far wide he gets it. Cutting in past player after player, and then the dexterity of the touch lays it through an absolutely golden needle. It's an immaculate touch from Lionel. It doesn't need an extra touch from Di María because the pass is perfection. He actually puts negative spin on the ball, and it holds up onto the grass. And he could have put it on an absolute golf tee and it wouldn't have been any better."

Hudson was 21 years old and battling for playing time with the Newcastle United first team when he was offered a loan to the Strikers in the soccer netherworld of Florida. He accepted the loan on a whim, and once he got to Fort Lauderdale, he never wanted to leave.
"They knew what they were doing," he recalls. "When they got us on loan, they put us in this lovely apartment on one of the city's finger canals, the Isle of Venice, and we — it was like the Clampetts coming down on The Beverly Hillbillies. Seriously, that is what it was fucking like! We had the palm trees. You're literally a quarter of a mile from a spring-break beach. Astonishing!"
He had no trouble locking down a starting spot on one of the glamour teams during a remarkably glamorous time for soccer in the States. The Strikers battled Pelé and Beckenbauer when they played the Cosmos. Hudson weaved passes to Gerd Müller and George Best in games against the Rowdies from Tampa Bay. There was no basketball team in South Florida at the time. No baseball team, either. Hudson's blunt and funny quotes after the games made him a local celebrity. He wore his hair long like a rock star. He drove a Camaro.
"My first soccer game was a Striker game that I went to with my dad," says Joan Hudson, a Fort Lauderdale native. "It was kind of boring for me, but it was the first time I saw Ray. I said, 'Hey, Dad, look at that guy with the blond hair out there. I like that.' That's where it started from. I didn't even really like blonds that much, either. It was strange."
Joan was 23 at the time. Ray was 26. "When I met him he didn't eat pizza. He'd never had Chinese food. He'd never had any Italian whatsoever, no Greek, no Mexican food. Nothing. He wouldn't even put anything on his hamburgers, either, just a piece of meat between two plain buns. I was like, 'You've got to be kidding me!' I love food, so I slowly introduced him to all of that stuff."
They wedded at a Greek Orthodox cathedral in Miami, in a traditionally wordless ceremony. Gold crowns teetered atop both their heads. They joined right hands as a priest prayed that God would grant them the joy of children. More than 30 years later, Ray talks about Joan constantly. He's always telling "the girls" at beIN about Joan, Joan, Joan. She acts in kind, regularly talking with her friends about Ray, Ray, Ray. She lines his wallet with dollar bills so he can buy lemonade from the vending machines at the beIN studios, which only accept singles. When he's calling a game, she turns on the television just to have his voice in the background. Joan was the one who filed for divorce, back in 1989.
"It didn't work out on my part," Ray Hudson says. "It wasn't anything to do with Joan, purely a terrible mistake on my part, which I don't want to get into. It's something that worked out sadly for me. Yet we can't leave each other."
They live in separate houses. They haven't always been tight over the past three decades — Hudson lived with someone else for a while — but now they spend most nights of the week together. "There is an extreme closeness," Joan says. "He knows me better than anyone. And I probably know him better than anyone. And that's nice, that's comfortable.
"He was the love of my life and will always be," she adds. "Will he ever be replaced? I don't know. I really don't know. Whatever I have from him will never disappear. He is really someone that captured my heart and will always have it. And I'm not afraid to say that in front of anybody. Because it is what it is."

Real Madrid scores in the first half, a Karim Benzema gimmie off a short pass from Cristiano Ronaldo. Mesut Özil sulks straight to the locker room after being subbed in the second half of what will turn out to be his last match for Los Blancos. The game feels small and a little dull, even with Hudson announcing. It won't be remembered two days from now. Hudson will move on quickly, too. He's got Barcelona against Atlético Madrid coming up. A full weekend of games will follow and then a doubleheader of World Cup qualifiers the next week. Yet even after 90 mundane minutes in a closet, Hudson somehow looks exhausted, spent, as if he's been playing against Madrid himself.
In the last minute of the game, a Granada striker had slipped into the box and so quickly evaded his defender that, in desperation, the defender pushed him down before he could get off a shot. A sure foul — or so Hudson insists — that wasn't called, preserving the win for Goliath. The big apple cart remained stable. And Hudson is having a hard time letting it go.
"It was a clear penalty!" he says, several times. "Don't you think it was? Looked like a penalty to me!"
He shakes hands with Schoen, their postgame ritual. He takes a swig of his Gatorade, which is warm by now. He rubs his eyes, his face red from exertion. Hudson is criticized for getting perhaps too into the games he calls. His brogue makes him "sound like Scotty on Star Trek," complained a guy on YouTube. "The worst commentator I've ever heard," wrote someone else, an "absolute joke." "This guy's an idiot," posted yet another viewer. After a Barcelona win: "Hudson's screaming like a little girl and getting wet over Messi. I'd rather listen to the game in Arabic and I don't speak it."
Hudson is aware of the criticism. "Some people like a much more sober, level, downer type of rendition," he says. "And that ain't me. And it never has been and never will be. And I feel sorry for that guy at the end of the bar who wants it that way."
Too many announcers, he says, are clinical, even cold. They can explain why a goal was difficult, or why a pass was technically challenging, but they too often fail to convey a sense of incredibleness. They don't transmit the love. Love for the moment. Love for the move. Hudson, safe to say, is not like that at all. And he has a story about that.
"There was a big horse race a couple years ago with this wonderful horse and I had backed it, me and me father," he says. "It was called Pour Moi. French horse. 'For Me.' And it was ridden by this kid called Barzalona, Mickael Barzalona. And this kid was riding in the Epsom Derby, the biggest, greatest race in Europe. This horse was one of the favorites. At the post, he starts in last place, but you could see how he was gonna make his move. In the last couple of furlongs, he was gonna come around Tattenham Corner, and he was coming on to the winning post, but he had a hell of a lot of room to make up. And me and me father, we was screaming like Messi had scored a hat trick in a Champions League final in a 3–2 game. And he's knockin' 'em off, one at a time, one, two, three, and we were going crazy, just going crazy with every horse that Pour Moi passed. And then, right there, a magic moment.
"As Barzalona was coming to the line, coming to the finishing wire, he still had one extra horse in front of him, and as he's coming right up to the line, it didn't look as if he was going to win, it didn't look as if he was going to get there. And I'm going fucking nuts. 'Come on, Mickael, come on!' And he stands up! He stands up in the saddle and puts his hand up, 'cause he knew he had the momentum. And the horse won by a nose. But it was the genius of that one flash of fucking pure… sporting… exhilarant, an exhilaration that can never be repeated. It'll never be! You'll never see that again. If you live to be a million years old you'll never see this. And that's what happens in those sporting moments that take us to a different place, whether it be cricket, baseball, basketball, Messi or Ibrahimovic — it's those moments, it's something within me, something within my soul has been speared with things like that. It just makes me — like I say, I have this molten reaction. It's nothing I can foretell. It's just in me. And if it's in me, it's going to come out."

Living in the land of eternal spring break was a major life upgrade for Hudson, but playing in Fort Lauderdale meant that he was far away from his parents. That separation has been the toughest part of his life in the U.S. He still returns to England every year to spend a month with his father. With his mother, too, when she was still alive. The visits home are the highlight of his life.
"It's just such intense love I have for them," he says. "Even as a boy, when I was with me mum, I'd embarrass her on the street with my affection. I loved doing it! When she'd be at the shops, I'd stop her on the street and tell her how much I loved her. If there was people walking by, I'd tell them how much I loved her. Even in the nursing home I'd say it. And it wasn't anything showy or anything. It was a pure outflowing of love."
Hudson's father is 94 years old now, and in such frail health that Hudson was forced to fly back this year earlier than planned. Sitting with his father, eating fish and chips while watching the old soap opera Coronation Street on television, makes Hudson about as happy as he can be. He doesn't vacation in other cities. He wants to keep going back to Newcastle as long as he can and spend as much time with his father as possible.
"He's still a great character," Hudson says. "He's great, great, great to be with. The stuff he comes out with, what he says, I love it."
Hudson never had kids of his own. "It just wasn't in the stars for me and Joan," he says. "And for prior relationships as well. For my part, it's probably my greatest regret in life. Joan would have been the greatest mother ever. She's a wonderful, great girl. From a fabulous family. But it didn't happen. It wasn't in the stars."
Before the Strikers dropped out of the NASL in 1984, Hudson moved with the team for one year in Minnesota. He finished up his playing career with a last season in Tampa Bay, as the Rowdies' player-coach. He entered the pool business upon his return to Fort Lauderdale and did what he could to stay in soccer. He coached an under-six girls team called the Pink Flamingos. He doled out quotes the few times that soccer grabbed national attention. ("I felt like Tutankhamun being rolled out for another show or interview every time there was a World Cup or Olympics.") When Major League Soccer brought the Miami Fusion to a stadium only five minutes from his house, Hudson began calling games on the radio for the first time, taking to the medium instantly. After a couple of seasons, when the struggling Fusion needed a new head coach, Hudson found himself in the job.
"He was very enthusiastic, very passionate," says Nick Rimando, the current national team keeper whom Hudson installed as a Fusion starter. "You almost felt like he wanted to be out there on the field with you."
Hudson turned the Fusion around right away. ("Tiki-taka stuff!" he insists. "We were playing Barcelona football before Barcelona!") But then the Fusion folded, and Hudson relocated to Washington, where he lasted only a year with D.C. United. When he returned to Florida, soccer had begun its steady climb in popularity and national consciousness. He never had to clean a pool again. Instead, he landed the color job at GolTV, a rather obscure cable channel that held the rights to La Liga, which was all Hudson cared about.
"It wasn't the fucking money. It wasn't as if I had a decision to make. You're doing Barcelona? Fucking I'm in!" (Hudson, for all his passion for La Liga, has never seen a game live in Spain.) Now at the more ambitious beIN, Hudson calls more games than ever and has also branched out with his SiriusXM radio show four mornings a week. The radio gig suits him.
"When they called me up to do it, I didn't want to," he says. "It took some convincing for me to give it a try. Slowly, I came around. Now it's a pleasure. Even getting up at five o'clock in the morning doesn't faze me anymore. It's a pleasure. It brings you out of your man cave.
"I don't have any social activity very much anymore. I mean, I don't have a big circle of friends and never have. Which is the way I like it. Just like me father, in a lot of ways. A little bit of a loner."

With the Madrid game over, Hudson puts away his headset and microphone and steps into a locker room to prepare for a studio show called The Locker Room. He pulls a dress shirt and a sport coat off a rack and tries them on in the company of Schoen and three other beIN announcers. They are all men, they all love soccer. They talk about Bale and Madrid and the latest developments in the sport, and then they walk over to a purple-and-white set where they go on air and talk about the exact same things.
Hudson's hair has been combed and his face dabbed with enough pancake makeup to finally mask those little shaving nicks on his chin. He's hungry and exhausted from the Madrid game. (He doesn't eat at work, as food on game days can make him sound sleepy behind the microphone, a professional sin.) The show required him to spend 30 minutes slinging insight about Bale and Paris Saint-Germain and a dozen other newsworthy soccer items. And he still pulled it off with ease, and to the great amusement of the other announcers on the panel. All his jokes landed.
"He's a natural," says Schoen. "It sounds strange, almost like he's a savant, but this is just something he was born to do. He's got the personality. He grew up in the game, so he has the knowledge. And whether it's on TV or on radio or in person, he's just attractive as a character. People want to hang out with him."
Night has fallen by the time Hudson changes clothes and steps back into his car for the ride home. He still hasn't eaten anything since he left his house, but he's amped, full of adrenaline. It's the same high he felt back when he was a midfielder with a long mane of blond hair. And back when he was still coaching the Fusion. It always takes hours for the energy to dissipate.
It's quiet on the road, and dark. He starts talking about how his new teammates at beIN rib him for his Messi love, which feels unfair. It's not Messi, he insists. It's beautiful play. Before Messi it was Ronaldinho. And before that his heart belonged to "the Bernini sculpture free kicks" lofted by the Argentine Juan Román Riquelme, a man Hudson has said he'll go to his grave defending. His absolute favorite player, Hudson clarifies, is Maradona. "But I never got a chance to call Maradona's games, so people don't associate me with him. But I'm certain he's the best who ever touched a ball."
He gets so animated, defending himself. It's the same energy that makes his color commentary engaging. That pass he was lucky enough to witness! That free kick that rose over the wall only to dip back down under the crossbar! How amazing it is to have seen it. How lucky he is to get paid to watch these guys play.
"There's times when I've had enough," he allows. "It gets to a point where it's so overwhelming. And you get tired of it. Sometimes you just do. But I was telling someone this morning that this fricking game, it never grows old. You think you've seen it all, you watch the Liverpool comeback against Milan, and you know you're never going to get another game like that, there'll never be another one. And then a couple years later, Man United get beaten by Barcelona in that epic game in Rome. Different games, you know, but a different discovery in every game. In every game! Even if it's Madrid against Granada, there's something there that just keeps pulling you back up."
It's good to have something to love, right? A casual comment, tossed off.
"I wish I did," he replies. Then he goes silent for a minute, which, again, is a very pregnant pause in Ray Hudson's world.
"I think about that a lot during the waking hours in me day," he continues. "There has to be more than fucking this. There has to be. But there isn't for me. There isn't. My father is the greatest love of me life, me mother and father. I'm not being corny or anything. Just the way I was able to look after them in their retirement, put years on their life and stuff."
With one hand on the wheel, he takes off his glasses, touching fingers to the corners of his eyes, which are tearing up. He doesn't say anything for a while. Eventually, after some time, Hudson puts the glasses back on. He stares out at the traffic up ahead on the Turnpike.
"Ahhh. You know," he says. "There's nothing that comes close to that love. And other than them, I've not really had anything I can love as much. I absolutely worship and adore Joan, but our marriage didn't work out. We're still so close and endearing to each other. But… this game is the thing that has me heart. It just does. And without it, I don't know what the hell I'd do."
It's heavy in the car with Hudson's tears, but the tension dissipates with every mile closer to Fort Lauderdale. Talk drifts back to Messi and then to Phil Schoen's broadcasting style before Hudson monlogues for a few minutes on the meaning of life. "I don't want to die. I do not want to die, but I'm not afraid to die." By the time he returns home, his empty stomach is grumbling and food occupies the front of his mind. He steps inside the house and makes a beeline for the kitchen, where he pulls a tall can of Kirin Ichiban out of the refrigerator. He pops the top and takes a deep sip. "Oh, man. After the day I've had, this is nectar!"
A motion to order pizza is raised and immediately ratified. Hudson calls the restaurant. On goes the TV over the bar. He presses buttons on a remote, and suddenly the 140-inch big screen is also up and broadcasting. A couple of minutes of Antiques Roadshow. A few more of the beIN studio show he just taped. "It's not the rumor mill, it's the rumor Phil!" the televised Ray Hudson says, making the fleshand-blood Ray Hudson laugh. (You had to be there, but it was a good line.) Ray ducks into his bedroom and comes out in a wrinkled peach polo shirt, plaid pajama pants, and slippers. Dressed for the night, he scurries back to the kitchen to peel shrimp for his cat. "Where are you, Charlie? There he is!" He calls Joan on the phone, speaking to her in a gentle singsong. "Hi, luv… Just going to order some pizza and watch some TV here tonight… Yes, luv… Okay, luv. Bye."
The pizza comes from a place Hudson has been ordering from since the '70s. ("They always still ask for my name, as if they don't know who I am.") Hudson is not one to give up on a relationship. When he orders sweet and sour chicken, it's from the same Chinese place he's patronized since Joan first turned him onto Asian cuisine. If a friend is visiting, and the itinerary calls for a fancier meal, Hudson will take him to Casa D'Angelo, the same upscale Italian restaurant he's eaten at for years. And then, whatever the specials, he'll order chicken parmesan. The pizza that arrives is plain cheese, as usual.
Hudson settles in front of the big TV, his dinner steaming on a coffee table in front of him. A stack of movies fills a chair positioned near the couch. Cinema Paradiso. The Tree of Life. The Treasure of the Sierra Madre. Books occupy another chair, Shakespeare in the collection. When Hudson consumes these works, if he comes across an analogy that particularly sings, he'll jot notes on a pad of yellow Post-its he keeps close at hand. He doesn't specifically hunt for witty phrases, he insists. But he's been broadcasting long enough by now to recognize an analogy that might work on the air. He has a lot of games to broadcast. He can always use more material.
"Man," he says, kicking back on the couch while scanning for a game to watch. "On nights like this, I really wish I didn't have to do the radio show in the morning."
But didn't you say you appreciate the radio show? How it brings you out of your man cave, how it forces you to interact with other people?
"Yeah," he admits, "that's still true. But not right now!"
The radio equipment — a headset, a microphone, and a blue box that connects him to SiriusXM — sits on a desk in his office, near the big television screen. The box, which required technicians to install, is an ISDN line, which Hudson cracks stands for "I Still Don't Know." The leather office chair pushed under the desk is new, but it isn't working out. The chair's failure is not really on topic or anything, but Hudson's got a funny story about that. It's tempting to let him tell it.
Very tempting.
"So me chair, inside me office or me media room or whatever you want to call it, I have it in front of the computer, and I like it. But the little gizmo underneath it? When you sat down? It'd lower me down like I was in an elevator. Real slowly, but so low that I had to stand up to do my work, and that wasn't going to do. So I said, 'Okay, I'll get a new chair.' I went down to Office Depot. And, ah — beautiful chair. Beautiful! Beautiful! The fabric! The comfort! I sat in it and it was fucking, 'Ahhhhhh, this is fucking perfect!' And it was on sale, too! It was still 160, 170 bucks, but it was on sale, and I'm telling you, it was a bargain. A bargain! I couldn't wait to get it home.
"So I gets it home, and I puts it together, which, for me, every time I achieve something like that, it's like I built the Hoover fucking Dam. I was proud of myself, because I built the fucking thing. I'm spinning it around, and I'm smiling because I did it, you know? Then I rolls it into me office and I sits on it.
"Oh, God. Didn't feel right! Did not feel right. Totally different. Totally different. It was a bit stiff, especially when I'd push back on it. I gave it an hour of trying it, but no. Totally different. So I called up me friend Jeff and said, 'Hey, you want a new chair?'"
Jeff 's coming to pick up the chair tomorrow.
The Detroit Tigers take over the TV for a few innings. Hudson likes Detroit, the city. For its music and because his dad worked at a Ford plant in Newcastle. (The item Hudson's going to have appraised on Antiques Roadshow someday? An original repair manual — the official paperwork, passed to him by his father — for a Model T.) He likes baseball, too, and the Tigers are his team. Baseball isn't soccer. But neither is horse racing. Or basketball. Or cricket or any other game he'll watch in a pinch — anything that can deliver to him that transcendent flash he's seeking, that magic moment.
Charlie the cat jumps on his lap. Hudson pets his white fur, unaware Charlie has only a couple of weeks left to live, that this is the end of his run. The cat is a stray. He showed up in the backyard one afternoon, tapping a paw against the sliding glass door. Hudson's dog had just passed, and there was a void in his life. He invited the cat inside, named him, and gave him his affection.
When Charlie dies, not a month from this evening, Hudson will sink so low that Phil Schoen will tweet condolences. There will be another void in his life, and Hudson will feel fortunate to have soccer to fill it. Lots of soccer, so many games coming up. Beautiful plays. Magic moments. Messi and Madridistas. Davids and Goliaths. Soccer will be the outlet for all the emotion inside him, bubbling up, bursting out, each broadcast a love letter. It's a good story he's telling. So funny, sometimes, that he can't help but cry.

Robert Andrew Powell is a contributing editor for Howler. This story first appeared in issue four. Back issues of the magazine are available for purchase here.
Contributors
Robert Andrew Powell
TAGS
WELL, IT DEPENDS ON WHAT YOU MEAN BY "FREE."
Enter your best email for full access to the site.