Home
Dirty Tackle
Six-year-old Aston Villa fan politely asks Jose Mourinho to manage the club
Six-year-old Aston Villa fan politely asks Jose Mourinho to manage the club
February 6, 2015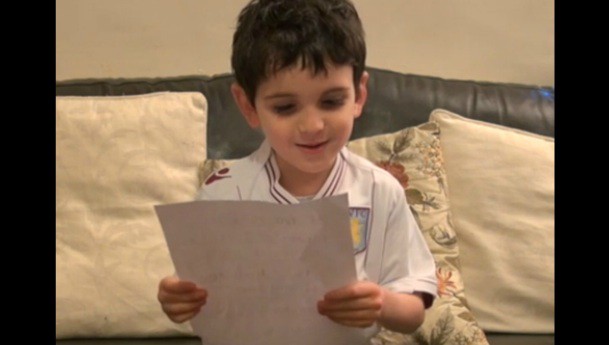 Aston Villa are struggling. They've only scored 11 goals in 23 Premier League matches this season, frustrating supporters young and old. But six-year-old Jude Branson has decided to do something about it and penned a letter to Jose Mourinho, asking him to push Paul Lambert aside and take charge of the club.
According to Jude's father, the boy reached his breaking point after attending Villa's 2–0 loss to Liverpool in January. From the Birmingham Mail:
"He said he wanted us to get a new manager so I asked him who does he want.
"Straight away he said Mourinho, no messing! At least he's got good taste!
"He said he was going to write to him when he got home, so he did. He's asked Mourinho to come and help, and he's also asked if he could bring [Diego] Costa. He's still convinced that Mourinho is going to come and sort us out."
Here's the letter in full:
"Dear Mr Mourinho, My name is Jude. I am 6 years old and I support Aston Villa. You are my favourite manager. Please could you manage Villa and bring Costa with you? We need help. Thank you Jude Branson."
Asking for Mourinho is one thing, but Costa too? That's just greedy, kid. I know Villa need goals, so maybe I could understand asking for Mourinho and Loic Remy, but Costa? Beggers can't be choosers. That's an important life lesson. And here's another tip: you really should have asked Mourinho to steal Roman Abramovich's credit card on his way out of Stamford Bridge. Then Villa could buy all the Diego Costas they need (which is several). But you're only six and you probably don't know about identity theft yet, so I'll give you a pass on that.
Mourinho and Chelsea make the trip to Villa Park this weekend, so maybe Jude will be able to deliver his letter to Mourinho in person. But for now, you can watch him read it (with a bit of off camera coaching) on the Birmingham Mail's site.
Contributors
Howler
TAGS
WELL, IT DEPENDS ON WHAT YOU MEAN BY "FREE."
Enter your best email for full access to the site.