Home
Dirty Tackle
Spurs provide sad cup final party planning tools for their most incompetent fans
Spurs provide sad cup final party planning tools for their most incompetent fans
February 24, 2015
https://www.youtube.com/embed/xq-cUYc64_c
Spurs are very excited about being in a cup final, but since a few years have passed since they last reached this point in 2009, they felt the need to help supporters through the most basic elements of party planning for the occasion. You know, just in case a sizable portion of their fanbase thinks that nachos are made with rat poison and have never experienced a social gathering before.
First things first, they provide invitation templates that you can download and send to friends because email, text messaging and social media do not exist yet. Note how they provide a space for you to fill in the date just in case you want to have your cup final party on a day other than when the cup final actually is.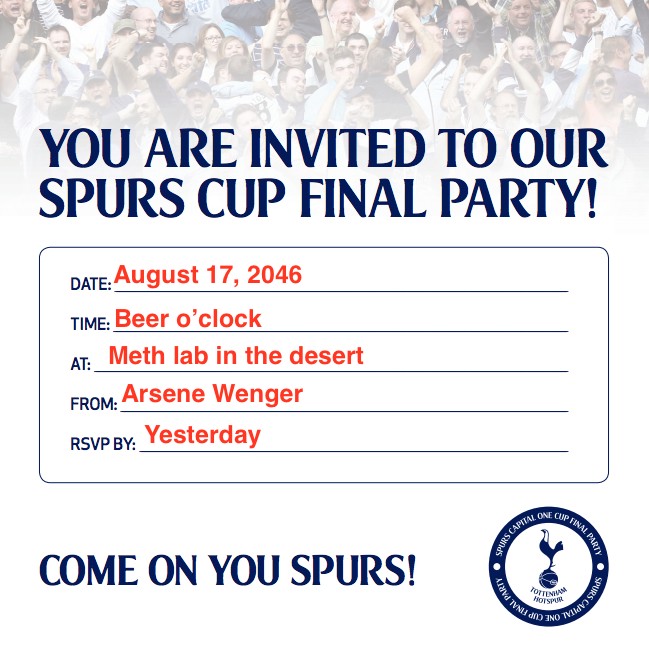 Once you send out the invites, you have to be sure that your guests can find your house. Especially the ones that you just met on the bus five minutes before handing them an invitation. Thankfully, Spurs created these handy signs that you can put on every tree within a 10-mile radius of your home to lead your guests to their demise day of fun.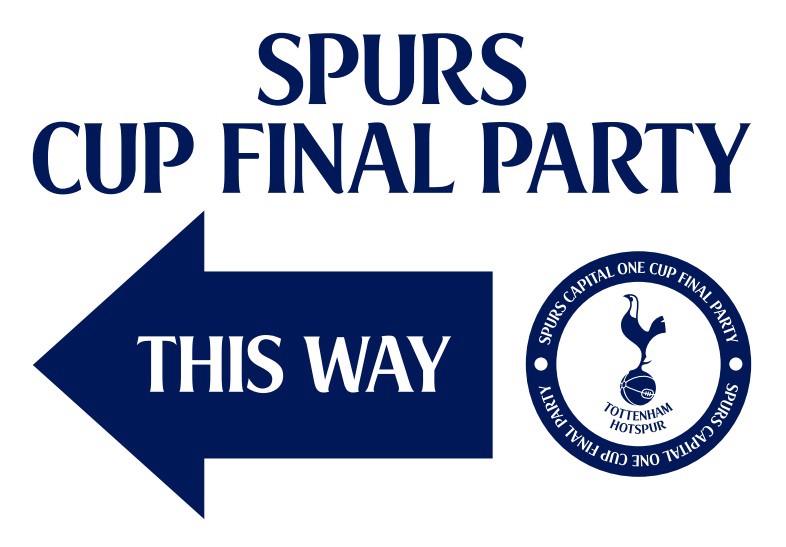 "But what if my party is to the right of the sign? Should I just cancel it and become a rugby fan?" you're probably asking. But no! Don't do that! Spurs have you covered!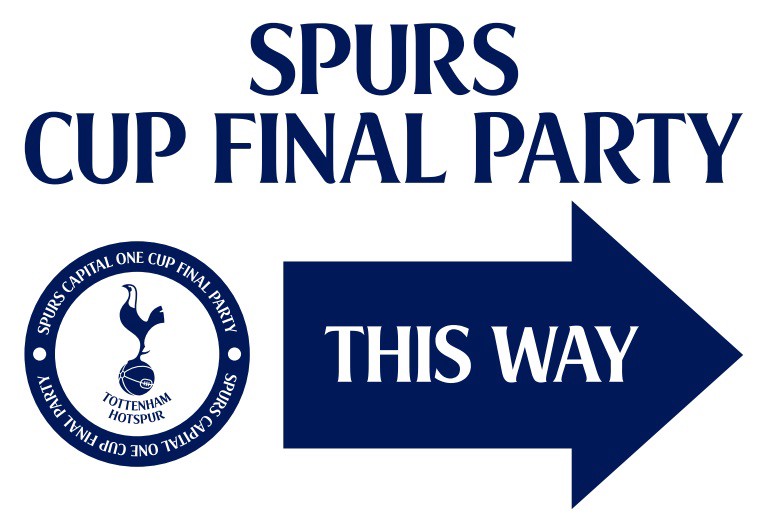 (Reminder: All of this is real and actually available on Tottenham's official website.)
Now that your guests know where to go, you've got to have some decorations and hot party tunes to make sure things are jumpin'. Again, Spurs have you covered with wall art that you can print out in sections (because nothing looks better on your wall than a collage of printer paper) and a playlist compiled by the players themselves.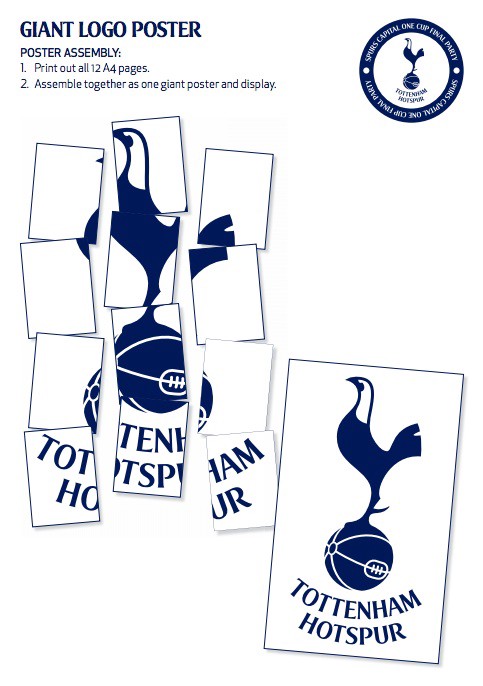 There are only seven songs in it though, and one is from the Fifty Shades of Grey soundtrack, one is a Coldplay song, and another is the melancholy "Summertime Sadness" by Lana Del Rey — guaranteeing your cup final party a very weird 27 minutes and 32 seconds of music. (Update: They have since expanded the playlist to a robust 13 songs and it looks like they removed the Weeknd's Fifty Shades tune.)
https://embed.spotify.com/?uri=spotify:user:spursofficial:playlist:0nFNL8qjv2VmHlsW5GWYAa
This leaves you with a very small window to prepare food while your guests wonder what the hell they're listening to. But what could you possibly make? And once you figure out that impossible answer, how would you go about actually making it?! Spurs. Have. You. Covered. (You're going to have to figure out how to eat the food on your own, though. Sorry.)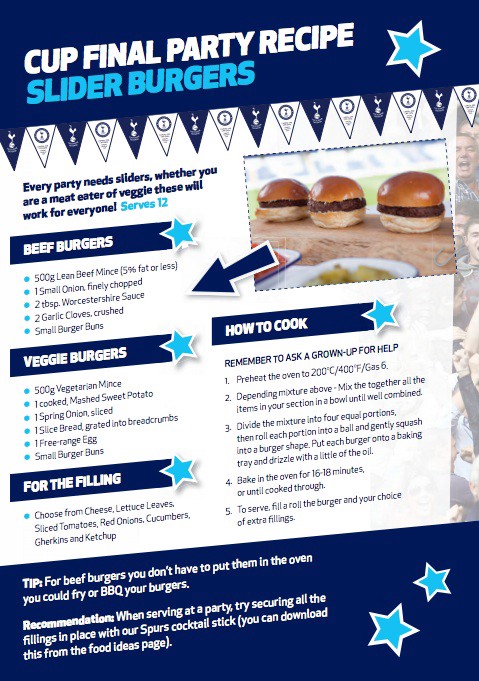 The recipe reminds the chef to "ask a grown-up for help" because obviously the person cooking for the party is eight years old and also doesn't know that the burger goes inside the bun.
Burgers not your thing? How about hot dogs? This one might be a little too complex, though. So only the most advanced child chefs should attempt.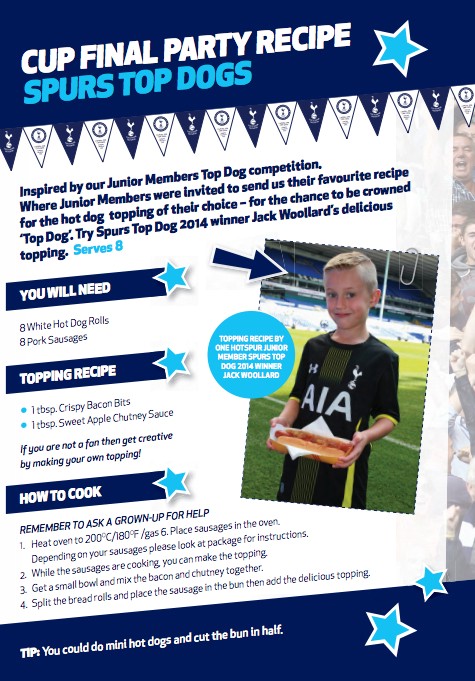 "If you are not a fan then get creative by making your own topping!" is a great piece of advice, but if they also feel the need to say that "you could do mini hot dogs and cut the bun in half," creativity might be beyond the person preparing these hot dogs.
OK. You've got guests and (a little bit of) music and ugly decorations and stuff that is edible maybe. Now you need some games. No, not the one you've convened these poor souls to watch, silly — things they'll actually want to do like cup final quizzes and "spot the Spurs star" and "pin the tail on Chirpy." And don't forget the player bingo! You can find them all here.
And there you go. All the elements of a party that will ensure that no one ever wants you to host a party again. Enjoy!
Contributors
Howler
TAGS
WELL, IT DEPENDS ON WHAT YOU MEAN BY "FREE."
Enter your best email for full access to the site.