A quintet of strikers from Senegal are setting the Premier League on fire
By Davis Harper | Photo by Southampton FC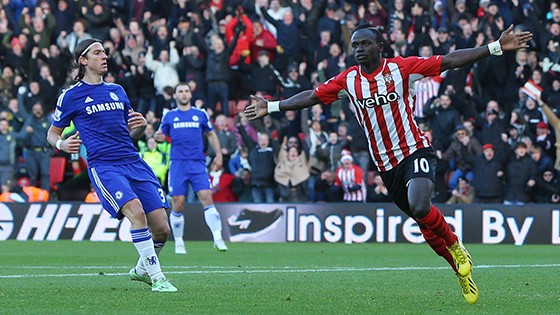 [A]midst the media's rush to hand Harry Kane a knighthood, slap Diego Costa with a prison sentence and wheel Sergio Aguero into the emergency room, another Premier League striker narrative is unfolding just under the radar.
Senegal, an African nation of 14.1 million situated on the continent's Western coast, is dominating the world's game in Premier League attackers-per-capita, a statistical category invented just moments ago for the purposes of this very article. Five Senegalese strikers lead their respective lines in the world's most popular league: Papiss Demba Cissé (Newcastle), Diafra Sakho (West Ham), Sadio Mané (Southampton), Mame Biram Diouf (Stoke City) and Dame N'Doye (Hull City).
Collectively, the quintet has accounted for 32 Premier League goals so far in the 2014–15 season, many of them the kind of imaginative strikes that end up on goal-of-the-season lists. Among the top 40 goal scorers in the Premier League, only England (14) and Spain (5) have more than Senegal's four. (N'Doye, who moved to Hull City in the January transfer window and has two goals and an assist in two league appearances, looks likely to join his compatriots.) Even more significantly, only the home nation, England, features more out-and-out strikers who feature regularly for their Premier League clubs.
Why, you may ask, is this the first time you're hearing about the Senegalese attacking firepower? It comes down to a combination of where they're from, where they're playing, and the unique gift — and curse — of the goal-scorer.
• • •
Trouble at home
Among soccer-mad African nations, Senegal represents perhaps the biggest disappointment. Its only World Cup appearance came in 2002, when it briefly punctured the global consciousness by upsetting defending champions France in the group stage and reaching the quarterfinals. Since then, international competitions have been a source of frustration for Senegal, a country whose national team set-up is loaded with ability but short on belief. Senegal has failed to qualify for the last three World Cups and hasn't made it past the group stage of the African Cups of Nations since 2006.
This January, Senegal was touted as a sleeper to win AFCON for the first time. The attack was so strong that the national team could afford to leave one of Europe's most in-form strikers, former Chelsea man Demba Ba, off the roster. However, infighting, injuries and inconsistency doomed the Lions of Teranga to yet another group stage exit.
In spite of its shortcomings on the international level, the nation deserves credit for helping to shape these strikers. Many "African" national players are born in Europe to immigrant parents, and many more are spotted and assimilated into European youth academies at a young age. While this certainly happens in Senegal just as anywhere else, none of these five leapt to Europe until their late teens. Sakho, 17 when he moved to Ligue 1 outfit FC Metz, was the youngest.
• • •
Overshadowed in England
In a league obsessed with money and exposure, the teams that employ these Senegalese hitmen remain mostly outside the spotlight. Financially speaking, the Newcastles, West Hams and Southamptons of the world exist a rung or two below the Chelseas and Manchesters, making few big-money acquisitions and fewer pushes for places in European competitions. Mané commanded the largest transfer fee of the group, when Southampton paid Red Bull Salzburg £10 million for his services this past summer. That fee did not even rank among the 25 most expensive Premier League transfers of that window.
Among the top 40 goal scorers in the Premier League, only England (14) and Spain (5) have more than Senegal's four.
However, that doesn't mean the players have settled for mediocrity. In fact, when analyzing when the Senegalese have scored and who they've scored against this season, an interesting pattern emerges: these guys score big goals in big games.
After coming on as a second-half sub, the veteran Cisse scored twice in an improbable 2–1 Newcastle win over Chelsea in December. West Ham's Sakho has netted winners against both Manchester City and Liverpool. Diouf sprinted through the entire Manchester City team and scored a contender for goal of the season as Stoke held on for a famous 1–0 win at the Etihad. Mané has four in his past seven Premier League appearances, including two sublime finishes: a chip over Thibaut Courtois to help the Saints draw against Chelsea and the other a curved finish from an audacious angle as Southampton hammered Arsenal, 2–0, on New Year's Day.
• • •
Scoring isn't everything
Scoring wins games, but in the high-octane, inch-perfect Premier League of today, players must do much more than simply get on the scoresheet every other outing. Unfortunately, Senegalese strikers don't do much other than score. While they do that more often than nearly anyone else — as of Jan. 21, Cisse's 1.14 non-penalty goals per 90 minutes was tops in the Premier League and Sakho's 0.70 was sixth — their distribution, defensive tracking and overall effect on the game is middling. The five have contributed a total of eight assists, and only one Senegalese striker ranks among the top 100 in WhoScored rating, which evaluates a player's overall impact on the game. That was Sakho, who clocked in at №81 league-wide.
Even Mané, the only attacking midfielder of the bunch, is known more for his cool finishing than lacing through-balls or curling crosses for his teammates. However, at 22 years old, Mané is the youngest of the Senegalese golden boys, and is also thought to be the most complete talent. While his youth academy director comparing him to Messi and Neymar might be a bit far-fetched, one only needs to see a few touches to recognize his potential. He possesses the rare combination of creative playmaking ability and a devastating scoring touch that allows him to operate just beneath the striker, a kind of African Eden Hazard who's dangerous from anywhere in the final third.
Can Mané be the player to finally raise Senegal's global profile? It remains to be seen, but what is certain is that the African nation's strike force is currently terrorizing Premier League defenses, and looks likely to keep doing so for seasons to come.

Follow Davis Harper on Twitter @dhillharper.
Contributors
Howler
TAGS
WELL, IT DEPENDS ON WHAT YOU MEAN BY "FREE."
Enter your best email for full access to the site.