Home
Dirty Tackle
DTotD: Steven Gerrard sent off 48 seconds after entering Liverpool-Man Utd match
DTotD: Steven Gerrard sent off 48 seconds after entering Liverpool-Man Utd match
March 22, 2015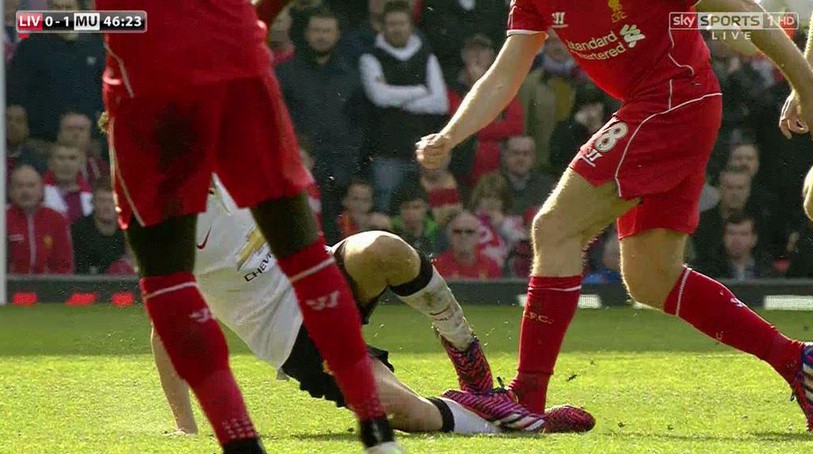 Liverpool captain Steven Gerrard did not start Sunday's highly anticipated match against Manchester United, but with his side down 1–0 at halftime, he was brought on for Adam Lallana. And 48 seconds later, he was sent off.
Seriously. This is something that actually happened.
https://twitter.com/OptaJoe/status/579654713760718848
Less than a minute after entering the match — before his legs could even realize he was standing up again — Gerrard stamped on Ander Herrera's leg right in front of the referee. He was then sent off, had to give the captain's armband right back to Jordan Henderson, and Liverpool were reduced to 10 men just like that.
Juan Mata went on to score his second goal of the day to all but seal the important three points for Man United while Gerrard probably caught an early flight to Los Angeles to begin his MLS career. And just before the final whistle, Martin Skrtel got in a stamp of his own on David De Gea that went unpunished (for the time being).
https://twitter.com/worldsoccertalk/status/579666372512391169
After the match, Gerrard found the nearest Geoff Shreeves and apologized for his surprise follow up to The Slip.
https://www.youtube.com/embed/fW12kmLqvIQ
This has been the Dirty Tackle of the Day: a chronicling of unfortunate events.
Contributors
Howler
TAGS
WELL, IT DEPENDS ON WHAT YOU MEAN BY "FREE."
Enter your best email for full access to the site.