Petr Cech consoles Harry Kane after the Capital One Cup final
March 6, 2015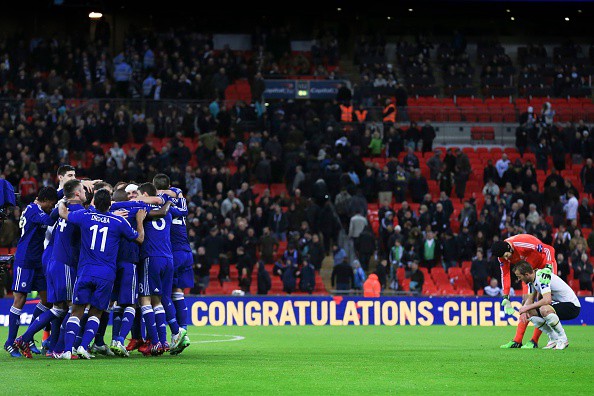 "Hey, Harry, I just wanted to say that I'm sorry about all this. I know it's tough to lose a cup final. It happens to the best of us, though. See these hands? Even though you couldn't get a single shot past them today, others have. And when they did, I was just as upset as you are. But look at me now! I've won yet another trophy and I couldn't be happier. Pretty great, isn't it?
"Don't be too down on yourself. I mean, here you are. You couldn't rock me like a Harry Kane, but you did learn an important lesson today: that you better Cech yourself before your wreck yourself. Never forget that. Oh, and would you mind being sad somewhere else? We're going to need all of this space to celebrate the squishing of your dreams and it would be pretty rude if you prevented us from doing that comfortably. Thanks, pal. You're the best. Well, we're the best since we won, but you know what I mean. Haha. Anyway…I'm going to join my teammates now. Again, please move. But keep an eye on my Twitter feed for a pic of me with the trophy later! I'll include a couple of emojis just for you."
Happy day 😄👌 pic.twitter.com/Rb2OgXTTBF

— Petr Cech (@PetrCech) March 1, 2015
Contributors
Howler
TAGS
WELL, IT DEPENDS ON WHAT YOU MEAN BY "FREE."
Enter your best email for full access to the site.