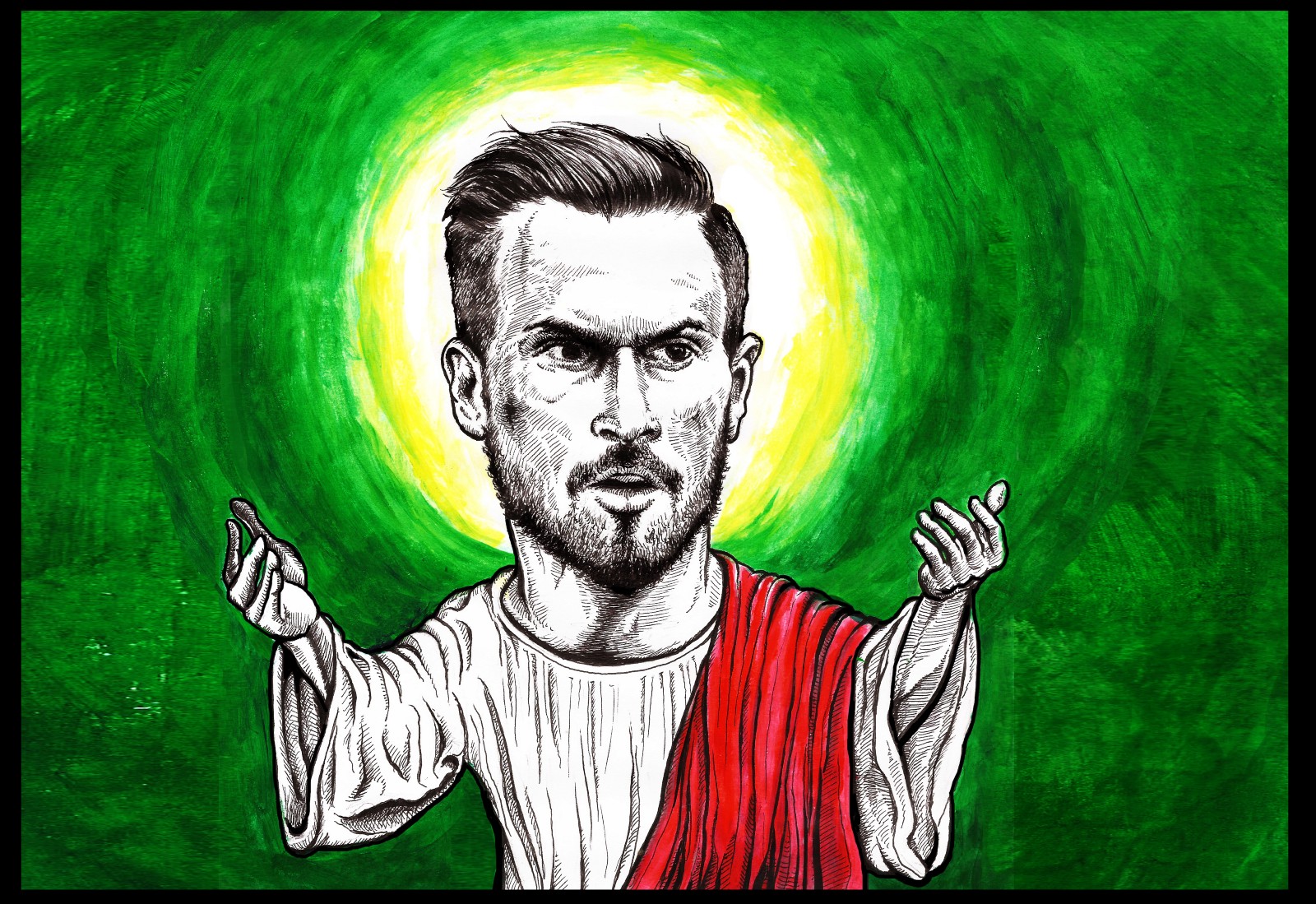 Aaron Ramsey came of age during — and perhaps because of — Arsenal's age of austerity. Now, the club is reaping the rewards.
By Jessie Daniels | Illustration by Devin Dulany
[W]atch Aaron Ramsey's game-winning goal in last year's FA Cup final. Watch him first run down and tackle a Hull player from behind to win back the ball. Watch him hop up, receive a pass and reset the possession, then dart into the box and perfectly time his run onto Olivier Giroud's clever little flick. Watch him immediately bury the shot in the near corner.
There was Aaron Ramsey, scoring the goal to end Arsenal's nine-year trophy drought. As he basked in the crowd's adulation afterward, draped in a Welsh flag, he embodied a Gunners squad that was developing into a contender again. He'd come of age through Arsenal's austerity period, and he had finally blossomed.
https://www.youtube.com/embed/ejVX0-_b4J4
• • •
[Y]outh and austerity often go hand in hand. You can't spend on expensive stars because you're building a new stadium, so you invest in the potential of youth. And you keep the faith.
That was largely the case for Arsenal beginning with the 2006–07 season, when the Emirates Stadium opened. During this austerity period, the club would be a proving ground for youth, and Aaron Ramsey would be part of it. The highly-touted, versatile teenage attacking midfielder joined the Gunners for £5 million from Cardiff City in the summer of 2008. He showed early promise, scoring his first goal against Fenerbahçe in the Champions League, just three months into his Arsenal career. He steadily gained more experience with the first team during his second season, but on a February day at Stoke in 2010, a Ryan Shawcross tackle broke his leg, leaving Ramsey in a heap on the Britannia pitch and his future in limbo.
When Ramsey finally returned to Arsenal for the 2011–2012 season, he wasn't truly back. Short of squad depth, his positioning was in flux. Sometimes he played on the flank, sometimes fullback, sometimes in an advanced attacking role. In all cases, he lacked confidence. He often looked nervous in making tackles and unsure on the ball. He was dubbed the "Grim Reaper of Soccer" because he scored so infrequently that each goal coincided with the death of a well-known person (see the unlikely trio of Osama bin Laden, Steve Jobs and Whitney Houston). The past accolades for his potential were now silenced by the reality of his inconsistency.
• • •
[I]n the midst of austerity, you keep the faith in some a little longer than usual out of necessity. Had Cesc Fabregas stayed, for instance, the almost-blossoming Ramsey experiment might have been cut short. But instead, Cesc was sold, Ramsey had to help fill a void, and he slowly started to perform well during the 2012–13 season. Finally paired with a more disciplined midfield partner in Mikel Arteta, who allowed him to get forward more, Ramsey became more influential in all aspects of the game. As Michael Cox wrote on Arsenal.com at the end of the 2013 season, "Ramsey does a bit of everything. He passes, he tackles, he presses and he makes sure Arsenal don't become a 'broken' side."
Ramsey — no longer the Grim Reaper of Soccer — had a new nickname: Welsh Jesus.
His resurgence also coincided with an important milestone for Arsenal. In the summer of 2013, the Gunners effectively marked the end of the club's austerity period, buying Mesut Özil from Real Madrid for £42 million. Throughout the ensuing season, though, it was Ramsey who most impressed, finally adding goals to his repertoire. In all, he scored 16 times in 34 appearances, despite being out injured for three months. One of those, of course, was that game-winner in the FA Cup final, the one Ramsey called, "the most important goal of my time here." He was named Arsenal's Player of the Year at season's end.
The savior had finally risen. Ramsey was no longer the Grim Reaper of Soccer. He had a new nickname: Welsh Jesus.
• • •
[B]orn the day after Christmas, Welsh Jesus is perhaps created in the mold of an Englishman: Steven Gerrard, the player who for so long could do everything for Liverpool. Saturday's FA Cup final nearly brought the two together for what could have been a perfect end to Gerrard's Liverpool career (the match is on his birthday, no less!), but the Reds lost in the semi-final to Aston Villa — a match marked by Gerrard's waning ability to influence both the game and the team that has depended on him to do everything for too long. At 24, Ramsey is a decade younger than Gerrard, and his versatility is still an asset. But the lesson is that you can't do everything forever.
The end of austerity also means Ramsey doesn't have to. Squad depth actually exists now, and Ramsey (as well as Arsenal) will be the finished product when the Gunners don't need him to do it all. If Ramsey has to stay back, it will be because others can get forward. If he doesn't score as much, it will be because Arsenal has increased firepower. Just because he can do it all doesn't mean he should.
Whether it was because they had to or because they saw this day coming, Arsenal kept the faith. And during a time when the club looks primed to surge forward into a less austere, more trophy-filled future, Welsh Jesus will still be central to Arsenal's salvation.

Jessie Daniels is a political analyst and former Congressional staffer living in New York City. She tweets under the handle @danielsjess.
Contributors
Howler
TAGS
WELL, IT DEPENDS ON WHAT YOU MEAN BY "FREE."
Enter your best email for full access to the site.