Jose Mourinho and Tony Pulis: A tale of middle-aged bromance
May 19, 2015
https://www.gettyimages.com/
Jose Mourinho and Tony Pulis are two men with similar no holds barred approaches to management. Both have proven willing to sacrifice the aesthetic to get the results they need. And, in a more literal sense, Mourinho has poked a rival coach in the eye and Pulis has (allegedly) headbutted one of his own players while naked. So they clearly have a lot in common and they definitely appreciate that about each other.
Prior to Chelsea's visit to The Hawthorns, they went public with their mutual admiration society. Said Mourinho (via the BBC):
"If I own an English club, I sign Tony Pulis," Mourinho said.
"It's as simple as that — he's a guarantee to achieve what the club wants."
"He has never managed a club that wants to be champion, never managed a club that wants top four, he is always managing clubs that want to survive and want stability," Mourinho said before the champions' Premier League match with West Brom at the Hawthorns on Monday.
"Tony is mathematics. His record is absolutely amazing."
If there isn't a Valentine's Day card that reads "You are mathematics. You are amazing," something has gone wrong.
Meanwhile, Pulis was full of praise for Mourinho, too. He even told the story of a special evening they shared earlier this season. From ESPN FC:
"Relentless is a great word and I think you can put that next to his name.
"If it's a football match they are good enough to play against the best teams, if it's a battle they can do that. […] I think he will go down as one of the great managers.
At the beginning of this season I did a Chelsea home game and I stayed in the hotel they stayed in.
"I'd rung Steve [Holland, Chelsea assistant] and Mourinho came down for a drink. We sat there for a couple of hours and he's just one of us. You get pigeon-holed as this special human being but you take that off him and he's the same as us."
When they were finally in the same building again, Pulis nearly walked right by Mourinho in the tunnel, before rectifying his mistake by pulling the Portuguese in for a big hug.
https://www.youtube.com/embed/XLOq6h_Rroc
West Brom went on to beat 10-man Chelsea 3–0, but the unexpected result and hot tempers on the pitch couldn't keep Mourinho and Pulis apart. In fact, they watched the final seconds of it with their arms around each other like two old friends watching a bar fight between the people they each came with.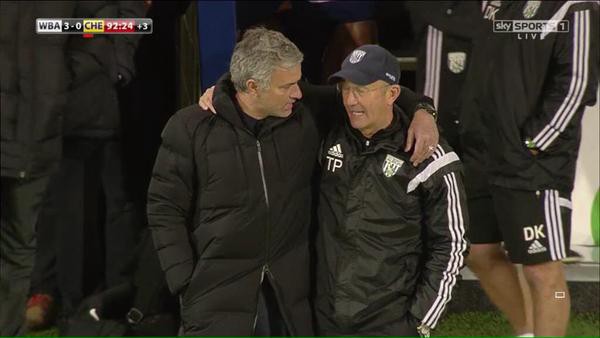 In short, Jose Mourinho and Tony Pulis have the type of relationship that we should all aspire to. One where respect and a shared dislike of Arsene Wenger trump all else.
Previously in football love stories: Zlatan and Ronaldo
Contributors
Howler
TAGS
WELL, IT DEPENDS ON WHAT YOU MEAN BY "FREE."
Enter your best email for full access to the site.