Home
Dirty Tackle
Jose Mourinho, John Terry, and Cesc Fabregas use Chelsea title to settle old scores
Jose Mourinho, John Terry, and Cesc Fabregas use Chelsea title to settle old scores
May 5, 2015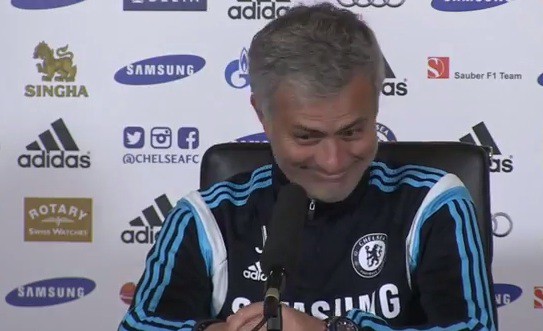 Everyone knows that the best part of winning is rubbing it in the faces of people who have wronged you in the past. And with that in mind, Jose Mourinho, John Terry, and Cesc Fabregas all fired some shots after Chelsea clinched the Premier League title by beating Crystal Palace on Sunday.
Mourinho made an apparent dig at his old rival in Spain, Pep Guardiola, who strolled to his second consecutive Bundesliga title with Bayern Munich seven days earlier. From SBS:
"For me I'm not the smartest guy to choose countries and clubs. I could choose another club in another country where to be champion is easier," said the Portuguese in an apparent reference to Guardiola. […]
"Maybe in the future I have to be smarter and choose another club in another country where everybody is champion. Maybe I will go to a country where a kitman can be coach and win the title.
"Maybe I need to be smarter but I still enjoy these difficulties. I think I'm at the right place. I'm here until [Chelsea owner Roman] Abramovich tells me to go."
John Terry, meanwhile, went after Rafa Benitez, who served as Chelsea interim manager from November 2012 to May 2013. A reporter reminded Terry of how he was being eased towards retirement before Mourinho returned to Chelsea and helped him back to his best form.
John Terry takes aim at Rafa Benitez: "Only one person said I can't play twice in a week, he knows who he is."

— Eurosport (@eurosport) May 3, 2015
Finally, Cesc Fabregas saved the most devastating shotgun blast to the chest for last by declaring Mourinho to be better than any other manager he's played for. Which includes the man who refused to bring him back to Arsenal this season, Arsene Wenger (and the aforementioned Guardiola).
From the Telegraph:
"He (Mourinho) just loves winning," said Fabregas. "I'm not saying other managers I have played under don't, but he has some edge that goes above anyone else I have ever been with.
"The mentality he shows in every single training session, or game, I now understand why he has won what he has won in his career. He's the best manager and he has to get results and he always manages to do that."
This was like the Baptism scene at the end of The Godfather. A happy occasion spent with family mixed with daggers for enemies quietly going about their business elsewhere. Even the act of winning the title itself could lead to another bit of revenge against someone Mourinho doesn't like very much: Manuel Pellegrini, who could lose his job for coming up short this season.
All of these guys better watch out, though. Because once Chelsea get to lift the trophy come season's end, Mourinho will probably go around and bash them all over the head with it like a WWE wrestler with a steel chair.
Contributors
Howler
TAGS
WELL, IT DEPENDS ON WHAT YOU MEAN BY "FREE."
Enter your best email for full access to the site.