Home
Dirty Tackle
Champions League final superlatives: the individual standouts you need to know (and some you don't)
Champions League final superlatives: the individual standouts you need to know (and some you don't)
June 6, 2015
https://www.gettyimages.com/
The Champions League final is upon us once again, pitting two of Europe's legendary clubs — Juventus and Barcelona — against each other in Berlin. Both clubs have already won domestic cup and league titles this season, so this match will decide who will win a historic treble. But the most important honors are being decided here right now by me.
These are the 2015 Champions League final superlatives…
Best dressed arrival in Berlin
Juventus — Classic black suits befitting the occasion and commanding respect.
Worst dressed arrival in Berlin
Barcelona — A denim on denim shambles that makes them look like tourists on the way to Disney World.
Most exhausted fan
https://www.youtube.com/embed/5gNS-BFBm8s
The Juve fan who walked/biked from Turin to Berlin for a free ticket to the game — I'm not sure he even knows what planet he's on at this point.
Most uncomfortable reunion
https://www.youtube.com/embed/hXSIFdhWffM
Luis Suarez v Patrice Evra — Suarez was banned for racially abusing Evra in 2011 while they played for Liverpool and Man United, respectively. Suarez never apologized to Evra for the incident, but he did try to skip shaking his hand in their next encounter. Suarez maintains that he was the true victim in all this.
(Giorgio Chiellini, the man Suarez bit at last summer's World Cup, will not play in the final due to injury, so it'll be just the one uncomfortable reunion for Luis.)
Official ball most likely to have been designed by someone on lots of drugs
The 2015 World Cup final match ball — It has psychedelic bears on it. Case closed.
Best hair game
Paul Pogba, Juventus — One of the most talented players on the pitch and one of the most patient to have sat still long enough to have this done to his head.
Most deserving of a Champions League title
There are three in equal standing here:
Gianluigi Buffon, Juventus — One of the greatest goalkeepers in the history of the game now in the twilight of his career, he's won just about everything there is to win (including a World Cup title at this very same stadium in 2006) except the Champions League.
Andrea Pirlo's beard, Juventus — Andrea Pirlo has already won the Champions League twice with Milan, but his glorious beard has never won it. This needs to be rectified.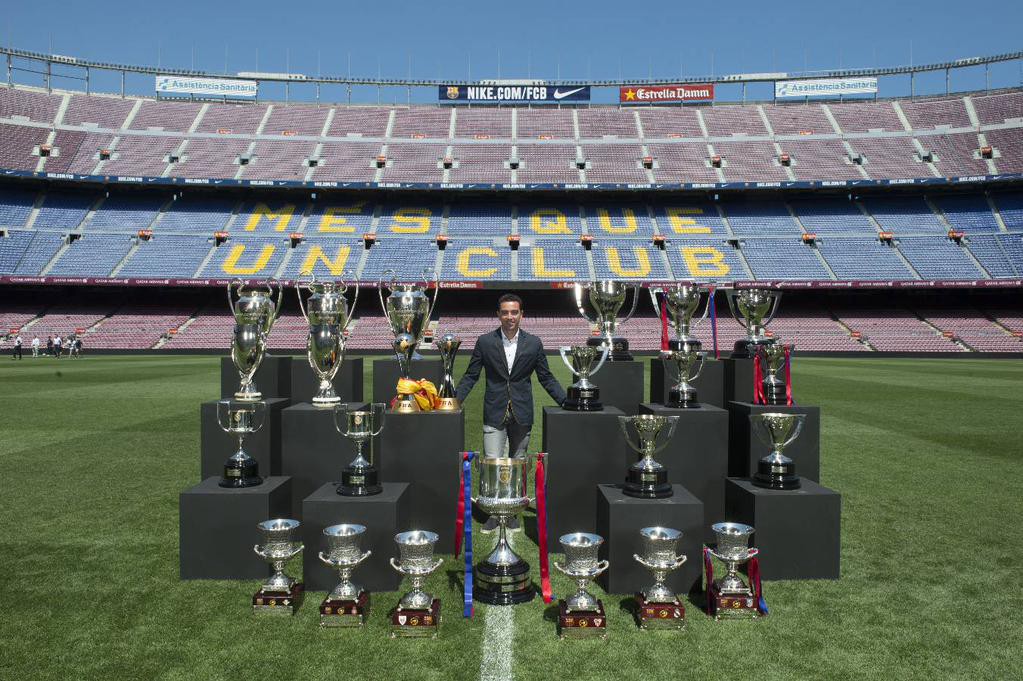 Xavi, Barcelona — This will be his final match with Barcelona. He's already the club's most decorated champion, so it would be fitting to go out with one more title and the biggest one of all at that.
Most surprising manager to reach this point in his first year with his club
Max Allegri, Juventus — While Barcelona's Luis Enrique was a returning club hero with a foundation of support (that quickly dissolved with a bumpy start) when he assumed his position last summer, Allegri's appointment was protested by Juve fans. No one thought he would produce these kinds of results in a thousands years with the club, let alone in his very first season. Life is weird.
Most likely to get punched in the face for his trickery
Neymar, Barcelona — His showboating nearly got him attacked by Athletic Bilbao players in the Copa del Rey final last week, but he has vowed to keep it up. Even his coach can understand his opponents frustrations, though.
Luis Enrique on the confrontations with Neymar: "if I'd been an Athletic player I'm sure i'd have responded the same way, or worse."

— Sid Lowe (@sidlowe) May 30, 2015
Most likely to become the first player to ever score in three Champions League finals and ruin a defender's whole life in the process
Lionel Messi, Barcelona — He scored in the 2011 final when Barcelona beat Man United 3–1 and the 2009 final when they beat Man United 2–0. Now he can become the first player to score in three of them with a goal against Juve. Going into the match, he's the joint top scorer in the Champions League this season with Cristiano Ronaldo at 10 goals apiece and he scarred Jerome Boateng for life with his last one, so UEFA might want to have a psychiatrist on hand to help the Juve defenders cope with whatever Messi might do to them.
Contributors
Howler
TAGS
WELL, IT DEPENDS ON WHAT YOU MEAN BY "FREE."
Enter your best email for full access to the site.