France shed blood and tears in cruel loss to Germany
June 27, 2015
https://www.gettyimages.com/
In yet another example of how FIFA ruins everything, France (№3 in the world) faced Germany (№1 in the world) in the Women's World Cup quarterfinals. I repeat: the quarterfinals.
The match itself proved to be worthy of the tournament final that it should have been. After somehow failing to score with their onslaught of 14 shots in the first half, France finally took a 1–0 lead with Louisa Necib's goal in the 64th minute. But a questionable handball call gave Germany a life saving penalty in the 84th minute, which Celia Sasic converted to send the match to extra time.
Early in the first additional period, Kheira Hamraoui took an arm to the nose shortly after she entered the match, turning her face into a blood faucet.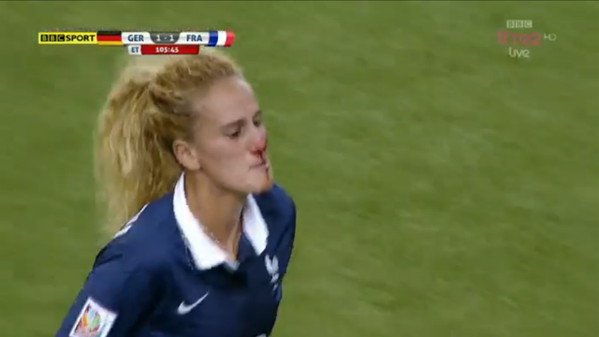 In the second period of extra time, Gaetane Thiney suffered a far more lasting pain when she somehow failed to finish a golden chance at a winner.
That sent it to a shootout and after nine perfect penalties, Claire Lavogez had her's saved by Nadine Angerer, allowing Germany to advance to the semifinals.
It's a harsh result and premature exit for France, but their skill and tenacity will remain sets a high bar for the remainder of the tournament.
WELL, IT DEPENDS ON WHAT YOU MEAN BY "FREE."
Enter your best email for full access to the site.