Home
Dirty Tackle
Paraguayan fans steal rival club's trophies, throw them on the pitch
Paraguayan fans steal rival club's trophies, throw them on the pitch
June 1, 2015
https://embed.theguardian.com/embed/video/football/video/2015/jun/01/football-fans-steal-trophies-rival-team-match-paraguay-video
Paraguay's two oldest clubs, Olimpia and Guarani, have developed a fierce rivalry over the years. So fierce that prior to their match on Sunday, Olimpia fans broke into Guarani's trophy cabinet and stole their silverware.
After waving the trophies around, the fans then threw them onto the pitch, prompting a solitary man to collect them into a mess of twisted metal under his arm.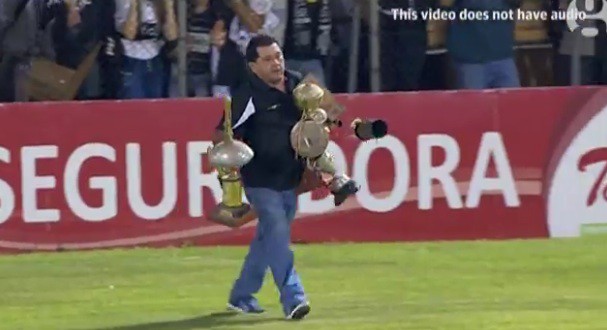 Guarani did get swift revenge by winning the match 1–0, though. So it turns out pillaging and publicly mistreating your rivals' prized possessions can act as a pretty good motivator. Something to remember.
Contributors
Howler
TAGS
WELL, IT DEPENDS ON WHAT YOU MEAN BY "FREE."
Enter your best email for full access to the site.