The Rafa Benitez guide to becoming Real Madrid manager
June 3, 2015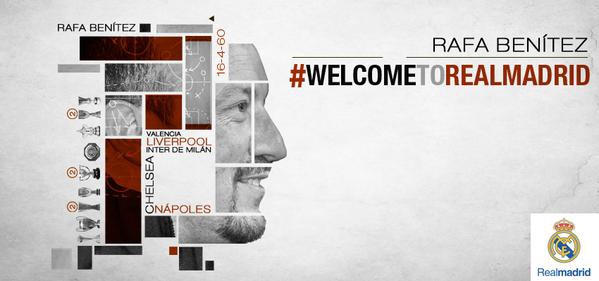 Rafa Benitez is officially Real Madrid's next future ex-manager. He has been given a three-year deal by the club where he started both his playing and coaching careers (both with the B team). And no, it's not still 2006.
Winning two La Liga titles and a UEFA Cup with Valencia, then the Champions League and FA Cup with Liverpool gave him impressive credentials that still seem to overshadow what he's done since getting sacked by Liverpool in 2010. That was five years ago. So what was his five-year plan to fall ass backwards into the dream job he wanted all along? Lets take a look.
-Replace Jose Mourinho after he won the treble with Inter. Win the Club World Cup, but get sacked after just six months on the job due to poor results.
-Spend two years out of management. Possibly building pillow forts and painting nude self portraits? Who knows.
-Go to Chelsea, another one of Mourinho's old clubs as a midseason, interim replacement for Roberto Di Matteo. Win the Europa League with the reigning champions of Europe and finish third in the Premier League. Leave the club at the end of the season without being offered the manager's job on a permanent basis.
-Join Napoli, a club that finished second in Serie A the previous season. Spend more than €100 million on new players, finish third in first season, but win the Coppa Italia. Get called out by then Juventus manager Antonio Conte:
"We have invested €25m in our team, they've spent €100m. They have spent in one year what we have invested in three seasons and they are 17 points behind us, as well as being out of Europe."
Finish fifth in second season, failing to qualify for the Champions League group stage and losing in the semifinals of the Coppa Italia.
-Resign in order to be available for Real Madrid, yet another one of Jose Mourinho former clubs.
-Get Real Madrid job and make everyone's brains seep out of their nose.
Benitez's record in the last five years is a weird mix of brevity, failure, and comparatively minor successes. He hasn't won a league title since he was last in Spain more than a decade ago. So he has the experience Real Madrid are looking for (La Liga and Champions League titles) after burning through the top-tier names in management, but more recently he's proven unable to get quick and consistent results or spend large sums of money effectively…which happen to be the things most important to Real Madrid.
Basically, this move could only happen to Rafa Benitez, the manager with the most schizophrenic career, and be perpetrated by Real Madrid president Florentino Perez, who might actually be schizophrenic. Who else besides Rafa could spend €100 million to take Napoli from the Champions League to the Europa League and then immediately get a three-year deal from Real Madrid? And who else besides Florentino would sack Carlo Ancelotti, the man who broke Real's Champions League title drought just one year earlier, and then immediately hire Rafa Benitez? (Besides maybe Roman Abramovich.)
Just to be clear, this definitely is not something you should try in your own life. If you spend a huge sum of your boss' money to make their company worse, you probably won't get offered the same job with one of the biggest companies in the world a couple weeks later. So don't consider this to be some kind of freaky lifehack to quick professional success. Rafa Benitez is clearly some kind of sorcerer. One that frequently loses his spell book for extended periods of time.
WELL, IT DEPENDS ON WHAT YOU MEAN BY "FREE."
Enter your best email for full access to the site.