Zlatan Ibrahimovic hypnotizes children, Montenegro defense
June 15, 2015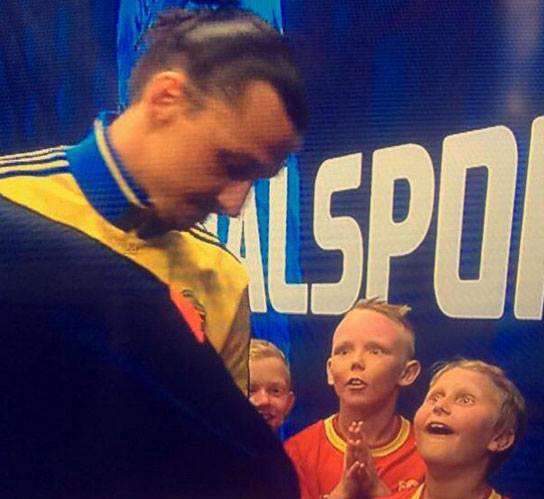 How would you look if a mythical creature appeared before you, bathing you in a majestic light and revealing all that is good to you? Eight-year-old Melwin Löwdahl and 10-year-old Frank Johansson Czarnecki discovered the answer to this question when they came face to face with Zlatan Ibrahimovic before Sweden's Euro 2016 qualifier against Montenegro.
https://www.youtube.com/embed/cQjcyqgx1hc
The spiritual awakening this moment brought on for these boys was clearly evident. They were later tracked down by Aftonbladet and confirmed that their lives were now changed forever.
"It was exciting, fun, but also a bit scary," says Melwin. "It's probably the biggest thing that happened to me in my life."
Zlatan went on to stun Montenegro in much the same way, scoring twice in a four-minute span before halftime to give Sweden an important 3–1 win that puts them four points clear of third-place Russia in Group G.
Unlike Melwin and Frank, however, the Montenegro players greedily took a chunk of Zlatan's sleeve as a divine souvenir.
This did not please Zlatan, would implored the referee to be more vigilant.
https://www.gettyimages.com/
https://www.gettyimages.com/
But with that piece of Zlatan cloth, Montenegro can now build a shrine and provide others with a small taste of what Frank and Melwin felt.
Meanwhile, a kid in Slovenia tried to tempt Wayne Rooney into giving up his shirt after scoring in England's 3–2 win by offering up a cold beer. This illustrates the difference in how Rooney and Zlatan are perceived.
Contributors
Howler
TAGS
WELL, IT DEPENDS ON WHAT YOU MEAN BY "FREE."
Enter your best email for full access to the site.