Home
Dirty Tackle
DTotD: Gary Medel kicks Leo Messi in the stomach, only gets a yellow
DTotD: Gary Medel kicks Leo Messi in the stomach, only gets a yellow
July 4, 2015
https://www.youtube.com/embed/Ud2o-ZxL6i0
In the first half of Chile and Argentina's frenetic Copa America final, Gary Medel kicked Lionel Messi in the stomach. The surprise here was not that Gary Medel would do this, but that he was only shown a yellow card for it.
At least it wasn't the ET finger up the rectum that one Chilean satirical paper warned Messi to prepare for, though.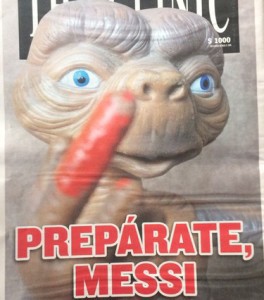 This has been the Dirty Tackle of the Day: a chronicling of unfortunate events.
Contributors
Howler
TAGS
WELL, IT DEPENDS ON WHAT YOU MEAN BY "FREE."
Enter your best email for full access to the site.