Home
Dirty Tackle
Louis van Gaal identifies Man United's greatest ever transfer target: Mystery Striker
Louis van Gaal identifies Man United's greatest ever transfer target: Mystery Striker
July 24, 2015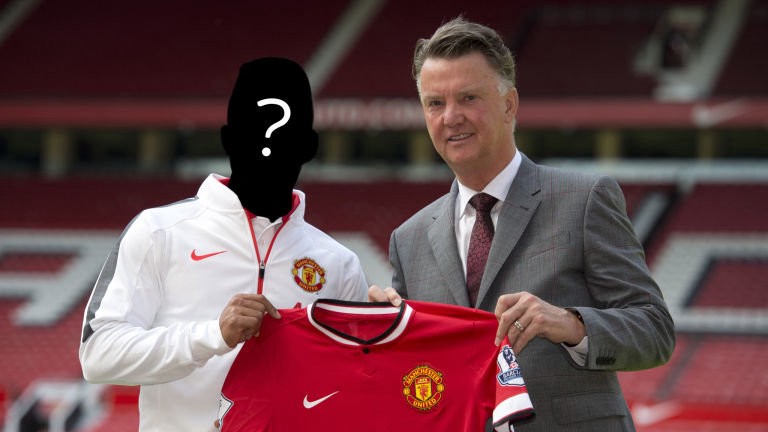 Manchester United have spotted and nurtured many great players over the years, but Louis van Gaal has identified the greatest yet: Mystery Striker. Combining everyone's love for mysteries and transfer rumors, Mystery Striker is the world's first perfect transfer target.
The best horror films are those which don't actually show the monster — keeping it in the shadows and allowing the viewer's mind to create the most fearsome entity imaginable, protected from the visual scrutiny that identifies flaws and conjures disappointments. This concept is what also puts Mystery Striker beyond reproach.
Van Gaal introduced the public to Mystery Striker during a press conference in which he suggested there might be a "surprise" added to the club's mix of strikers after the departures of Robin van Persie and Falcao. This naturally prompted a tidal wave of fan and media speculation as to who the surprise would be. And just about every striker on the planet was named as a possibility. Thomas Müller, Pedro, Edinson Cavani, Harry Kane, Fernando Llorente, Alexandre Lacazette, Alvaro Morata, Mauro Icardi, Robert Lewandowski, Zlatan Ibrahimovic, Cristiano Ronaldo (as always), and many, many more. Or even some kind of insane human centipede combination of several of those strikers sewn together by mad transfer scientist Ed Woodward.
But instead of squashing the rampant guess work, Van Gaal only raised more questions when he later said, "It's not the striker that the media has written about. You have to wait and see."
So the speculation continues, allowing Mystery Striker to be whoever the person doing the speculation wants him to be and preventing everyone from prematurely criticizing the acquisition of Mystery Striker. He is impossible to hate. There can only be excitement for the many wondrous possibilities. And better yet, Van Gaal even said that Mystery Striker might not be striker. That's how versatile Mystery Striker is! He's truly the perfect transfer target.
As with any great signing, other clubs are starting to realize Mystery Striker's value, though. And Arsenal are reportedly going in for him now, as well.

You might think that Mystery Striker's transcendence will be destroyed once he's signed and his identity as a mortal footballer with assessable qualities and personality traits are revealed, but this doesn't have to be the case. If Manchester United can keep Mystery Striker's true identity a secret even after he's signed, his unparalleled value can be sustained indefinitely.
Have him play in a luchador mask or a morphsuit and change his name by deed poll to Mystery Striker. And since no one will know his true identity, the club could potentially swap him out for another player of similar build the second his form slips. This leaves Mystery Striker impervious to criticism and invasions of his private life.
This plan cannot fail. Louis van Gaal is a genius. Long live Mystery Striker.
Contributors
Howler
TAGS
WELL, IT DEPENDS ON WHAT YOU MEAN BY "FREE."
Enter your best email for full access to the site.