If it continued… (Man City v Chelsea)
August 17, 2015
https://www.gettyimages.com/
After a full week of medical staff controversy, Chelsea lost 3–0 to Man City in a match that had them on their heels from the opening seconds. The result marked the first time since 1998 that Chelsea failed to two either of their first two Premier League matches of the season and emphasized the club's need for further investment.
Still, Jose Mourinho insisted that Chelsea were the better team in the second half, despite conceding twice in the final 11 minutes after a Ramires goal was wrongly disallowed for offside. "The best team in the first half won the game. The best team in the second half was Chelsea, for sure. We had a difficult first half. We didn't create a lot and our goalkeeper made a few important saves. If the 1–0 was a doubtful result at minute 70, 3–0 is completely fake," he said.
So if this result was "fake," we have an obligation to ask "What if it continued?"
97' — Mourinho chugs a bottle of Pellegrino water in an attempt to get under Manuel Pellegrini's skin and mind-game his way back into the match, but the bubbles make him cough up water all over himself.
101' — Scorer of the match's first goal, Sergio Aguero, continues to sit on the bench like a mohawked Michael Corleone watching a rival gang leader slowly bleed out.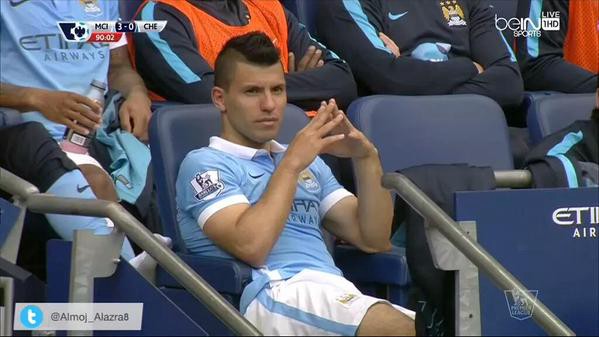 106' — Slowly bleeding out through his nose, a delirious Gary Cahill swears he sees both Falcao and Juan Cuadrado on the pitch wearing Chelsea kits. No one believes him.
110' — Fernandinho scores his second goal of the day, proving Mourinho's assertion that this isn't real.
113' — In the stands at the Etihad, Liverpool manager Brendan Rodgers, dressed as a mortician from the future, tries to make it look like he hasn't been staring at Raheem Sterling this whole time even though he totally has.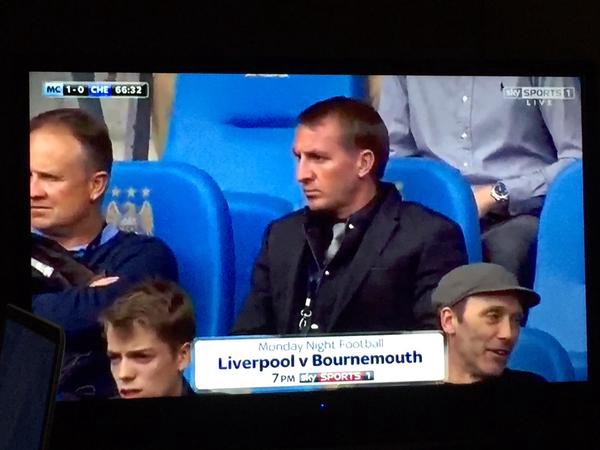 118' — John Terry, substituted by Jose Mourinho for the first time ever after just 45 minutes, decides to write his boss a poem in an attempt to regain his full trust. But he has a difficult time finding a word to rhyme with "Zouma" since Chelsea's Adidas partnership explicitly prohibits him from using the word "Puma" in all of his club related poetry.
124' — A desperate Jose Mourinho tries to put former Chelsea players Kevin De Bruyne and Romelu Lukaku into the match just to see if that would work. When it doesn't, he plays it off by saying "Arsene Wenger is fat- and Rafa Benitez trophies?" No one knows what this means.
127' — Brendan Rodgers calls out Sterling's name and then looks away when he turns around.
132' — David Silva somehow has more assists than there are goals in the match. This is universally accepted as perfectly reasonable.
135' — In an attempt to prove they're not sexist, fans of both clubs comment on Eva Carneiro replacement Chris Hughes' shapely backside and how they wouldn't mind him massaging their hamstrings, leading them to realize that their previous remarks about Carneiro were actually just an attempt to convince themselves that their own sexuality isn't a source of insecurity and confusion.
139' — Eden Hazard arrives and apologizes for being late.
143' — Pellegrini maintains a calm, quiet disposition as he watches the match while, in his mind, he does vengeful pelvic thrusts in the direction of Chelsea's bench.
145' — Diego Costa decides that his head bandage completes the "murderous hitchhiker who escaped from a nearby prison hospital during a thunderstorm" vibe he's been going for.
150' — The match is abandoned when the Carneiro Curse results in all of the Chelsea players bleeding from their eyes and not even Jesus Navas can help them, prompting everyone to flee in terror. Except Brendan Rodgers, who is too busy watching Raheem Sterling and humming "Every Breath You Take" by The Police to notice.
Contributors
Howler
TAGS
WELL, IT DEPENDS ON WHAT YOU MEAN BY "FREE."
Enter your best email for full access to the site.