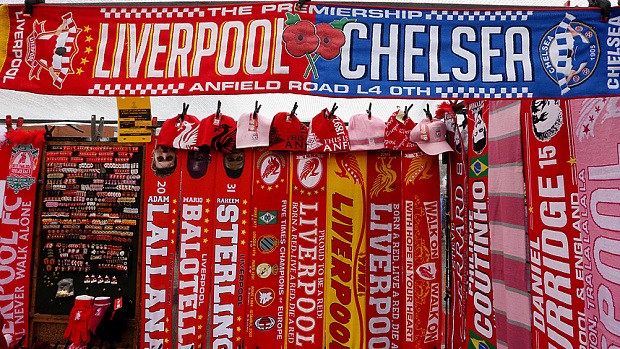 American Premier League fans, and the surprisingly nuanced art of choosing a club
By Kevin Alexander
[I]n the summer of 1999 I became a Southampton fan. That year, I spent two months traveling around Europe with a team of Americans, playing against U-18 professional teams, desperately hoping our cool(ish) haircuts and ability to occasionally do rainbows in warmups would entice these clubs to sign us. After our friendly against the Saints youth team (in which we were completely dismantled), Southampton's coaching staff invited me to train with them. Obviously I thought this meant I'd been signed and would immediately be introduced to my new model girlfriend who didn't really love me but thought our relationship would provide her with the publicity needed to launch her own clothing line.
Instead, it took all of one day for the coaches to realize they'd made a grave error. Perhaps it was my dry heaving on the beach during the morning fitness session, or being told my stride looks like "I've literally never seen a real person run before." Or maybe it's just that I'm not that good at soccer. Either way, I was summarily dismissed, but not before I'd mentally ditched my childhood team, Arsenal, considered stealing a Matt Le Tissier practice jersey from the clubhouse and sworn my forever-allegiance to the Saints.
• • •
The process through which Americans choose which EPL team to support is fantastically disjointed. After all, when you don't have that birthright connection to a team, when you don't support them because it was what you always did or what your parents did, when you actually get to make a conscious choice as to who you're supporting, that decision feels simultaneously arbitrary and momentous. Because of this, I asked 25 American EPL fans — ranging from guys I play soccer with, to professional soccer writers, to a guy with a West Ham hat whom I always see at my coffee shop — how and when they picked their team.
Here's an anonymous sampling of some of the answers:
"Liverpool. When I was coming of age in the early to mid-nineties, I needed to find a team to support that WASN'T Manchester United. They were (and still are to a certain degree) unpretentious, the underdog among the top 5, and had an exciting style of play. I loved the booming Robbie Fowler runs and occasional sideline cocaine sniffing antics — and the exciting and cheeky goals from "wonderboy" Michael Owen. Gerrard ended up representing everything I loved about soccer, the center midfield position, and Liverpool. Let's just forget about the fact that they're owned by the Fenway Sports Group."
I loved the booming Robbie Fowler runs and occasional sideline cocaine sniffing antics
"Man United, because nobody else is a fan. JK! Or, because they played a system under Sir Alex that was both fun to watch and successful, and based on blue-collared role players + non-traditional future superstars. They didn't buy their glory days, they earned them, which is arguably why today it feels as if picking them as a favorite is like choosing the Yankees or Chicago Bulls. Underneath a much-hated club is a history of pure class, on and off the field. Fun fact: Nobody but Celtic/Rangers have won the Scottish League Championship since Fergie left Aberdeen to coach Man U. In 1986."
"Arsenal. One of my friends was reading Nick Hornby's Fever Pitch. And I needed something to bring into the bathroom. So I read a chapter, and then I stole the book, and was hooked. "
"West Ham. My cousin lives over close to Upton Park and took me to a match when I visited. No, I bought this hat online afterwards."
"Swansea. Because I started liking the game in a serious way in 2012, and Swansea was the coolest damn team of 2012. I don't care that you're going to call me a bandwagon soccer hipster in this stupid article."
"Man United. First pro game I ever saw live in 1991–92 at Old Trafford vs Everton on Jan. 11. Young Giggs (16), Steve Bruce, Gary Pallister, Dennis Irwin, Schmeichel, Andre Kanchelskis (recently poached by Fergie from Everton), Mark Hughes, Paul Ince, etc. 1–0 to Man U. Who else could I root for?
Actually… it's a lie that that was the first pro game I ever saw. I went to see Man City (pre oil money) play Norwich City on Boxing Day 1991 at the old Maine Road. Peter Reid was player/manager and didn't look any younger then than he does now. Norwich had a terrifying Scotsman named Robert Fleck who looked positively Cro-Magnon. It rained and City ground out a 2–1 win with Niall Quinn (nicknamed the world's tallest irishman by my father) getting on the sheet. But really, as a 12 year old was I really going to choose that gritty, ugly Man City club over Man U?"
"Everton. For me it was more that I came to it as a result of USMNT fandom. And I didn't want a top four team. And Tim Howard."
"Arsenal. Once you've seen Thierry Henry play in his prime, there are no other choices."
"Stoke. Because I'm a masochist and enjoyed watching Glenn Whelan foul people. But seriously, it was because I felt like they played American soccer. In that it wasn't very pretty, but they were going to get the ball in the air and use their athleticism and brute force to make life very tough. Holy shit, am I a Republican?"
"Chelsea. Mainly because [REST OF SAMPLE REDACTED BECAUSE VOLUNTARY CHELSEA FANDOM IS INEXCUSABLE]."
• • •
One of the logical themes that emerged after my totally scientific survey was the notion that if you became an EPL fan before you went to college, chances are you picked a big five team (Man U, Man City, Chelsea, Arsenal, Liverpool). But if you chose your team in college or post-college, the majority heavily swung towards middle-of-the-table clubs (Everton, Swansea, Tottenham, etc). The logic makes sense: pre-college, it feels pretty good and comfortable to be part of the pack, to be doing something others are doing as well, like rooting for winning teams or listening to Marcy Playground while wearing Coed Naked Ultimate Frisbee t-shirts. And also, for many Americans between the ages of 25–45, the possibility of consistently seeing a team not in the top five on television in America often was essentially a fantasy up until the NBC deal.
For many Americans between the ages of 25–45, the possibility of consistently seeing a team not in the top five on television in America often was essentially a fantasy up until the NBC deal.
But as people try and define themselves in and past college, they start to think about other factors. One, they are now individuals, and no longer like Marcy Playground, so their soccer tastes need to be a little more cultivated and nuanced as well. But they also need to be careful because they can't just root for the perennial underdogs, as eventually they will get relegated and life will suck. I can personally attest to this, as I spent seven years (2005–2012) mostly just looking at boxscores, and occasional YouTube highlights, as Southampton languished in the Championship and League One (Note: the only upside of this dark period was finding out there really was a team called Dagenham & Redbridge).
In 2006, Bill Simmons infamously wrote a Page 2 story in which he decided that he needed to get really into the EPL, and so he went on some sort of bildungsroman to try and pick a team to support. As a bonus, it contains some hilariously dated context, like when, under a picture of Theo Walcott, he says "Imagine if LeBron went pro in the 10th grade." Or his reasoning for not picking Manchester City: "They're just not good enough. You don't want a team that's on TV twice a year and might get relegated at any time."
At the time, a lot of soccer fans were incensed about the story. English fans were upset because this American non-fan was making sweeping generalizations about their teams. The hipster element was upset because they felt that a major sportswriter clumsily trying to get involved with soccer meant it was going mainstream, and that would make it less cool. That reasoning was stupid and backwards, of course. That wasn't my issue. My problem was the process in which he went about choosing his team. Something felt wrong to me about him so transparently and superficially picking a team for arbitrary reasons like their sponsors, celebrity fans, and the colors of their jerseys. It's like deciding you love New Haven pizza because you saw a Samsung commercial in which Ellen Pompeo tweeted a picture from Frank Pepe's using her Galaxy Nexus.
You don't need to "have a team" and then get into the sport. I would actually argue the opposite. What you do need to do is watch. A lot. Soccer is the Rosetta Stone of sports: it is immersive, demands constant attention to appreciate it, and will make you fluent in Spanish if you watch 2–3 hours of it a day on Telemundo. But it's more than that: it's the buildup play, and those missed opportunities that pull you in. It's the side dramas between coaches with long grudges. It's understanding why Southampton fans will boo a Stoke player every time he touches the ball just because, 13 years ago, he played his youth football at Portsmouth. It's the clever songs about Stern John, and the not-so-clever songs about Stern John. It's the history and the pageantry and the announcers using the phrase "to the good." It's the excuse to drink beers at 7am on the weekend.
And once you watch enough soccer, you'll know what you like. Maybe it'll be a certain team's style of play, or a particular player that energizes you. But once it happens, you will know, and that team will be your team and you will be changed. And soon enough, you will roll into a pub wearing a Rickie Lambert Southampton jersey, and someone will ask why you're wearing it.
"Well," you'll say. "It's a long story."

Kevin Alexander writes a column on the EPL about twice a month, depending on his sleep schedule. Follow his terrible choice to buy a Southampton tie made of rayon @KAlexander03.
Contributors
Howler
TAGS
WELL, IT DEPENDS ON WHAT YOU MEAN BY "FREE."
Enter your best email for full access to the site.