Home
Dirty Tackle
Arsenal's substitutes for injured players are also getting injured now
Arsenal's substitutes for injured players are also getting injured now
October 28, 2015
https://www.gettyimages.com/
It was all going so well for Arsenal. After losing their first two Champions League matches, they bounced back to claim four consecutive victories, including decisive wins against Manchester United and Bayern Munich. This proved enough to restart talk of Arsenal winning the Premier League, but then came their Capital One Cup round of 16 match against second-division Sheffield Wednesday.
Just five minutes into the match, Alex Oxlade-Chamberlain went down with an injury, forcing Arsene Wenger to replace him with Theo Walcott. Fourteen minutes after that, Walcott suffered an injury and had to be replaced by 17-year-old Ismael Bennacer.
If you missed it earlier, both Oxlade-Chamberlain and Walcott were forced off for #AFC in the first 20 minutes. pic.twitter.com/YhyOYZ3FhN

— Sky Sports Premier League (@SkySportsPL) October 27, 2015
And after watching two of their most important teammates get hurt, the remaining Arsenal players went on to lose 3–0. To Sheffield Wednesday.
With these injuries, Arsenal's treatment room is once again filling up as it seems the deal Wenger made with the devil for an undefeated season all those years ago was to never be allowed to have things go too well ever again.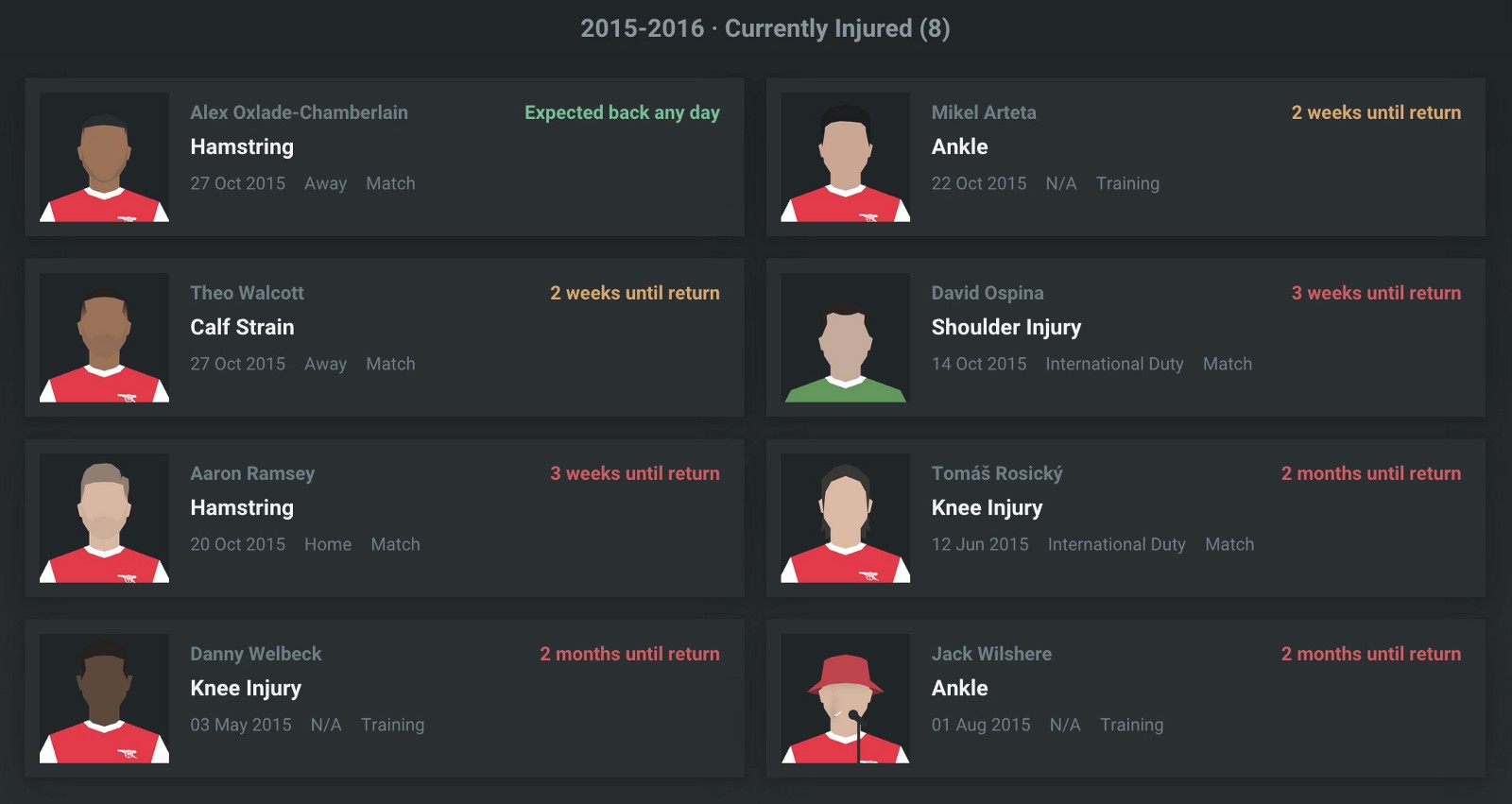 You might've thought that finally parting ways with human WebMD symptoms database Abou Diaby would've cleared whatever injury curse the club has endured in recent years, but apparently not. Their eight injuries could present problems as their next three matches are Swansea away, Bayern away, and Spurs at home.
Just to be on the safe side, Wenger should probably wrap Petr Cech's entire body in whatever his scrum cap is made out of.
WELL, IT DEPENDS ON WHAT YOU MEAN BY "FREE."
Enter your best email for full access to the site.