Inside Wolfsburg's foray into eSports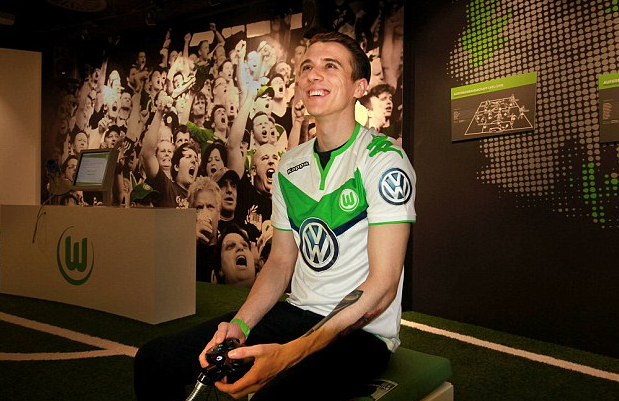 By John Wilkinson
[O]n January 19, Germany's VfL Wolfsburg announced the signing of a new player. In presentation, it looked like any other of the January window: there was the press release posted to the club website, the excited tweets and of course the glamour shots of the new signing — a 22-year-old English international — beaming in his team's jersey.
"That was the best part about it," David Bytheway said. "I've got me own shirt with my name on, official jackets, tracksuits, hoodies and the fact that I am treated like an actual player of the squad it's like the VIP treatment, it's just absolutely amazing."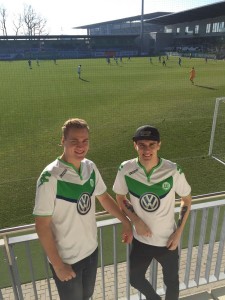 Bytheway wasn't joining Wolfsburg's Champions League football squad, but the club's budding gaming division as a professional player of the EA Sports FIFA video game.
He isn't even their first eSports signing. In May 2015, Wolfsburg became the first football club to sponsor FIFA eSports players by signing two German players (one of whom has since left the club). Then in January, Bytheway, who plays under the handle DaveBTW, became Wolfsburg's third eSports signing. He's one of two players on their current roster, alongside Benedikt "SaLz0r" Saltzer. With the roster expanding internationally, Bytheway's move caught the attention of more international press.
"This isn't just a small club like trying a publicity stunt, this is a massive, massive club in Germany and around the world," Bytheway said. "The fact that a club with this sort of reputation is getting involved it's not just going to go over people's heads, they're going to look at it and go, 'Right, this is something we can do as well.'"
In a statement on the club's website, Wolfsburg sporting director Klaus Allofs said, "We consider [eSports] to be important and want to be a leader amongst Bundesliga clubs in this field. … Our goal is to establish the connection between real football and the digital version. FIFA is becoming more realistic from year-to-year and is very popular amongst our players and the fans alike."
The connection between real football and its digital version is longstanding, both for those who grew up with the likes of Football Manager, EA's FIFA and Konami's Pro Evolution Soccer franchises or those who came to the video games through friends and were drawn into becoming fans of the teams they were playing with. Since the introduction of FIFA International Soccer in 1993, the popularity of EA Sports' FIFA games has grown dramatically. In 2010, the series passed 100 million copies sold. Since its late 2015 release, FIFA 16 has sold 2.41 million units in North America and 14.3 million worldwide, according to estimates by industry research firm VGchartz.com. The game more than doubled Madden NFL 16's worldwide sales despite being out-sold in North America.
In short, the world's most popular sport is simulated by the world's most popular sports video game.
Soccer's place in the world of competitive gaming or eSports, however, has never been as prominent. While eSports as a whole have been booming in recent years, FIFA is not really a part of that boom. An extensive consumer analysis report by video game research company EEDAR, categorized the top types of eSports games as "MOBA" (multiplayer online battle arena), "Shooter" and "Fighter." Traditional sports were not among the typologies surveyed and a traditional sports title was not even among the top-10 individual games. The three top titles in eSports are multiplayer battle games Dota 2 and League of Legends, along with the first-person shooter Counter Strike: Global Offensive. Whereas PCs are prevalent in competitive games, sports games like FIFA are traditionally more console-based. As sports game have tried to catch up with the likes of Dota 2 and League of Legendes, EA Sports, the makers of FIFA, announced in December 2015 the creation of a Competitive Gaming Division. The idea, EA CEO Andrew Wilson wrote in an introductory release, was to "enable global eSports competitions in our biggest franchises."
In 2016, Deloitte Global predicted that total global eSports revenue would grow by around 25 percent in 2016, up to $500 million. The International, 2015's largest Dota 2 Tournament, had a prize pool of more than $18 million with the winning team taking home more than $6 million and the top six teams all scoring more than $1 million.
"People watched that not even knowing, not even understanding the game, they watched it purely because of the amount of money at stake," Bytheway said. "I think that's something that FIFA needs to follow. We need more big tournaments that are consistently happening year in year out, which will start to bring all those viewers in."
"I think that's something that FIFA needs to follow. We need more big tournaments that are consistently happening year in year out, which will start to bring all those viewers in."
The largest, most consistent FIFA eSports tournament is the FIFA Interactive World Cup or FIWC, held annually by the governing body FIFA itself. The 2016 FIWC took place in New York City March 20–22. The winner was awarded $20,000 and a trip to the next FIFA Ballon d'Or ceremony. Wolfsburg's own Saltzer made it to the round of 16 before being eliminated. The two-leg final, one on Playstation 4 and one on Xbox One, was played at the Apollo Theatre and broadcast live on Fox Sports 1 with John Strong and Alexi Lalas joining the call. A dramatic finish saw Denmark's Mohamad Al-Bacha score twice beyond the 89th minute to win the title. (In surely the greatest real-to-digital soccer crossover detail ever, Al-Bacha won on the away-console rule after the two-leg tie finished 5–5 on aggregate.) David Villa presented the trophy and the night included plenty of other crossover buzz from "traditional" football circles. FS1's English-language broadcast averaged 46,000 viewers in its two-hour window, 23,000 of those viewers in the 18–49 age demographic. Fox's Spanish-language broadcast got 27,000 viewers. FIFATV's Youtube stream has more than 160,000 views between those who watched live and in the days afterward.
https://www.youtube.com/embed/PymSXG47c0w
"As an eSport it's definitely growing," Bytheway said. "With this move with Wolfsburg entering the scene I expect it to grow quite a lot compared to what it has in the past few years. It is still lagging behind a little bit but with the new announcement from EA Sports, their new competitive division, with Wolfsburg now entering the scene, I think it's only a matter of time before it kind of explodes."
Bytheway made his name, at least before signing for Wolfsburg, with a run to the final of the 2014 FIWC. A 22-year-old native of Wolverhampton, England, he grew up loving football in any format. "When I wasn't playing with my friends at the park I was playing it online on the console," he said. He first remembers playing FIFA 2003 and said he would annually switch back and forth between FIFA and PES until FIFA 09 when he became serious about it.
"I've been playing games all my life," Bytheway said. "It's just something I was naturally good at, to be honest."
He started playing FIFA competitively when he was 16 or 17, entering tournaments around England. At first he was content, like some traditional football clubs, with finishing in the top four and progressing each year. "When I finally qualified for the Interactive World Cup in Rio I said to myself 'Alright this is my big chance, I'm really going to prepare myself as best as I can.' And I did, I prepared myself and that is the biggest tournament in the World." Bytheway's second-place finish was his biggest professional achievement to date.
"Every single sponsorship you get is important, no matter how big or small, but to have the backing of a club like Wolfsburg behind you it's nothing but a positive for me," Bytheway said. "Like I think before Wolfsburg I was seen as just a normal FIFA player in the scene, a decent reputation, but since this Wolfsburg move it's gone absolutely through the roof."
Bytheway says the life of a professional gamer requires setting aside a couple hours for practice each day. With FIFA, you have to practice against gamers around your same skill level to progress but you don't want to practice against too many people because you'll give away your secrets. Thus, professional players usually have a couple practice partners. His are in Malta and Canada, which means he waits for them to get online and practices an hour or so per day against each of them. They make sure to mix up their teams and styles, to keep themselves balanced for tournaments with different regulations.
In addition to his gaming, Bytheway works with EA Sports' UK Community Manager to help grow the game, especially as an eSport. (The relationship with EA actually disqualified him from competing for qualification into the 2016 FIWC, but he said he hopes that will be resolved in time for him to compete next year.)
Reaction to the Wolfsburg move within the FIFA eSports community, he said, has been somewhat mixed but mostly positive.
"Obviously there's quite a lot that are jealous because this is a massive move and I'm lucky to be a part of it and other people would obviously kill to be in my position right now," Bytheway said. "You do get the jealous ones but the vast majority have been supportive because they know, even though they're not the ones in this position, they know it's going to benefit in the long run because this is a big step in the right direction for FIFA and eSports."
Since signing with Wolfsburg, Bytheway's profile has grown. Getting covered by the BBC was a particular coup. "From there, absolutely everything just exploded," Bytheway said.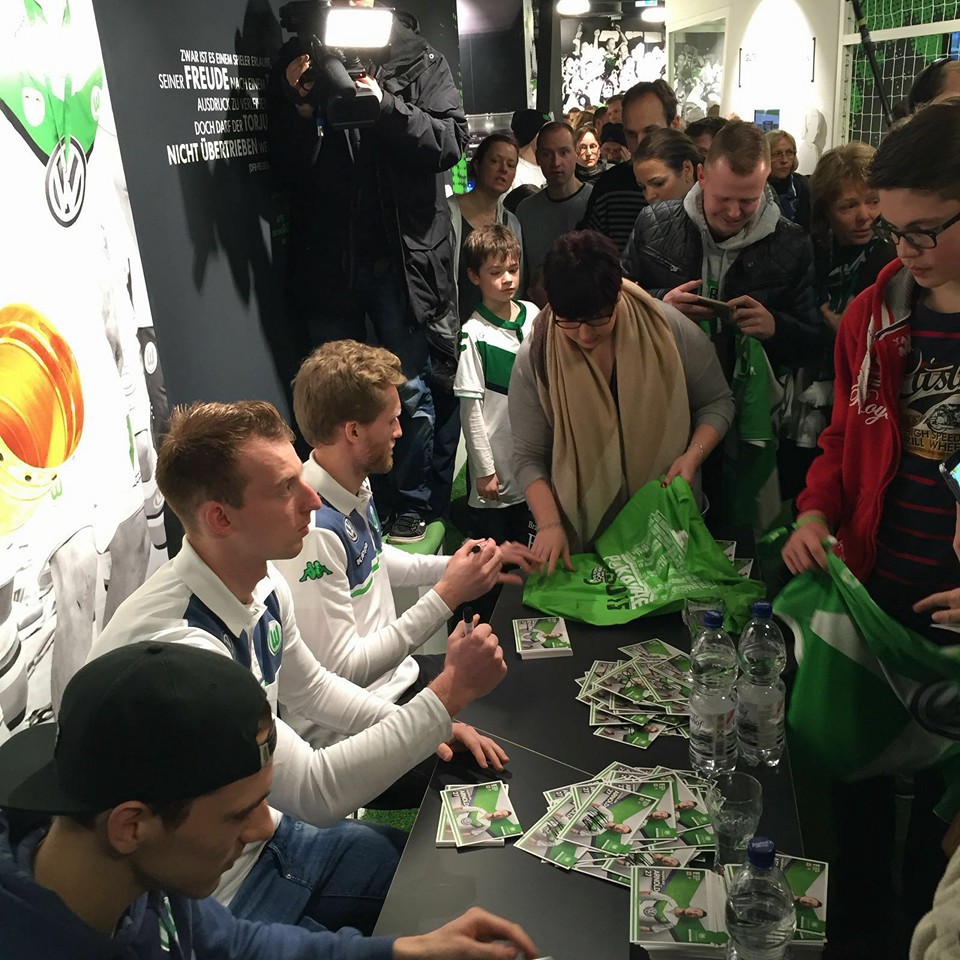 Wolfsburg's foray into eSports has been engineered in partnership with an agency called STARK eSports. Stark's website describes it as "one of the first Full-Service Agencies with a full focus on Gaming and eSports." They offer services from player representation to marketing, sponsorship and brand partnership. They were brought on to help build, manage, and market Wolfsburg's eSports division.
"VfL Wolfsburg always had an eye on [eSports] and still sees a lot of potential in this market, especially since it is growing year by year and the followership is already comparable to other sports. STARK eSports introduced several ways for VfL Wolfsburg to enter the market and supports VfL Wolfsburg with all their [eSports] activities," Khaled Naim, a Managing Director of STARK said in an email. "The digital generation, the generation of social media follows [eSports] as well and an innovative football club must be aware of it."
One of STARK's duties is to scout for talent. When Wolfsburg was looking to add an international player, they made the connection with Bytheway who was represented by their agency division. Bytheway said he didn't want to get ahead of himself when he was first told that the Wolves were interested in a new player, but when they met in Wolfsburg shortly before Christmas, he felt like things clicked. "Right from the very start we were all on the same page," Bytheway said. "Hopefully a lot of other football clubs start following suit because this is a big step for FIFA as an eSport and if we want it to continue to grow we need other teams to join as well."
When Wolfsburg was looking to add an international player, STARK made the connection with Bytheway who was represented by their agency division.
The signing was announced the next month. Bytheway's duties since joining the club have varied. He's travelled to Germany a couple times to meet the football club and watch a few of their matches. "It's amazing. I'm surrounded by nothing but supportive and friendly people," Bytheway said. He said one of his short-term goals after signing was to work on streaming more and creating video content, all of which will be Wolfsburg-branded. In recent weeks, the club has held "Beat the Pro" events with Bytheway and Saltzer on its HitBox streaming account. For about two hours on March 10, Bytheway held court on a stream, giving out tips, joking with and playing against commenters from the chat.
Although Wolfsburg is the first football club to sign competitive FIFA players, it isn't the first to sign eSports players. Turkish giants Besiktas J.K. announced in January 2015 that it was establishing an eSports team of its own, effectively acquiring the existing League of Legends team Aces High Esports Club. In January 2016, after a successful first season, that group of players rebranded to go by another name, but Besiktas merged with another team to continue fielding an eSports division. The team's Facebook page now has more than 74,000 likes.
Now that Woflsburg has stepped into the realm of FIFA, Bythway hopes more fans will recognize eSports' value and its potential uses in connecting with new fans. "They're pioneers to be honest," he said. "If you know eSports, you know the amount of the funds that support eSports and support various different games. Each game — League of Legends, Dota 2 and CS:GO, those sort of games — the amount of viewers that those competitive tournaments generate is through the roof. They're starting to rival some sports, they're selling out stadiums and stuff like that. So Wolfsburg, obviously they've saw that potential and it will start appealing to people who they might not exactly be fans of football as a sport, but now they see Wolfsburg joining in esports, Wolfsburg will start to appeal to those sorts of people who aren't fans of the actual sport but are fans of eSports."
One recent public appearance showed a glimmer of that crossover hope. On March 8, Bytheway was in Wolfsburg for a one-year anniversary event at the club's "VfL-FußballWelt," a kind of museum-cum-interactive fan experience. Fans lined up for autographs and the chance to meet Wolfsburg's stars. There sat Andre Schurrle, the club's World-Cup winning star; Maximilian Arnold, the 21-year-old midfielder who holds the distinction of the club's youngest first-team player and youngest goal scorer; and then David Bytheway, 2014 FIWC runner up and professional eSports player.

John Wilkinson is a freelance writer who lives in Chicago. Follow him on Twitter at @JWilks26.

Contributors
Howler
TAGS
WELL, IT DEPENDS ON WHAT YOU MEAN BY "FREE."
Enter your best email for full access to the site.