Lessons in non-fiction from the Premier League victors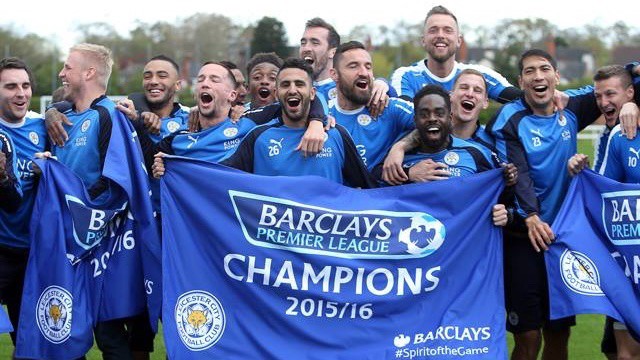 It actually happened. Leicester City really did win the Premier League title. It still feels like it didn't happen, mind you. The coronation, bathed as it was in absurd details like Italian tenor Andrea Bocelli singing "Nessun Dorma" in the middle of the pitch while took on a dreamlike quality. Manager Claudio Ranieri removing his countryman's hoodie mid-song, like a Magic Mike XXL deleted scene, only to reveal a blue Leicester only furthered this impression.
At some point during the Foxes' magical run, all pretence of this being reality was abandoned. Maybe it was when screenwriter Adrian Butchart, of Goal and Goal II: Living For The Dream fame, started working on a Jamie Vardy movie. In the hands of fans and sportswriters, Leicester's story morphed from the fantastic to the fantastical. Shortly after the title was secured, The New York Times' Rob Hughes neatly summed up this sentiment, writing: "There really are elements to this story that no fiction writer could make up."
Hogwash.
A fiction writer could very well make this up. Hughes asks readers to believe that, in a world where William Burroughs can imagine the psychedelic time jumps of Naked Lunch, no novelist could conjure up Leicester's season. This argument exhibits a stunning lack of faith in writers and, more importantly, the potency of psychotropic drugs.
A fiction writer could very well make this story up, but what a load of clichés it'd be. Just look at the dramatis personae: The goalkeeper who secures the final point before the title is confirmed at Old Trafford, the stadium where his father remains a hero; the two Dannys, who failed to make the cut at Manchester United; the star striker, who just a few years ago was playing semi-pro football while working as a carbon fiber technician; the signings from France bigger clubs had passed on; the captain, who transformed from an own-goal magnet into a defensive stalwart at the tender age of 32; the onetime German international who makes the king on a chessboard look like a paragon of mobility. And then there's the manager, an aging nice guy who was fired from his last job managing the Greek national team after losing to the Faroe Islands. At least the Bad News Bears had a coach who was arguably slumming it.
A fiction writer could very well make this story up, but why bother?
A fiction writer could very well make this story up, but why bother? It's too perfect: trite, overstuffed with redemption narratives, and painfully mawkish. Were a fiction writer to make this story up, nobody would want to publish it. Understanding the difference between a story that can't be made up and a story that shouldn't be, it turns out, is the key to appreciating Leicester's season.

As Leicester City cantered towards the title and Claudio Ranieri's "dilly-ding, dilly-dong" invocation became the unlikeliest of memes, I found myself thinking of another strange teacherly type, a guitar instructor in David Sedaris' collection of autobiographical essays Me Talk Pretty One Day. He's called Mr. Mancini and Sedaris describes him as "fastidious dresser stuck in a small, unfashionable town," which, at various times in his career, was also true of Ranieri.
There is, however, one crucial difference: Mr. Mancini is "an honest-to-God midget."
Okay, that's not the only difference. Mr. Mancini also has a penchant for describing guitar playing in the most crassly heterosexual terms possible, which makes Sedaris endlessly uncomfortable. No subtext escapes his attentions. Sedaris' guitar, for instance, has to be named after a woman — and a busty one at that.
This whole comparison is unfair to the unceasingly polite Ranieri, but the league season is a slog during which the mind cannot help but wander. I suppose I connected the two men because teaching, whether in sports or music, can be a lonely task that turns the nicest of men into nuts. Thinking of the "Tinkerman" criticism that has followed Ranieri around Europe, I couldn't help but see Sedaris' reference to Mancini as "a wee outsider, a misfit whose take-it-or-leave-it attitude had left him all alone."
Mancini does not get Ranieri's beautiful ending. Sedaris' story builds in absurdity until his 12-year-old self singing the Oscar Mayer Weiner song convinces Mancini that his pupil is making an advance. "You can hold it right there," he proclaims, "I'm not into that scene." The whole story is an overlong dick joke: not that kind of sausage.
There's just one catch: Very little of this actually happened.
The situation wasn't engineered; it just happened — one of life's stranger moments.
Little good ever comes from explaining jokes, but it's worth considering why the opening story in Me Talk Pretty One Day works. It's easy to write a misunderstanding, but the story works because supposedly real events slowly build to the punch line. It's an accumulation of fears and misunderstandings. The situation wasn't engineered; it just happened — one of life's stranger moments. As Alex Heard noted in an excellent New Republic essay on the subject of Sedaris' liberties with the truth, reviewers ate the story's supposed truthfulness up. "We feel for the child Sedaris even as we laugh with him," Henry Alford wrote in LA Weekly.
In the course of his reporting, Heard tracked down a former student of the man Sedaris refers to as Mr. Mancini. "My recollections of the character represented as Mr. Mancini are not the same as David Sedaris's," the student told Heard. "George Sage was a very serious-minded guitar teacher." George Sage, it turns out, inspired another Sedaris character. "Mr. Chatam, an actual midget who teaches at Instrument City over at Northgate Plaza" appears in the openly fictional short story "My Manuscript" in Sedaris' earlier book, Barrel Fever. This version of the story, however, made no impression on the public.
The fate of these two stories is instructive when thinking about Leicester City's season. Stories take on a different power when they are labelled as real. One can make up a funny story about fictional characters, of course, but they struggle with the underlying weightlessness of the setup. People can be as weird and narratively convenient as you want in fiction. Literature, from Matilda to Harry Potter, is littered with strange educators. In real life, however, a confluence of weird events is remarkable.
The accumulation of narratively convenient events and on-the-nose characters only has weight because it actually happened
The same holds true with regards to Leicester's season: the accumulation of narratively convenient events and on-the-nose characters only has weight because it actually happened. The problem is not that you couldn't make this up, but that if you did it would not be the same. We saw it with our own eyes. In that way, Ranieri really is the only Mr. Mancini in this world.
"Altering and cherry-picking details is an easy, hollow game for a writer," Hannah Goldfield writes in The New Yorker. "The challenge, and the art, lies in confronting the facts — all of them, whether you like them or not — and shaping them into something beautiful." There are plenty of ways to express the strangeness of Leicester's title — the 5000:1 odds is the most common of these — but perhaps the greatest tribute to this team is that an amazing story can be built without cherry-picking details. Unlike in fiction, we probably won't see anything like this again in our lifetime, but that's why this piece of non-fiction is so compelling.

Cup competitions are designed for dreamers and lovers of fiction. The series of discrete rounds of matches allows unusual events to credibly accumulate. It only takes a few fantastical moments to win a title. Wigan winning an FA Cup or Birmingham City winning a League Cup, while not the likeliest of outcomes, is entirely compatible with these competitions' narrative structures. League seasons, however, are for those who embrace the challenge of non-fiction and whose tolerances for novelistic liberties do not even extend as far as Emile Zola's Germinal. Although 38 rounds of matches do not add up to form a perfectly scientific experiment, the sample size is sufficient to limit the effects of random noise.
The unusual can still happen in such an inhospitable environment, but the odds are eternally in favor of the expected — so much so that it can be hard to remember that underdogs can win. When Ted Cruz and John Kasich dropped out of the Republican primary, all but ensuring a Donald Trump victory, one popular reaction was to mock the statistical wonks who spent the best part of a year explaining how this wouldn't happen. At a primal level, fair enough. But a predictive model of reality that proves unerringly correct is fundamentally flawed; a candidate with a ten per cent chance should win from time to time. The same is true of Leicester City's 5000:1 odds at the start of the season. The Foxes' title is remarkable, but it is also entirely of a piece with the universe they inhabit.
Theirs is still the kind of miracle that life, in its eternal weirdness and cruelty, conjures up with exceeding rarity. To treat it as anything else is to strip this moment of its majesty.
The best way to appreciate this season's conclusion, then, is to treat it as a triumph of non-fiction as opposed to a magical occurrence. You could, to return to our friend Rob Hughes, make this story up, but it wouldn't be the same. Without the oppressive pattern established in real time by two decades of dominance from four sides based in London and Manchester, the story's payoff wouldn't hit home. Noting that the dramatic potency of the club's triumph is in part attributable to outside forces takes nothing away from Leicester's achievement. Theirs is still the kind of miracle that life, in its eternal weirdness and cruelty, conjures up with exceeding rarity. To treat it as anything else is to strip this moment of its majesty.
Treating Leicester's season as a work of nonfiction also allows us to properly acknowledge the ugly underbelly of the club's last year. Leicester's tour of Thailand after their great relegation escape included a video of three players dishing out racist insults during an orgy. Jamie Vardy, during a late-night trip to a casino with his teammates over the summer, racially abused a fellow gambler. Right-back Danny Simpson's 10pm curfew as part of his sentence for assaulting his ex-girlfriend initially prevented him from participating in the club's title celebrations. Per The Telegraph, a judge "quashed Danny Simpson's curfew sentence for domestic violence after his lawyers argued he wanted to go out and enjoy Leicester City's title win." (According to his lawyers, Simpson has also only completed half of his court-ordered community service hours, because the press repeatedly disclosed where he was volunteering. On one of those occasions, that was because Simpson showed up to volunteer in a Lamborghini.)
These players' reputations don't need to be laundered here — or anywhere else, for that matter. Leicester is a phenomenal team populated, in part, by cretins. Both of these things can simultaneously be true. The club's achievement will remain remarkable even if we don't turn it into a sanitized sports movie. Non-fiction, as Goldfield noted, requires us to reckon with inconvenient details. You will not receive a perfect sports story in this lifetime; this may be the best you get. Sports is ultimately about real people and teams, not archetypes. Leicester the team is more complicated than Leicester the abstract idea, but it is the former that won the league and it is the former with which we must reckon.
It actually happened: Leicester City really did win the Premier League title. It is real — beautiful, ugly, messy, inspiring, difficult, and forevermore real.

David Rudin is an editor at Howler and staff writer at Kill Screen. He tweets as @DavidSRudin, and a few other handles that needn't be discussed here.

Contributors
Howler
TAGS
WELL, IT DEPENDS ON WHAT YOU MEAN BY "FREE."
Enter your best email for full access to the site.