Pedro broke his nose at home and no one knows how
May 11, 2016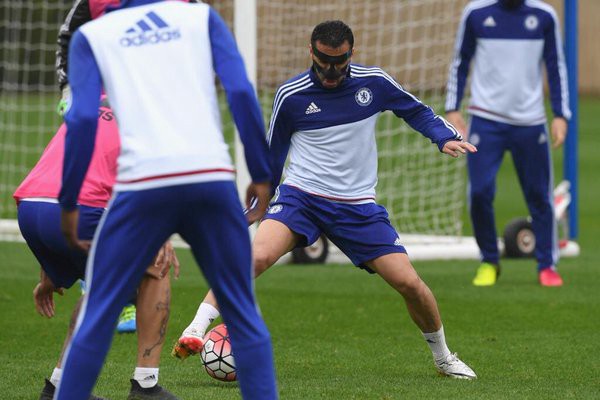 Ahead of Chelsea's penultimate match of the season, manager Guus Hiddink revealed that Pedro is the latest Chelsea player to break his nose. But it didn't happen during a match or at the training ground. It happened at home. And the circumstances of it remain clouded in mystery.
Hiddink told the press (as transcribed by the club's official website):
"Pedro is not out but has broken his nose, not in training but at home — I don't know what happened! He had a little accident on his own. His wife was not involved, she was here and I asked her!
"He very unfortunately fell and broke his nose. He trained today."
So he "fell" at home and his wife says she wasn't involved. OK, well, the most obvious scenario here is that he didn't actually fall at all and he broke it during his nightly ritual of crying and banging his head against the wall while wondering why he left Barcelona for Chelsea. If that wasn't it, then he definitely broke it during his morning ritual of crying while hitting himself in the face with a frying pan for leaving Barcelong for Chelsea. And if that wasn't it, then he certainly broke it during his midday ritual of crying while crying and doing forward trust falls in the hopes that Lionel Messi will appear out of nowhere, catch him, and take him back to Barcelona forever.
And if it wasn't any of those things, then he was just jealous that his teammates have gotten to wear cool masks this season and he made up this story about breaking his nose so he could do it too.
Previously: A look back at the masked tradition of "Zorro team" Chelsea
WELL, IT DEPENDS ON WHAT YOU MEAN BY "FREE."
Enter your best email for full access to the site.