By Becquer Seguin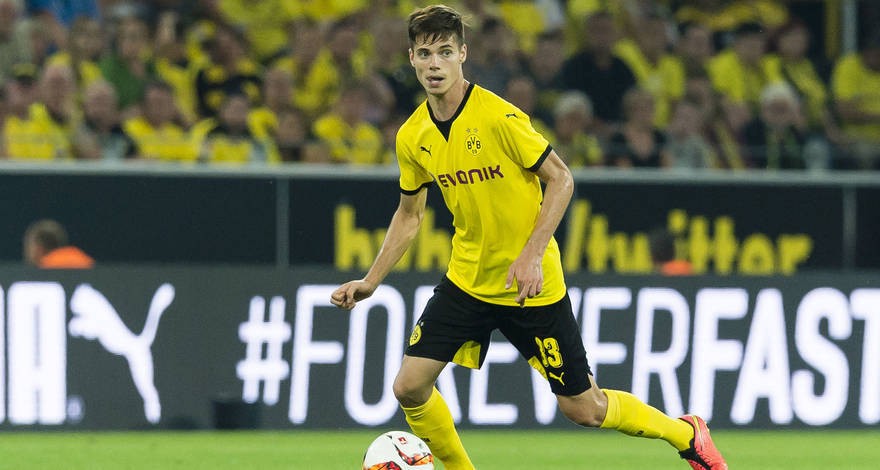 The ball pinged back and forth, aimlessly, as if trapped in a pinball machine. Xavi Hernández passed the ball to Andrés Iniesta, who was maybe 10 feet away. Iniesta then passed it to David Silva, again, just 10 feet or so away. Silva back to Iniesta. Iniesta back to Silva. Silva over to Xavi. To the untrained eye, it might've appeared as if the Spanish national team had chanced upon an icy rut. It tapped the gas, its wheels turned, but it wasn't going anywhere. The Netherlands, their opponents, meanwhile, hopped back and forth, trying to defend each player whenever they received the ball. It appeared a decent strategy — what else is one supposed to do when players are simply passing among themselves? — until, all of a sudden, it wasn't. A second later, the Dutch defenders were caught flat-footed as Xavi delivered a beautifully curled through ball to Diego Costa, leaving him a path to goal as unimpeded as a red carpet. One Xabi Alonso penalty kick later and Spain was up 1–0 in their group stage match at the 2014 World Cup. Everything was in order. And Spain looked to be well on its way to defending its title.
Then, like a controlled demolition, Spain's World Cup plans crumbled in a matter of minutes. On the cusp of halftime, Daley Blind sent a Beckham-esque cross from about the halfway line that picked out a sprinting Robin van Persie, whose acrobatic diving header from 17-yards out caught a scrambling Iker Casillas off his goalline and would become one of the most memorable goals of the tournament. Then came the second-half onslaught: an Arjen Robben nutmeg, a pair of embarrassing Iker Casillas mistakes, and myriad of other ulcer-provoking scenes best left in the archives. At 5–1, the final whistle for the match also effectively sounded the end of Spain's historical run in major international competitions. Spain's only saving grace: thanks to the Mineirazo — Germany's 7–1 drubbing of hosts Brazil — their loss wouldn't be the most memorable or lopsided of the tournament.
The pinball passing that had led to Spain's first goal would've been familiar to those who'd watched Spain reach the summit of international soccer. They were executing a strategy that has come to be known by its onomatopoeic shorthand, tiki-taka. Andrés Montes, the Stuart Scott of Spanish sports broadcasting, coined the term while commenting for the channel La Sexta during the 2006 World Cup. He let 'tiki-taka' fly as a descriptor for the Spanish national team's style of play, which involved short, intricate, one-touch passes. The name immediately stuck. More than just a possession game, the style — or philosophy, some might say — is meant to create effective offense through geometric advantage. Just as a three-legged stool is more stable than a four-legged stool, creating a triangle with two teammates when you have the ball is the steadiest way to get around your adversary.
But did Spain's exit from the 2014 World Cup also spell the end of tiki-taka? The style of play that Xavi and Iniesta had crystallized, by the time of Spain's victory in Euro 2012, had been exported to many major clubs and national teams around the world — Brendan Rogders' Swansea and Liverpool teams used it, so did Marcelo Bielsa's Athletic Bilbao team. Even before Spain's embarrassing performance, many sports writers and pundits, in Spain but mostly elsewhere, were quick to write the obituary for tiki-taka. Sid Lowe, writing for Sports Illustrated, issued a more reasonable response. "There is a certain puritanism about Spain's approach…as if scoring a goal from distance is a bit crass, as if bundling one in or scoring from a corner is rather grubby, as if hitting a team on the break or with a long ball is vulgar. As if a moment of individual brilliance, while a wonder to behold, is not quite right," he wrote. "But it is effective too." Now, with Euro 2016 upon us, tiki-taka barely gets a mention anymore and most seem to have completely overlooked both Spain and the system it perfected.

On August 4, 2014, on the day of the first match of the season, Julian Weigl found out he'd made history. Then 18 years old, he'd been named captain of 1860 Munich, the youngest ever in the club's Mesozoic history. Although officially formed as a gymnastics club, as its name suggests, in 1860, die Löwen (German for "the lions," the club's mascot) came into being much earlier, during the Revolutions of 1848. It was subsequently banned by the Bavarian monarchy for being an "institute of moral contamination," according to the club's website, which probably meant that some members may have openly sympathized with republican revolutionaries looking to establish democracies throughout Europe. The club began playing soccer in 1899 and competed in its first official match in 1902.
"He plays as if he were 35 years old," one teammate said. "If he continues like this, he'll be a great player," said another.
In the intervening 112 years, the club hadn't often valued young soccer players. Since 2004, they've remained mired — often luckily so — in Germany's second division, which doesn't really incentivize playing young, up-and-coming talent. Riccardo Moniz, 1860 Munich's Dutch manager at the time, said he wanted to change that. He'd given Weigl the captain's armband to make a point. "This is also an honor for our outstanding youth players," he told the Munich tabloid TZ about the decision. Weigl had only made his professional debut a few months earlier, during the spring, but his play had already solicited the kind of abstract comments that can only be characterized by the excruciatingly ambiguous term, 'cautiously optimistic.' "He plays as if he were 35 years old," one teammate said. "If he continues like this, he'll be a great player," said another.
If this sounds like it was staged, that's because it might have been. Over the summer, Moniz and the club's management had agreed to participate in a behind-the-scenes documentary series that followed one club for an entire season, Germany's version of HBO's Hard Knocks. "At the time, the idea of an intimate, warts-and-all look at 1860 Munich must have been enticing," wrote Uli Hesse, a longtime soccer writer. People always love a good underdog story, even if it ends tragically. And what better way to syphon goodwill from corporate monolith and crosstown rivals Bayern Munich? Like the season itself, Weigl's captaincy may well have been a stunt for the cameras.
The team lost its first two matches. Following the second match, Weigl walked over to speak to the film crew. They asked him what he would do after the match. He told them he'd have dinner with his parents and go home. At that moment, the club's soccer director pulled him aside, still in front of the cameras, and told him that he'd heard about what happened a few nights earlier. Weigl and three teammates had had a night on the town. Out well past curfew, until 4:30 a.m., and drunk, the group got in a cab and began to criticize the club and its management. In a cinematic turn of events, the taxi driver, a die-hard 1860 Munich fan, met with the club's soccer director in person and recounted the story. Weigl and his teammates were fined, suspended, and relegated to the club's reserve team. And 10 days after making history, Weigl was relieved of his leadership duties.
Weigl kept a low-key demeanor through the ensuing chaos. Already struggling after two matches, the club found itself knee-deep in a relegation battle that would last for the rest of the season. The documentarians would go on to capture the sacking of Moniz, the manager, a few matches later in late September. In February, his replacement, Markus van Ahlen, was sacked, as well. The club only avoided relegation by winning their playoff against third-division side Holstein Kiel on a 91st-minute goal from defender Kai Bülow.

At a lanky 6'2", Weigl may not be the most obvious torch bearer for tiki-taka. For starters, Xavi, Iniesta, and Silva — and Lionel Messi, and many other players identified with tiki-taka — are all listed at 5'7". But Weigl's passing evokes the confidence, patience, and mechanics of the one-touch Spanish style. Even more than other young holding midfielders like Paul Pogba or Marco Verratti, passing is his modus operandi. And unlike, say, Gabi — a stalwart for Atlético Madrid who has yet to break into the Spanish national team — Weigl inspires confidence on the ball by the truckload. More than nine times out of 10 he's going to complete a pass, and that pass, most of the time, will be upfield. He plays basic soccer perfectly, which might be better than playing inventive soccer mediocrely. It's a different kind of beauty from the tiki-taka we're used to. Less based on the gift of imagination than on the labor of practice. One might say, it's a German kind of tiki-taka.
Last summer, Thomas Tuchel was hired to reinvent Borussia Dortmund after the departure of Jürgen Klopp, the club's wildly successful and universally adored manager. Klopp had returned the club to another golden age — last visited during the nineties under Ottmar Hitzfeld — by winning two league titles, one German Cup, two Supercups, and reaching one Champions League final during his seven-year tenure. His teams achieved success through effective counter-attacking. It was a Romantic style of soccer that doubled down on the idea that a relatively humble team like Dortmund could slay giants like Bayern Munich. And he embodied that Romanticism on the sidelines, often pulling his best Tiger Woods fist-pump impression whenever the team scored a crucial goal.
Tuchel can celebrate with the best of them, but his soccer philosophy recalls the Enlightenment more than Romanticism. Tuchel is the early-rising engineer to Klopp's chain-smoking artist. Before joining Dortmund, Tuchel spent a year-long sabbatical learning from, among others, Pep Guardiola, the intellectual architect of tiki-taka. Guardiola calls his system, slightly modified from his days at Barcelona, juego de posición ("positional play" in Spanish). People often confuse tiki-taka for a desire to maintain possession at all — or most — costs. As Guardiola told Martí Perarnau for his biography Herr Pep, "I hate tiki-taka. Tiki-taka means passing the ball for the sake of it, with no clear intention. And it's pointless. You have to pass the ball with a clear intention, with the aim of making it into the opposition's goal. It's not about passing for the sake of it." His semantic intransigence notwithstanding — what manager has ever advocated passing the ball just for the sake of it? — Guardiola's version of tiki-taka, juego de posición, emphasizes the importance of maintaining structured positioning in relation to the ball throughout a match. As opposed to static formations like 4–4–2, he wanted to instill in players an ever-shifting spatial awareness. In the academic world, it would be like jumping from general to organic chemistry.
Tuchel saw in Weigl the spine of his new positional style, the adjustable wrench in the conceptual toolkit he'd learned from Guardiola.
After the incident in the taxicab, Weigl quickly returned to the 1860 Munich first team to play out the rest of the season. He never again got caught up in any shenanigans. He'd instead be instrumental in protecting whatever modicum of respect 1860 Munich had left. Just over a month after helping his club avoid relegation against Holstein Kiel, Weigl would become Tuchel's second signing that summer for Dortmund. The nominal €2.5 million transfer fee, inked while Weigl was playing in the U-20 World Cup in New Zealand, didn't register more than a shrug from the German tabloids. "Weigl is a prospect for central midfield who we really believe has the potential to develop," Michael Zorc, Dortmund's sporting director, said cautiously after the signing. It clearly wasn't a "win now" move.
Tuchel saw in Weigl the spine of his new positional style, the adjustable wrench in the conceptual toolkit he'd learned from Guardiola. His system showcased above all Weigl's positional intelligence, passing ability, and ball retention — the qualities of a 35-year-old he'd shown at 1860 Munich. In his first ever Bundesliga match, the league opener, Weigl was instrumental in dismantling the Borussia Mönchengladbach midfield, marshalled by the likes of captain Granit Xhaka and American Fabian Johnson. Dortmund comfortably won 4–0. His 91 touches and 94 percent pass completion rate elicited the most stereotypical of German comments from the manager. "We thought he was capable of delivering such a performance," Tuchel told the media after the match. "Otherwise we would not have fielded him."
"He has very good qualities, is tactically very intelligent, technically good. Someone to play basic passes but also someone who can make the game fast," Ottmar Hitzfeld, the legendary former manager of Dortmund and Bayern Munich, said of Weigl. One of the most important ways he speeds up the game is by quickly turning defense into attack. It's also another of the overlooked aspects of tiki-taka, and especially of Guardiola's version of it.
https://streamable.com/xjm6?t=1.2
If Claude Makélélé, who played for the likes of Real Madrid, Chelsea, and Paris Saint-Germain, was responsible for reinventing the holding midfield role during the aughts, one may look to Weigl to revamp the position over the next decade. And if he does, it may, like his transfer to Dortmund, go almost unnoticed. Makélélé spent most games impersonating d'Artagnan, felling onrushing attackers one swift and deft swipe of his foot at a time. But he could also turn his unusually long strides — he, too, was 5'7" — into penetrating runs toward the heart of the opponent's backline, before an instep freed a striker to rush toward the goal. Weigl does much the same.
Though his passing, if anything, is what courts the spotlight, the way he receives the ball is what gives him acres of space in which to operate. Whether it's coming from a defender or a fellow midfielder, he instinctively turns his shoulders upon receiving a pass, allowing him to pivot and face upfield while his opponents are caught questioning whether they should cover his more renowned teammates. He then has license to make another short pass, spread the ball out wide, or take it himself.
https://streamable.com/wd91?t=0.2
Tuchel's form of tiki-taka begins much deeper in the midfield than Pep's. Instead of starting in and around the final third, Dortmund has the defensive midfielder or sometimes even a centerback like Matts Hummels tip the dominos. And it's Weigl's moxie that makes this early shift to attack so useful. It allows wingers like Marco Reus to get a head start and attack defenders while running, no longer relying on technical, short-range sprints. Meanwhile, like a magnet, he slowly draws players toward him until they collapse on him, by which point he's already made an uncomplicated pass up to an attacking midfielder or forward.
In quintessential tiki-taka style, volume passing is ultimately Weigl's bread and butter. Behold the obligatory statistics in the age of analytics: This season at Dortmund, his 2,112 successful passes were second only to Bayern Munich's David Alaba in the Bundesliga. His 92 percent completed passes were fourth highest in the league. His rate of more than 84 passes per match was sixth in all of Europe. And, in perhaps the most remarkable statistic, even for a young midfielder, he has yet to score a professional goal. On the final matchday this season, against Cologne, Weigl managed to complete an ungodly 95 percent of his passes and touched the ball 214 times before being subbed off in the 83rd minute. That mark set a Bundesliga record. The previous record — 206 touches — was set by none other than one of the great Spanish architects of tiki-taka, Xabi Alonso.

"The brilliance of Weigl is that he understands his strengths and weaknesses better than perhaps anyone else on the field," wrote Dortmund blogger Constantin Eckner. That was back in September. By December, he'd already made significant improvements in his game — dribbling out of tight spaces and sending more direct passes into the final third. But the statement continues to be as true now as it was then. And it underscores one of the most important yet unacknowledged facets of a holding midfielder: self-awareness.
Julian Weigl up another 3 points. Now 100. pic.twitter.com/LZOKskG0Kx

— Goalimpact (@Goalimpact) December 6, 2015
On a Wednesday afternoon in northern England this April, Weigl appeared unusually at ease for a 20-year-old fielding questions in front of a silver Europa League podium. The press conference took place on the eve of Dortmund's second-leg tie against Liverpool at Anfield. The clubs had drawn the first leg 1–1. Yet Weigl was glowing with confidence, his wry smile matching his hipster side-part haircut in its cheekiness. "What do you see as your key role in your position as a holding midfielder?" one reporter asked. "My role is to help keep the team together," he said, without missing a beat. "We have to play our passing game and minimize mistakes." I remember watching the match the following day. It was the first time I'd ever noticed Weigl. And it was the most peculiar of times to notice him. Mistakes were flying left and right. First, Dortmund looked en route to a blowout win. Then, the tables turned and Liverpool looked to have momentum. Like a trashy Dan Brown novel, these unresolved cliffhangers intervened several times in the course of the 90 minutes. Yet it was probably the most exhilarating match I'd ever watched.
Klopp's Liverpool side ultimately won 4–3 — after Dortmund was up as much as 3–1 earlier in the match. The match seemed to be played on the high seas, violent tides thrusting the players into and out of submission almost at random. At one point, Shinji Kagawa galloped with the ball, before, moments later, it ricocheted off of a few legs and into the goal. At another, James Milner, like a tightrope walker, danced along the endline and defied several laws of physics before, seconds later, the ball had pinged into the net. As the players careened from one side of the pitch to the other, Weigl was one of the only constants. Very few mistakes, if any, came from him. He had kept his word.
Several weeks ago, Joachim Löw, the German national team manager, announced that he'd selected Weigl for his Euro 2016 squad. For many in Germany, it came as a surprise. Unlike in a Greek tragedy, the chorus of concerns in the German press was predictable. "He's only 20." "He's only played one year in the Bundesliga." "He might just be another one-hit wonder." It said more about the country's anxieties about repeating their dragon-slaying 2014 World Cup performance than it did about Weigl himself. Two weeks ago, the young Dortmund holding midfielder had yet to make his debut for a national team that, so far, hasn't had significant changes to its winning squad from four years ago. Now called up, Weigl will carry the baton of a new generation of German players — a generation that includes Bayern Munich's Joshua Kimmich, Schalke's Leroy Sané, and Bayer Leverkusen's Jonathan Tah. Whether Germany dethrones Spain not just at these Euros, but for competitions to come might well depend on just how convincing Weigl's impression of Sergio Busquets is.

Bécquer Seguín, a doctoral candidate in romance studies at Cornell University, writes regularly for The Nation and other magazines. Follow him on Twitter @bcqer.
Contributors
Howler
TAGS
WELL, IT DEPENDS ON WHAT YOU MEAN BY "FREE."
Enter your best email for full access to the site.