Home
Dirty Tackle
Cristiano Ronaldo writes a letter to Lionel Messi for no particular reason
Cristiano Ronaldo writes a letter to Lionel Messi for no particular reason
July 11, 2016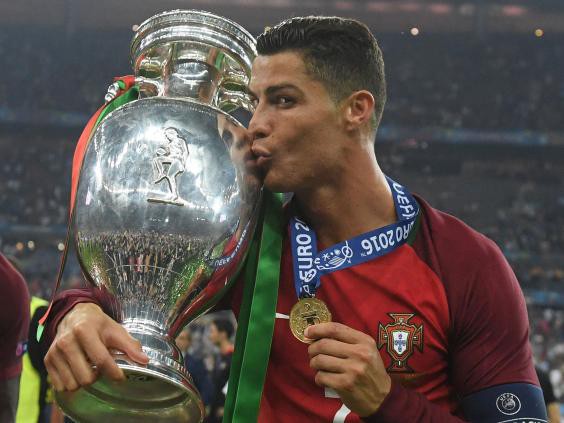 Dear Leo,
First, I hope this letter reaches you. I didn't know if I should send it to your house or the prison in Barcelona, so I've sent copies to both just to be sure.
Anyway, I'm just writing to see how you are doing. I was sad to hear that you have decided to retire from playing for Argentina. I couldn't imagine retiring from international football without winning a trophy. Thankfully, I don't have to, because I just won Euro 2016! That's the trophy and my winner's medal in the poster sized photograph I've included with this letter. I'm thinking of strapping the trophy onto my head and wearing it as a hat during El Clasico. I will let you take a selfie with me while I wear it so you can post it on your social media accounts and maybe get more followers. Not as many as me, of course, but more.
Naturally I was upset that I couldn't play most of the final because of my injury, but it felt so good to know that my teammates love and respect me enough to be inspired by my words of encouragement and score the goal we needed to achieve this dream I have had for so long. It has made me consider the possibility of coaching after I retire. Maybe I'll even become coach of Argentina and lead your nation to the title they have craved for so long.
I heard what Maradona said about you not being a leader, so if you ever go back on your decision to abandon your country, I would be happy to give you some tips on how to get the best out of your teammates — especially my old friend Gonzalo Higuain. If Eder, of all people, can score the winning goal in a major cup final, certainly Higuain can.
I would also be interested to hear what you've been doing as captain of Argentina, just so I know what to avoid in the future. I mean, to lose a cup final three years in a row is incredible. This was not the best Portugal team ever but we still beat a very good France team, so you should have been able to beat Germany or Chile at least once in all those chances — even just from blind luck. Wow. Incredible.
But enough about that. I'm sure you spend every moment of the day and night thinking about how everything has gone so wrong for you. You must focus on the positive. The good news is that since I won the Champions League AND the Euros this year AND set scoring records in both competitions, I will almost certainly win the Ballon d'Or, so you don't have to worry if you can't get out of prison in time to attend the gala. No one will even realize that you and your garish suits aren't there.
I still have a lot more celebrating to do, so I will finish by saying that I am here for your in this difficult time, Leo. I would use the #WeAreAllLeoMessi hashtag that Barcelona started for you, but I feel that I can't say I am you because I have won a trophy for my country and I pay my taxes. Hashtags aside, I am here for you, though. And I will continue writing you letters about how wonderful things are going for me to inspire you in your time of despair. I will even give you some CR7 underwear at a small discount. We make children's sizes, so they should fit you.
Good luck, Leo.
SIIIIIIIIIIIIIIIIIIIII!-ncerely,
Cristiano
Achiever of Everything
Contributors
Howler
TAGS
WELL, IT DEPENDS ON WHAT YOU MEAN BY "FREE."
Enter your best email for full access to the site.