Home
Dirty Tackle
Germany prove they can't lose a shootout, even when their penalties suck
Germany prove they can't lose a shootout, even when their penalties suck
July 2, 2016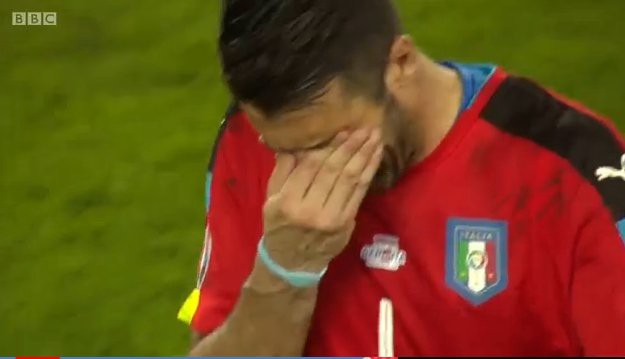 Germany beat Italy in one of the most hilariously horrible penalty shootouts to reach the Euro 2016 semifinals. Here's a sampling of the madness this match produced:
-Germany's first ever win against Italy in a major tournament after nine attempts.
-Including their one and only shootout loss in the Euro '76 final (thanks to Antonin Panenka's famous shot), Germany had only missed two attempts in six shootouts going into this one against Italy, where they missed three and still won. (@PCarrESPN)
-Germany have now won six shootouts in a row.
-Simone Zaza was brought in especially for the shootout just before the end of extra time and did a Wile E. Coyote impression instead of taking a proper penalty.
-Graziano Pelle tried to get in Manuel Neuer's head by calling his shot, then missed in a way that was somehow ever worse than Zaza's effort.
Really important we don't let Zaza's run up overshadow Pelle's bluff and blunder. This is incredible. #Ita #GerIta pic.twitter.com/XKCRCHm5xD
— Carl Anka (@Ankaman616) July 2, 2016
-Germany have now reached seven consecutive major tournament semifinals.
-Italy have now lost more shootouts (seven) than any other nation. (@MisterChiping)
-But the match wouldn't have even gone to penalties if Jerome Boateng hadn't done his impression of an inflatable air dancer to give Italy a penalty to equalize in the 78th minute.
Son, what are you playing at?! 😂 pic.twitter.com/LlpNdmbgaL

— FitbaThatba (@fitbathatba) July 2, 2016
-Italy defender Leonardo Bonucci then converted that penalty despite never taking one outside of a shootout in his life. Of course, he then went on to miss in the shootout.
What a penalty. My records (& @STATS_Football) show Bonucci has NEVER taken in-game penalty before. Eder has 10/10 record (Samp) since 2012

— Ben Lyttleton (@benlyt) July 2, 2016
The fact that two of the best teams in this tournament were forced to meet in just the quarterfinals seemed insane enough, but for them to then put on this comedy act of a match was even better than if they had carried out a masterful exhibition of skill.
WELL, IT DEPENDS ON WHAT YOU MEAN BY "FREE."
Enter your best email for full access to the site.