Home
Dirty Tackle
Mario Götze makes awkward return to Dortmund, regrets Bayern move
Mario Götze makes awkward return to Dortmund, regrets Bayern move
July 22, 2016
Borussia Dortmund fans burned his shirts and called him "Judas," but now Mario Götze is back after three years with Bayern Munich. Back in April, when rumors of a potential return first surfaced, Dortmund fans held up banners that read "Milan or Madrid. Just not Dortmund. Piss off Götze!" during a match against Werder Bremen.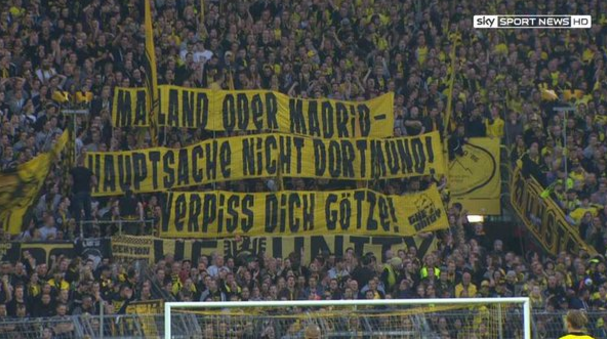 So with that sustained distaste on the record, Götze couldn't just waltz back into the club and act like nothing ever happened after his chances with Bayern dried up. He tried to soften the news with a Facebook message.
From the Guardian:
Götze, a product of the Dortmund academy, said in a statement on Facebook that his decision to leave Dortmund in 2013 was one he regrets. "Today, three years later and at 24, I look at that decision in a different light," he said.
Likely to face a frosty reception from some Dortmund fans, Götze said he would do everything he possibly can to win over those who "do not welcome me with open arms" and referred to Borussia Dortmund as "his home". "I can understand many fans could not accept my decision," he said. "I wouldn't reach it today either."
At least one person at Dortmund is happy to have him back, though.
Welcome back 👊😅🐝⚽️ @MarioGoetze

— Marco Reus (@woodyinho) July 21, 2016
Contributors
Howler
TAGS
WELL, IT DEPENDS ON WHAT YOU MEAN BY "FREE."
Enter your best email for full access to the site.