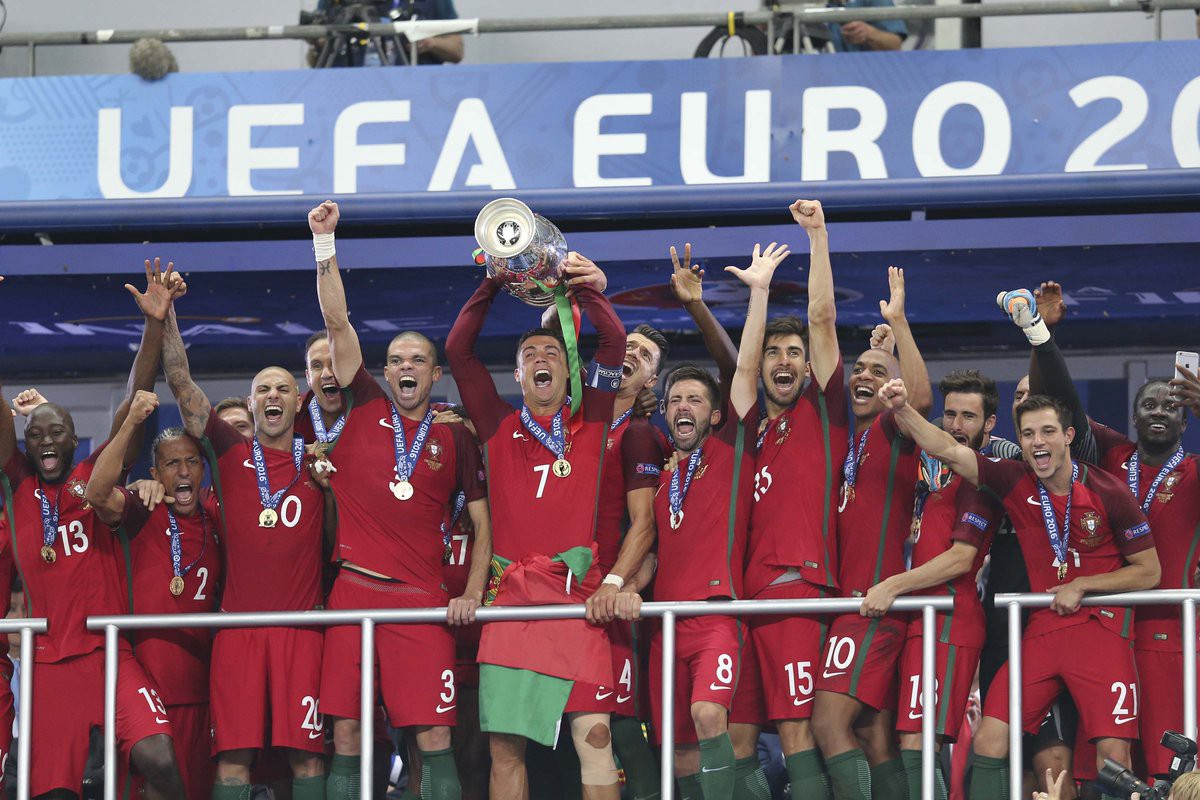 By Gabriel Bump
Lisbon is a poet's city. Legend claims Odysseus founded this riverside metropolis on his way home from Troy. In the city center, in Chiado, near the narrow partying streets of Bairro Alto, there's a plaza named after 16th-Century poet Luís de Camões. I work for a literary program that brings American writers to Lisbon. The program, Disquiet, takes its name from Portuguese poet Fernando Pessoa's seminal work, The Book of Disquiet. I met Jacinto Lucas Pires through my work. Jacinto published his first collection of short stories when he was 22. Now, twenty years later, he has three novels, another short-story collection, two books of nonfiction. He latest novel, The True Actor, translated in English and available here, won the 2013 DST Distinguished Literature Award for the best book published in Portugal in the past two years. He plays with the band, Os Quais. He supports Benfica and writes a soccer column for O Jogo.
Six days after Portugal won their first international tournament, Jacinto agreed to meet me in Comões Plaza, at a café, surrounded by shuffling tourists and Lisbon's famous yellow tramcars. He drank lemonade. I drank iced tea. We tried to hide under flimsy shade from 95-degree heat. I sweated through my shirt. He explained Portuguese football, or, as he kindly referred to it, for my sake: Portuguese soccer.
[I] think of Portuguese soccer, in the European context, as the Brazil of Europe. We tend to have this mixture, this Atlantic mix, between tropical soccer, if you can put it like this, and — the things that you were mentioning — not only guarding the ball, and wanting to have the ball, but, also, the idea of having this burst of speed, velocity. And we're really focused on attacking, more than defending.
This is also a Brazilian-ish quality. We love soccer also in that the little details, let's call it the artsy details of how you manage the ball, how you touch the ball. We really love players who can do a beautiful new twist. Not just score, or be athletic, but do something beautiful while scoring. Like this Michael Jordan soccer quality that can overcome time, in a way, like art.
Like Poetry?
Suddenly it seems like the curse is over. Now we're free again to be poets because now we made it.
What's kind of, let's say, embarrassing is that most of time — and this is true when you talk about society, economics, politics even, but also true when you talk about results in soccer — there seems to be a relation, sometimes, between this poetry quality of language or soccer playing and a lack of results. It's like the platonic thing. We're best lovers in a platonic way. And, now, this was fascinating for us during this recent Euro Cup, because suddenly it seems like the curse is over. Now we're free again to be poets because now we made it. So it's okay.
A poet like Eusébio?
He was otherworldly. He was incredible because he was incredibly modest — and this is something people sometimes, they don't talk about, they don't mention this — but I think this contributes to his legend. He was, you know, an incredible football artist — he did everything: one-to-one, speed, shooting from afar, passing, everything. He was totally complete and at the same time incredibly modest. This guy, he would not shy away from photographs or journalists; not that kind of aggressive shyness. He was just really naturally modest, humble even. And when you see, like, you know, the greatest being that modest, it gives him, like, an extra authority.
I would not put Ronaldo in the same sentence as Eusebio, really.
Is there anyone you would put in the same sentence as Eusebio?
Um, yeah. But not a Portuguese player.
They say Garrincha, you know, the guy that played during Pele's time, in Brazil. Nelson Rodrigues, this great playwright and football writer from the '50s and '60s, in Brazil, he says this, he says Garrincha, they called him Mané, was as great, or maybe greater, than Pelé.
He ended in misery. He became an alcoholic afterwards. He was this guy with a leg shorter than the other one. Like, he was handicapped. But he put this into his art, his football art. He found a way to do this. So, these kind of bigger than life football players from the past, like Pelé, of course, Garrincha. I think, from my time: Maradona. These are the guys that I would put in the same pantheon where Eusebio is.
And Ronaldo?
People have…if they're real people…they're complex. And Ronaldo seems to be like a stick figure.
Ronaldo, I think, is a great athlete, a great player, of course. But, there's something about him, and I don't know if it's this selfie-obsession when he plays. Like, he plays to the mirror. When he plays, and also the way he lives. We were talking before about Eusebio's modesty and Ronaldo, in that aspect, is absolutely the opposite. And it becomes, kind of — there's no profundity to the character that he builds, the real-life character. There's no charisma, of course. No sort of depth.
And sometimes it can be a dark depth, if we can put it like this. If you think of Diego Armando Maradona, he has this dark side to him that almost killed him at some point. But this is part of who people are. People have…if they're real people…they're complex. And Ronaldo seems to be like a stick figure.
Because of this self-obsessed image, kind of, culture, that he lives in. He's almost like the prototype of this idea, this world that we live in, like image-obsessed. In that aspect, he's an interesting character because he's so typical. He's so much the prototype of this thing we discuss and sometimes cannot point exactly what it is.
(Portugal is used to joyful soccer. They love joyful players.)
We're like kids. We love the ball. We want the ball. The ball is the thing. We give names to the ball. We say a redondinha, the rounded one, the little round thing. We nickname the ball. This is our love.
How is this different from other European countries?
This other tradition of football, or system of soccer, is more concerned with space, how to occupy space. It's tactical in that way. Like the thing is — like Thomas Müller, this German player; he has this interesting definition. He says, "I'm not the best at anything. I'm not the best at scoring, dribbling — I'm not one of the best. But I'm very special because I'm the best reader of space there is." And I think that's a very good definition to create a difference. They're concerned with space. It's like engineering space. It's not like poetry or writing. It's more like architecture.
Here: we're the opposite and that's a problem for strikers. Because they feel like they want to have the ball for awhile and then find a way to get space and score.
Even Eder with this wonderful goal [in the Euro 2016 final]. You saw he kept the ball, he was alone, he kept the ball, he got his space. He looks once, like this. We're not sure he's even looking at the goal really. He sensed that the thing was there. And then, when he gets some time…he had this little time with the ball, like, he was building the moment. And then, okay, nobody's here, you know — wham, I shoot.
https://www.youtube.com/embed/WtoZGr1mzg0
If you look at it, it's an incredible goal, technically, because it's very — it's from a far. It's really…it's really…and it's unpredictable in the sense that you should not do it from there, at that point. You're alone, you know. You have defense player in front of you. You don't even see the goal, you know, really well. You should not shoot. You should wait. What the book says is that you should wait for your colleagues.
Then he just goes boom.
Éder is from Guinea-Bissau, a former Portuguese colony. William Carvalho was born in Angola, a former Portuguese colony. Eusébio is from Mozambique, a former Portuguese colony. What other players from former colonies have made an impact on the Portuguese game?
Coluna is a very important figure. He was older than Eusébio.
He was the captain of Benfica and the national team. So you had this black man during the dictatorship in Portugal. Of course, that was part of the dictatorship propaganda at the time that this was a multicultural empire of sorts. But still, you have this black man who was the captain. All the players called him 'sir.' Like Sir Coluna. Even when Eusebio was at his peak, he went to score, to shoot a kick, like, a penalty kick or free kick, and he would go to Coluna and he would say 'Sir Coluna, may I do it?' And he would say, 'yes.' He was the kind of authority figure. He was not like an extravagant talent, offensive-wise, like Pele. But he was the pillar of the team, like defensive-wise and organizational — he was almost like the coach on the field.
How do contemporary number eight players, such as Renato Sanches and William Carvalho, add to Coluna's legacy? Start with Renato.
https://www.youtube.com/embed/U7KgJvicfpA
He has this incredible generosity while playing. He's like a kid. He wants to be everywhere. He wants to do everything. So he's the one doing defensive, but really hard defense, like not just being there. He's going there and taking the ball from you. Okay? But then he goes.
He's not William Carvalho, who's, you know, a great defensive midfielder, but when he wants to go and attack, he's slow. He takes his time. And sometimes this is not good. You want to counterattack. But that's the way he is. There's like this giant quality to him. This calm. He has almost this Zen-like quality while defending. Everything is alright. He has the mustache now.
But Renato, he's not like this. He takes the ball then he wants to score. He wants to put everything — he's really strong. And if there's no one there, he'll take the ball himself.
Renato was sold to Bayern Munich. Cristiano was sold to Manchester United. Portugal has one of the highest young emigrant populations in Europe. Does Portugal, in all areas of society, have a problem keeping their talented youth?
We're talented. We have all these talents, but then it's difficult to break the cycle from being this poor — very talented, but poor — region of Europe. Because of course, the powerful center, the rich center of Europe picks these talents. And I think it's good for them. They become millionaires. One day, they wake up millionaires, suddenly.
I think it's in the order of things that this happens eventually. But it would be good to keep them a little longer.
For instance, Benfica — and I've written this on these national newspapers this year — Benfica, if we want Benfica to have European ambitions, to be in the Champions League and really fight for the title, then we have to — it's also kind of an investment to tell this great player like Renato Sanchez, "We'll raise your salary, but we'll keep you for like two more years, at least. Let's see what happens."
What's worse is that the problem is not Renato. This problem is that Benfica administrators — they want the money for Benfica. That's the problem. Because they consider it like a business. So it's like a short-term vision, even business-like. Because of course, if you're European Champion, that'll also be good for your business.
Portugal won this tournament playing a conservative style under Fernando Santos. José Mourinho coaches a conservative style. Why is this? Why don't they coach the "Portuguese Style"?
https://www.youtube.com/embed/lyeyyPd_HCA
We have this style of playing, for players, for fans, it's why we love soccer because we play like this: we want the ball, we want the beautiful touch, we want to attack, we want velocity, surprise. But then you look at coaches that were successful in a meaningful international way and they're basically Mourinho and Fernando Santos, now. And they're actually defensive coaches.
I think this is a strange thing. We cannot develop a system that relates to our players and to our sense of what soccer is.
We had these bad experiences in the past. In the Mexican World Cup, Saltillo, you know, the players went crazy against the national team organization because they wanted more money.
Then it was a Euro year and there was the Brazilian coach, Scolari, which was also kind of, not exactly defensive defensive, but pragmatic. He played sometimes with two defensive midfielders. Also when he was the coach of Brazil, he did the same. But we got to the final and we didn't win against Greece, who was playing also this very boring soccer.
There are some good signs for the future. This guy Rui Vitoria, the Benfica coach. And, in a different sense, also the Sporting coach who used to coach Benfica, Jorge Jesus. Rui Vitoria is offensive. He knows that you need organization, you need solid defense, of course. But he keeps on, he puts his team, Benfica scores one and he wants to score more.
I prefer Messi to Ronaldo. I prefer Guardiola to Mourinho. I'm not the politically-correct Portuguese guy.
I would love to have Guardiola as our national team coach.
I'm afraid we'll end up with Mourinho, some years from now. He says when he's 60, or whatever, he wants to be.
No. I'm not a Mourinho fan.
I'm not the typical Portuguese, I'm afraid, for this conversation. I prefer Messi to Ronaldo. I prefer Guardiola to Mourinho. I'm not the politically-correct Portuguese guy.
For me sometimes, it's sad, because I feel alone in my convictions.
Mourinho, I also don't like the public figure that much. Because his attitude. He never seems to take pleasure or joy in the game. You know, he's just always angry against people, against the world, himself, the players, everything is bad.
We all love to win. But it's winning as almost a mechanical device. It's like a number. It's not…it's scoring but it's not loving. You know what I mean? I don't relate to that.
These mind games during press conferences. They were quite transparent. You could see what he was trying to do. But still they worked somehow.
What's your favorite Benfica moment?
I remember, also, against Marsaille, when Benfica was in the old stadium they had this place they called the 'third ring.' It was like higher place for fans, the cheaper place to be. And we had to score to go to the final. It was nil-nil. And it was like a millionaire team, Marsaille. They had this Papin, this French guy who was small small but very fast. He played on the French national team. And they had Chris Waddle, who was this British player who played in France. And this 81st minute, this guy, this Angolan, this guy from Angola called Vata, that played in Benfica. He was not a great player, as skill goes. But he always entered and scored. I'm not superstitious. But he had a special connection with the divine. Accident with a capital letter. And — the guy just scored. And the guy in front of me with the flag and he accidentally hit me on my eye, in my eye. And I was crying, at the same time for joy and but also hurt. And the guy said 'Oh sorry, sorry.' And we hugged — we were strangers and we're hugging there. And then we're running like a crowd, like running down the street from Estàdio da Luz, into the street, and the cars were just parked. They had to stop because the crowd was going. Only when I got home, I saw that the guy had scored with his hand. It was this channel, Eurosport, at the time. And they were doing the stop motion, 'see the hand.' I didn't care.
Whatever, it's like the Hand of God.
It was one magical moment I will never forget.
https://www.youtube.com/embed/dsZn0C3FG3w
As we wrapped up our interview, a man approached Jacinto. They spoke in English, out of respect for me, about creating an opera about the global immigrant and refugee crisis. The man was Carlos Martins, one of Portugal's most revered jazz musicians and composers. Carlos waved down a beautiful woman in a summer hat. The beautiful woman in a summer hat: Sara Serpa, her.
We talked, the four of us, in the oppressive sun for only a few minutes. I parted, understanding Portugal and Portuguese football better than before, knowing and appreciating this poetic city's veins and intricacies.
Follow Gabriel on Twitter @GabrielJBump
Contributors
Howler
TAGS
WELL, IT DEPENDS ON WHAT YOU MEAN BY "FREE."
Enter your best email for full access to the site.