Home
Dirty Tackle
A brief conversation between Moyes, Ferguson, and Allardyce at Wayne Rooney's testimonial
A brief conversation between Moyes, Ferguson, and Allardyce at Wayne Rooney's testimonial
August 3, 2016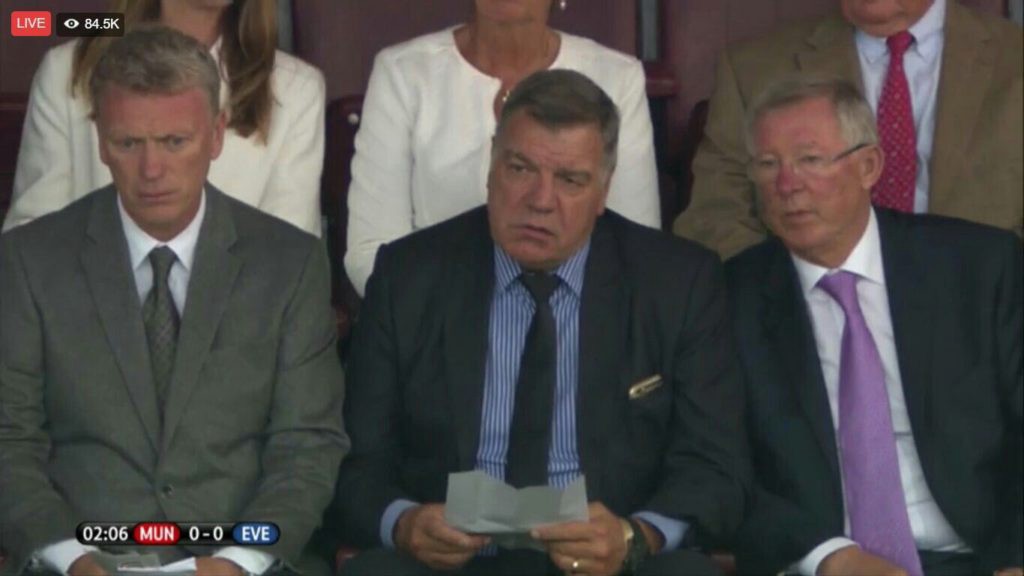 Former Man United and current Sunderland manager David Moyes sits beside former Sunderland and current England manager Sam Allardyce and former Man United manager and current Man United executive Sir Alex Ferguson during Wayne Rooney's testimonial at Old Trafford.
Moyes: (loud, belabored sigh)
Ferguson: (tries to ignore him)
Moyes: …strange being back here.
Ferguson: (tries to ignore him)
Moyes: …if my contract was honored, that would still be me on the touchline instead of Mourinho, you know. So unfair.
Ferguson: What do you want me to say, David? You failed. You were sacked. It's over. Move on. Shut up.
Moyes: (loud, belabored sigh)
Allardyce: Hey Davey, smell anything funny in your new office?
Moyes: Oh- oh god! Was that you? We had to burn the desk chair! I thought a raccoon gave birth and then died on it!
Allardyce: Haha! That's what I call a "Big Sam Special." You'll be smelling that in your nightmares.
Moyes: God. You guys are the worst. Can't believe they put me next to you. So unfair.
Ferguson: Shut. Up. David.
Allardyce: I'm feeling a powerful lust for a turkey leg right now. Alex, the England manager wants a turkey leg. Make it happen.
Ferguson: I'll give you a boot in your ear, how about that?
Allardyce: I'll pass, thank you.
The trio then sit in absolute silence for the remaining 87 minutes of the match.
Contributors
Howler
TAGS
WELL, IT DEPENDS ON WHAT YOU MEAN BY "FREE."
Enter your best email for full access to the site.