This day in football history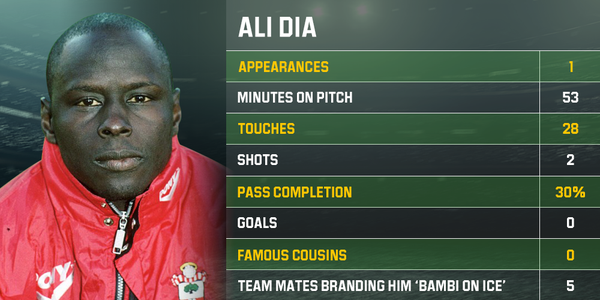 On 23 November 1996, Senegalese striker Ali Dia made his Premier League debut, coming on as a first-half substitute for Southampton in a 2–0 away loss to Leeds.
Dia had just recently been signed by Saints manager Graeme Souness, who had learned of the striker during a phone conversation with someone claiming to be Liberian legend George Weah, the 1995 FIFA World Player of the Year. The caller recommended Dia to Souness, saying that he had played for Weah's former club Paris St. Germain, as well as making 13 international appearances. On the strength of that recommendation, Souness signed Dia to a one-month contract, sight unseen.
Although Dia was unimpressive during training, Souness included him on the bench for the match against Leeds and subbed him on in the 33rd minute for midfielder Matt Le Tissier. It became readily apparent, however, that Dia was not the talent Souness had been led to believe and the manager pulled him after 20 minutes. Leeds went on to win the match with two late goals from Gary Kelly (82′) and Lee Sharpe (89′).
Shortly afterward, it was revealed that the call to Souness had not been from George Weah, but was actually from Dia's agent and that none of the purported facts stated during the call were accurate. Although Dia himself denied any knowledge regarding the call, the Saints released him from his contract after two weeks.
http://thelab.bleacherreport.com/finding-ali-dia/
Souness resigned at the end of the 1996–97 season, citing differences with club chairman Rupert Lowe.

Contributors
Howler
TAGS
WELL, IT DEPENDS ON WHAT YOU MEAN BY "FREE."
Enter your best email for full access to the site.