Home
Dirty Tackle
Sutton reserve goalkeeper Wayne Shaw made the most of not playing against Arsenal
Sutton reserve goalkeeper Wayne Shaw made the most of not playing against Arsenal
February 20, 2017
Few players are able to seize the spotlight on their biggest stage, but Wayne Shaw did it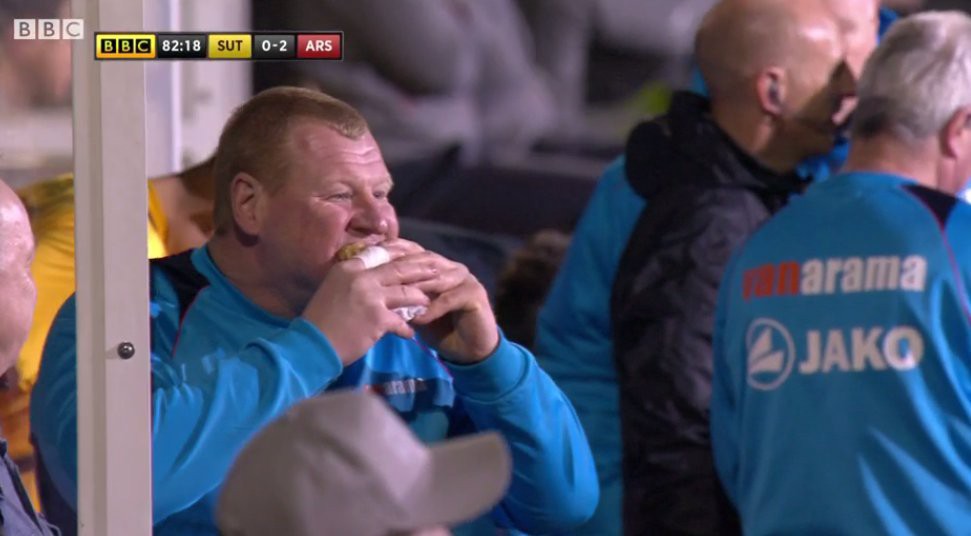 Throughout fifth-division Sutton United's FA Cup run, the focus has been firmly on one man: 45-year-old, 280-pound backup goalkeeper Wayne Shaw. Through heavy press coverage (pun intended), he's been made out to be a mascot for the everyman—if a sitcom dad came to life and played for a non-league club that made an improbable FA Cup run. He's been asked to pose nude and he has his own chili sauce.
But with Arsenal's surreal visit to 765-seat Gander Green Lane in the fifth round, Shaw knew he had one last chance to make himself a star—even though he wasn't playing—and he made the most of his chance.
Before the match, he personally vacuumed the away dugout while wearing sandals just as a photographer happened to be milling around to illustrate the class difference between non-league jacks of all trades and their more privileged guests.
https://www.gettyimages.com/license/643158570
At halftime, with Arsenal up 1–0, he popped over to the bar.
I kid you not. Sutton reserve keeper Wayne Shaw is in the bar at half-time. pic.twitter.com/f7014pXRBP

— Chris Slegg (@ChrisSlegg) February 20, 2017
And late in the second half, with Arsenal up 2–0 and the hope of a profoundly hilarious upset out of reach, Shaw's coup-de-grâce came when he ate a pie in the dugout…
Sutton United's substitute Wayne Shaw eats a pie during the match #SuttonvArsenal #EmiratesFACup @ai_andyc pic.twitter.com/jewrbR9jvH

— Action Images (@ActionImages) February 20, 2017
…for all the cameras to see.
Luckily past the watershed pic.twitter.com/EHhTn4j0Sv

— James Dart (@James_Dart) February 20, 2017
Now, it was quickly revealed that this was a set-up choreographed by Sutton shirt sponsor Sun Bets, who offered 8/1 odds on Shaw eating a pie "live on air" during the match and even advertised it in the paper.
So bookies are offering odds on the large sutton substitute goal keeper eating a pie whilst on the bench tonight. 😂😂😂 pic.twitter.com/6hgqWjRcnl

— Lilywhite Rose 🇮🇹 (@Lilywhite_Rose) February 20, 2017
Still, there remains a strong possibility that Shaw was going to do this anyway and this was like if it was revealed that The Sun paid a bunch of Arsenal fans to hold a "Wenger out" protest. It's going to happen regardless of the outside influence. The money is just a bonus.
So now the Roly-Poly Goalie will live on—an FA Cup tale for the ages—with a little extra cash in his pocket and a few extra calories in his belly. Job done.
UPDATE: Shaw had to resign "in tears" from Sutton and both the FA and the Gambling Commission are investigating his actions, ending his career, what, a month earlier than he would've otherwise (again, he's 45 years old), but he's been offered a perfect new job by supermarket chain Morrisons: Pie taster.
From the Independent:
Morrisons' Chief Pie Buyer Tessa Callaghan said: "We're always looking for the best talent to taste our pies and make sure they hit the back of the net.
"Wayne's performance last night sets him apart as one of the country's most famous pie connoisseurs.
"We were really impressed by his commitment to pie eating, and we understand that a good pie is the best way to warm up for any occasion, even if it is the biggest night of your football career."
As the saying goes, "When one door closes another opens" and this sounds like a net gain for Shaw already.

Contributors
Howler
TAGS
WELL, IT DEPENDS ON WHAT YOU MEAN BY "FREE."
Enter your best email for full access to the site.