Arsenal fans debate each other in the skies over The Hawthorns
March 18, 2017
A good old fashion plane banner war!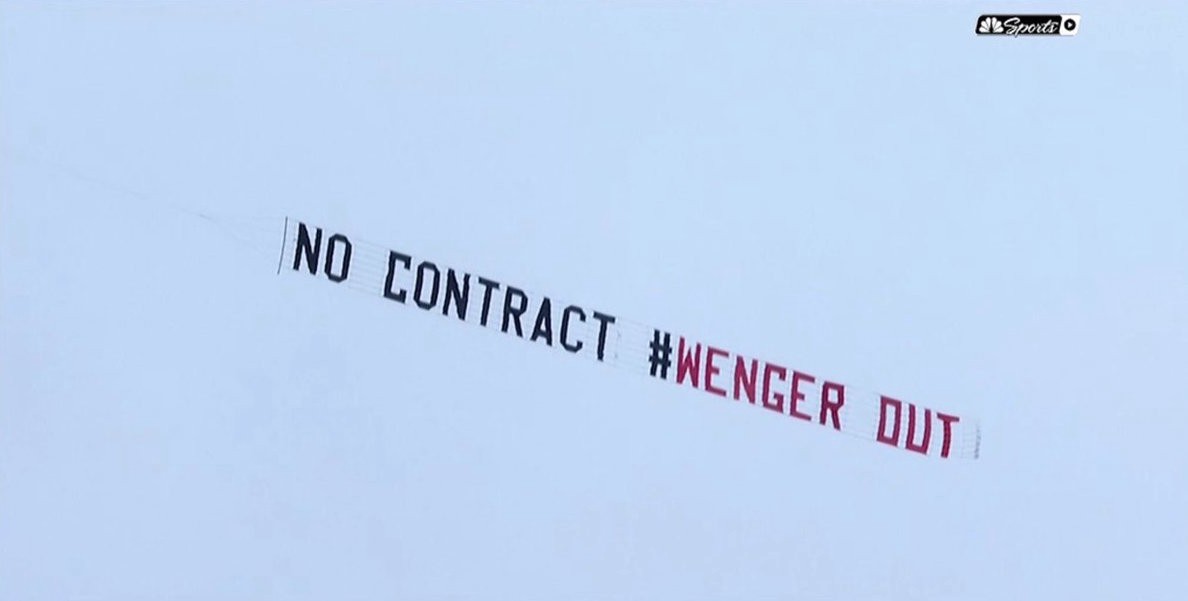 Arsenal's 3–1 loss to West Brom on Saturday marked their fourth loss in six matches, including a pair of 5–1 losses to Bayern Munich that spelled their seventh consecutive Champions league round of 16 elimination. Their only two wins in that span came against non-league clubs in the FA Cup.
They say that doing the same thing over and over again and expecting a different result is the mark of insanity, but if Wenger's repetition has driven anyone insane, it's clearly more the fans than himself. Arsenal Fan TV is all the evidence of this anyone would need, but during the match at The Hawthorns, opposing banners were flown over the stadium, resulting in the lamest sky battle of all time.
Yes, that's right, there are two rival planes buzzing the Hawthorns right now. The end days are upon us. #WengerOut #WengerIn pic.twitter.com/2q69Jd2pHc

— Eurosport (@eurosport) March 18, 2017
One banner read "No contract #WengerOut" and the other read "In Arsene we trust #RespectAW" but the subtext of both was "We have been reduced to debating each other with rented plane banners…please help us."
Of course, the plane banner expressing a desperate opinion on a manager's job status is nothing new. Fans of other clubs have done it with varying results. But to have two opposing banners during the same match is a special kind of embarrassing.
After the match, Wenger spoke ominously about his future and the club's current position. From the BBC:
"I know what I will do," said Wenger. "You will soon know."
The 67-year-old continued: "Today I do not necessarily worry about that. We are in a unique bad patch we never had in 20 years.
"We lose game after game at the moment and that for me is much more important than my future."
It's difficult to know what the future holds for Wenger, but I am looking forward to Arsenal's next match, when the "Wenger Out" air fleet attempts to shoot down the "Trust Wenger" squadron.

Contributors
Howler
TAGS
WELL, IT DEPENDS ON WHAT YOU MEAN BY "FREE."
Enter your best email for full access to the site.