Jamie Vardy can't stop beating himself up
March 28, 2017
Someone needs to protect Jamie Vardy from himself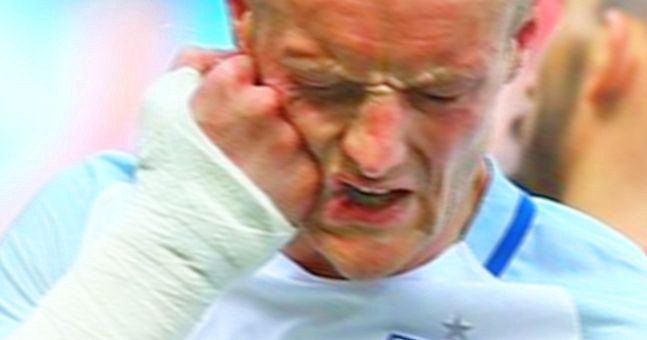 Jamie Vardy came off the bench to score the second goal in England's 2–0 win over Lithuania on Sunday, but that doesn't mean he was entirely happy with his performance. At one point, he headbutted the ground—and this was after he had already scored.
This is far from the first time Vardy has physically punished himself during a match, though. As we discussed on the first episode of the Dirty Tackle podcast, Vardy punched himself in the face (repeatedly) after a miss in Leicester's Champions League win over Sevilla.
He also did it during England's match against Turkey last year.
And during Leicester match against Hull City…
And, perhaps most bizarrely, he smashed his FIFA 16 player card over his head during a press event.
This type of behavior shouldn't be shocking from someone who drinks Skittle infused vodka, but the man needs to be required to wear a helmet and boxing gloves. He's going to be the first athlete to retire from self-induced concussions.

Contributors
Howler
TAGS
WELL, IT DEPENDS ON WHAT YOU MEAN BY "FREE."
Enter your best email for full access to the site.