Laughing at Arsenal with Alexis Sanchez
March 8, 2017
Champions League deja vu will give you the giggles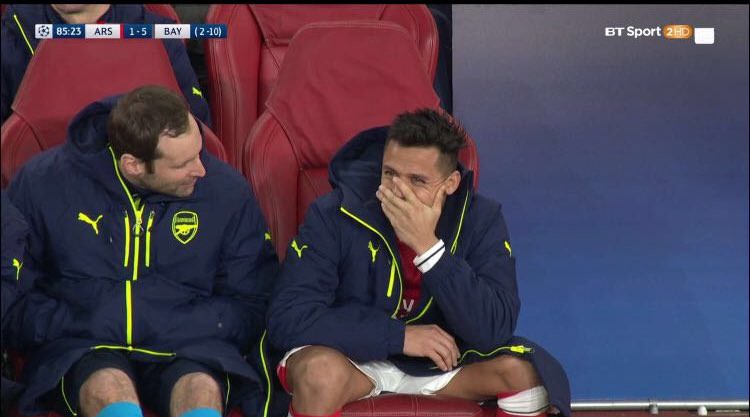 Alexis Sanchez's frustration with Arsenal's annual implosion in both the Premier League and Champions League have reached the point where he has now been spotted laughing at his teammates' ineptitude twice in a span of three days. Sanchez was benched for Arsenal's 3–1 loss to Liverpool on Saturday after reportedly berating his teammates and storming out of a training session a few days earlier. Though he did start Arsenal's third consecutive 5–1 loss to Bayern Munich in the Champions League (yes, third), he was taken off in the 73rd minute, giving him a chance to sit on the bench with unused Champions League winner Petr Cech and giggle into his hand.
So what was so funny? The following is a transcript of what he told Cech.
Hey Petr, you know what time it is? It's 1o to. Get it? Because they're beating us 10–2 on aggregate and that's also a way people say the time of day. OK, OK, I didn't make that one up—I got it from Bayern's Twitter account.
What time is it? Yep, it's ten to! 🔥 #UCL #ARSFCB pic.twitter.com/T2lDkvivkS

— FC Bayern English (@FCBayernEN) March 7, 2017
Seven years in a row this club has gone out of the Champions League in the round of 16 now. It's like watching the movie Groundhog Day, but without the main character who eventually learns something. Get it, Petr? Because Wenger keeps making the same mistakes over and over again. You haven't seen Groundhog Day? Bill Murray? No? Well, don't bother, because you're living it right now. Am I right or am I right? Right. Right. Right. Hahaha no, I'm just joking. We've gotta laugh to keep from crying like Wenger when he sees a starting XI without Coquelin in it. Hey-ooooo!
Oh this is rough. But at least Xhaka got his yellow card, so he can go home happy. Maybe if I promise to buy Walcott a juicer he'll score eight more goals in the next five minutes. Get it? Because he was all excited to get a coffee maker for scoring 10 goals before Christmas and then once he got it he completely stopped scoring in the Premier League. What a hump. And don't get me started on Özil. It'd be better to have Walcott's coffee maker out there. At least a coffee maker does something. Petr, get it? Because Özil doesn't do anything. Haha it's funny because I won't be here next year to suffer through this all over again.
Anyway, I'm just upset that I didn't think to get sent off like Koscielny so I could go back to the dressing room and scream into a pillow until the pain of existing in this prison of failure melts away. Ha. Man, do I hate everyone. Except you, Petr…except you.

Contributors
Howler
TAGS
WELL, IT DEPENDS ON WHAT YOU MEAN BY "FREE."
Enter your best email for full access to the site.