Russian politician thinks hooligan brawls should be a sport
March 6, 2017
If you're going to the 2018 World Cup, wear a helmet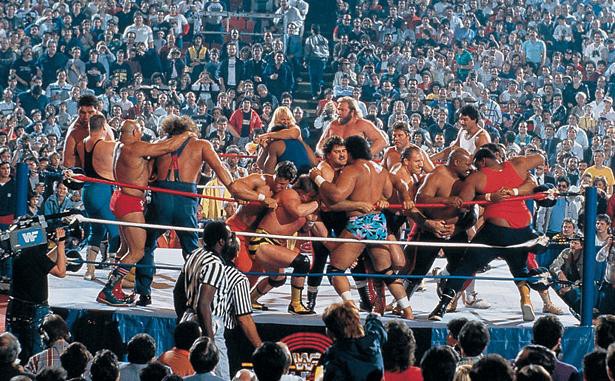 The violence perpetrated by Russian hooligans at Euro 2016 bolstered concerns that the issue could be an even larger one at the 2018 World Cup—concerns reinforced by promises that the event will be a "festival of violence." But one Russian politician, MP for the Liberal Democrat Party Igor Lebedev, has a terrible idea on how to turn these lemons into lemonade.
From PA Sport:
On his party's website, he said: "Russia could become a pioneer in a new kind of sport. Fans arrive and start picking fights — the call is accepted at the meeting at the stadium … on each side of 20 people, without arms.''
Lebedev, who is also a member of the Russian Football Union's executive committee, defended the clash between fans of Russia and England at last year's European Championship as "normal,'' adding: "I don't see anything wrong with the fans fighting.''
He's not only an MP, he's an executive committee member for the Russian Football Union! So if you thought there was a chance the governing body would try and minimize this type of behavior at their big showcase for the world, well, if anything they might do the opposite.
What Lebedev is proposing is like some sort of WWE Royal Rumble, but where all the participants are legitimately trying to maim each other. That said, it would probably be very successful.
Meanwhile, Zenit Saint Petersburg and CSKA Moscow fans fought and even mooned each other during a 0–0 draw on Saturday.
A few Zenit fans managed to climb a fence and moon the home fans during today's game in Moscow against CSKA. pic.twitter.com/jOPgBCR4Kb

— Toke Theilade (@TokeTheilade) March 4, 2017
They didn't adhere to Lebedev's idea of fighting without weapons, though. Smoke bombs and flares were thrown as a partition mostly kept the two factions apart.
https://www.youtube.com/watch?v=3otWQmiWCaY
Buy your tickets to the 2018 World Cup of Violence (…and maybe some football) now.

Contributors
Howler
TAGS
WELL, IT DEPENDS ON WHAT YOU MEAN BY "FREE."
Enter your best email for full access to the site.