Home
Dirty Tackle
"Slap" comment video opens door to David Moyes' history of misogyny
"Slap" comment video opens door to David Moyes' history of misogyny
April 4, 2017
Evidence mounts against Moyes' claim that this isn't the person he is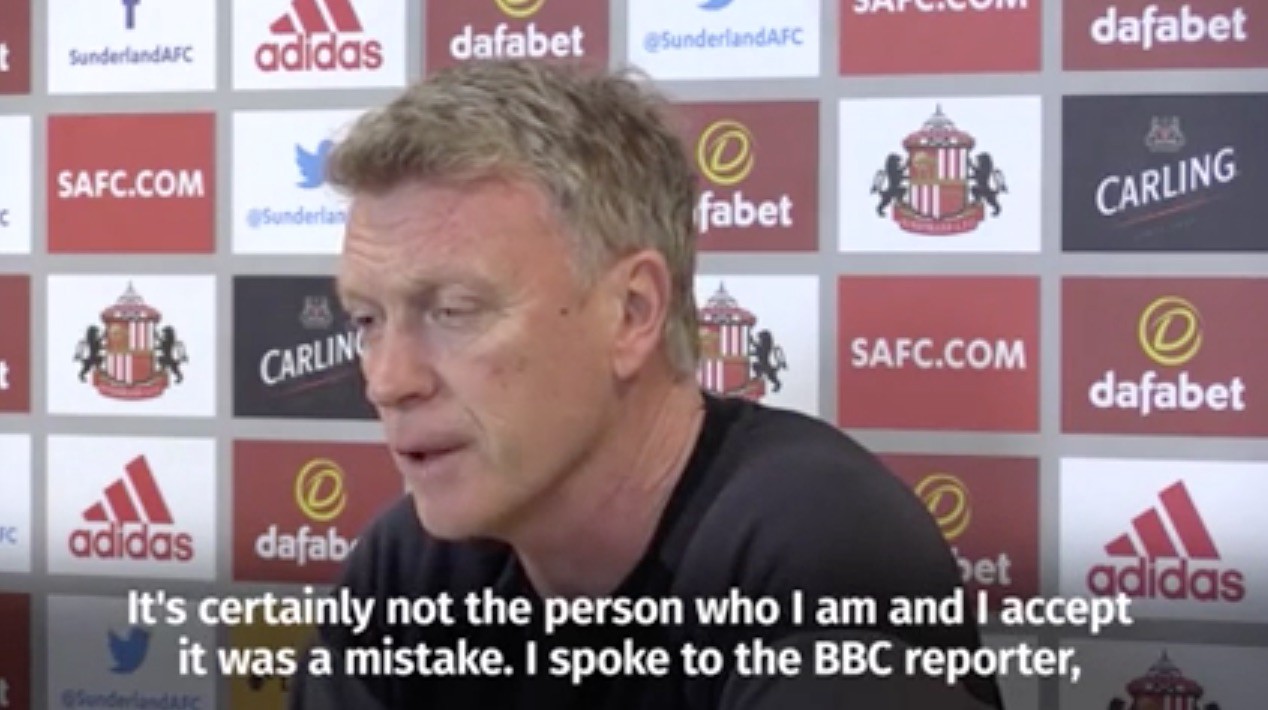 The last four years have unraveled the once respected reputation of David Moyes. At Man United he became a laughingstock, at Real Sociedad the jokes continued in a second language, and at Sunderland he settled into life as a sadsack. All the while, an undercurrent of pity has softened the unraveling, but that should be evaporating after video has emerged of Moyes attempting to joke about slapping BBC reporter Vicki Sparks when he thought the cameras weren't rolling after she asked if he felt more pressure having Sunderland's owner in the stands. This, however, doesn't mean it definitely will.
https://twitter.com/101greatgoals/status/848911645317398528
By Moyes' own admission, Sunderland sat on this information for two weeks until it became public, at which point he apologized to Sparks. At a press conference on Monday, he modified the old "not that kind of player" chestnut and claimed "It's certainly not the person I am and I accept it was a mistake." This immediately proved to be a dubious statement, though.
Not only did he also blame "the heat of the moment" for his plainly inappropriate comment, but he also threw in a casually demeaning "As I said, I've apologized to the girl" when he started to get tired of the questions. And yet, some of the journalists in the room seemed more than sympathetic to his situation.
"You can hear the regret in your voice though, you're obviously disappointed it happened?" one asked, even though that isn't even a question.
"One local women's group is asking for an FA investigation, do you think that's complete overkill?" led another.
Meanwhile, other newly revealed stories of Moyes' mistreatment of women reporters in the past complete the rapid dismantling of his claim about this not being the person he is.
Ian Herbert, chief sports writer for The Independent writes:
It was in the 2012/13 season, in Moyes' Everton days, that a woman had the temerity to ask a question which went against the grain of how he wanted a pre-match press conference to go, during the initial broadcasters' section of the conversation. Moyes cut her down. There was a very uncomfortable moment, after the cameras and broadcasters had cleared and we got down to the more detailed untelevised discussion, when Moyes tried to break the ice in all-male company with a joke at the now departed woman's expense. No-one wanted to be impolite but everyone stared at the floor.
That was not the only incident. He lost his temper with another woman journalist towards the end of his Everton time, though it was smoothed over. This correspondent didn't report any of this, of course — just a reference to the conduct of a "top flight manager" a few seasons later.
ESPN reporter Alison Bender also shared her own experience with Moyes:
This Moyes thing is such a tricky one to comment on. I think we need to take a certain amount in jest/ heat of moment. Unfortunately 1/2

— Alison Bender (@alibendertv) April 3, 2017
2/2 …these are not the first off camera remarks I've heard from him aimed at a woman so it makes my opinion a little different. Difficult

— Alison Bender (@alibendertv) April 3, 2017
The FA will investigate the matter, but the problem here clearly extends far beyond an inept bungler like David Moyes. If he's making a habit of treating women in the workplace this way, you can be sure others in football are too. And with a stable of male journalists alternating between politely biting their tongues and volunteering excuses to try on, a hostile environment is fostered and maintained.
Had this video not become public, Moyes would've been free to carry on threatening to slap any woman who dares to ask him a valid question. And, sadly, that still might be the case, but now no one can say they didn't know this was happening.

Contributors
Howler
TAGS
WELL, IT DEPENDS ON WHAT YOU MEAN BY "FREE."
Enter your best email for full access to the site.