Home
Dirty Tackle
CONCACAF decides biting and nipple pinching is slightly worse than playing while ineligible
CONCACAF decides biting and nipple pinching is slightly worse than playing while ineligible
July 23, 2017
It's been a busy Gold Cup for CONCACAF's disciplinary committee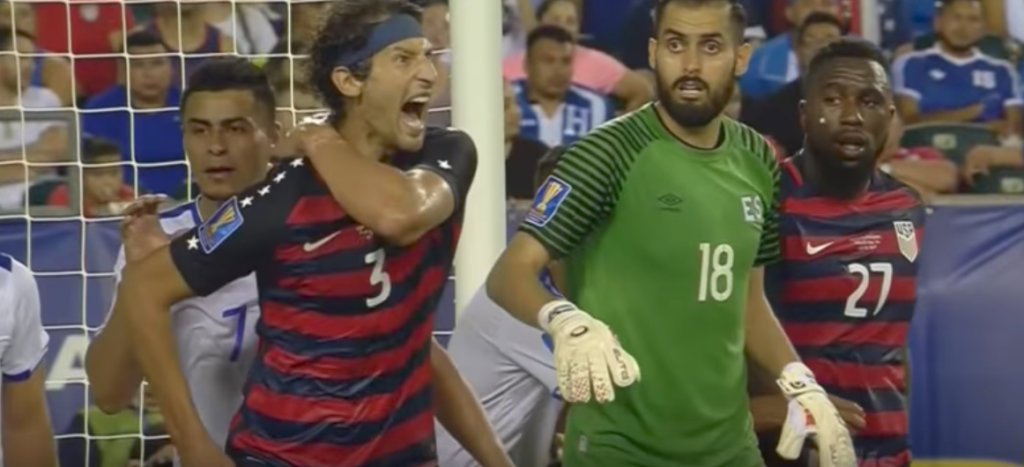 Deciding punishments is never an easy task, but the 2017 Gold Cup has been especially difficult for CONCACAF's disciplinary committee. First, there was the matter of figuring out what to do with an ineligible player playing anyway. That was deemed worthy of a two-match stadium ban for French Guiana's Florent Malouda (which he ignored). Then they had to rule on not one, but TWO El Salvador players biting opponents in their quarterfinal against the U.S. Plus, for an added degree of absurdity, a purple nurple thrown in for good measure.
Darwin Ceren bit Omar Gonzalez on the back…
I have confirmed that this is the photo of the bite mark on Omar Gonzalez's shoulder from last night's match vs El Salvador. @FOXSoccer pic.twitter.com/0biVfFYKiJ

— Jenny Taft (@JennyTaft) July 21, 2017
And Henry Romero bit and twisted the nipple of Jozy Altidore…
Altidore: "My girl is mad at me. She's mad at me, she's mad at Romero. She's like 'Only I can bite u, only I can grab your nipples.' #usmnt

— Steven Goff (@SoccerInsider) July 20, 2017
The punishments? A three-match ban for Ceren and a six match ban for Romero (presumably three for the bite and three for the nurple).
Bite: Three games
Bite AND titty-twister: Six games pic.twitter.com/g8LL8vSNqC

— Jon Arnold (@ArnoldcommaJon) July 23, 2017
(For reference, Luis Suarez was given a seven match ban for his first biting incident in 2010 by the KNVB.)
So biting and nipple play is only a little bit worse than playing in a match you're not allowed to play in. Then again, all of these incidents have been so weird that it's hard to blame anyone for not punishing them correctly. I'm assuming the members of the disciplinary committee have been spending most of their time trying to determine whether they're being pranked.
---
Contributors
Howler
TAGS
WELL, IT DEPENDS ON WHAT YOU MEAN BY "FREE."
Enter your best email for full access to the site.