The devastation of Hurricane Harvey brings up questions of what sports teams that have benefited from public funding should do to return the favor to a community in need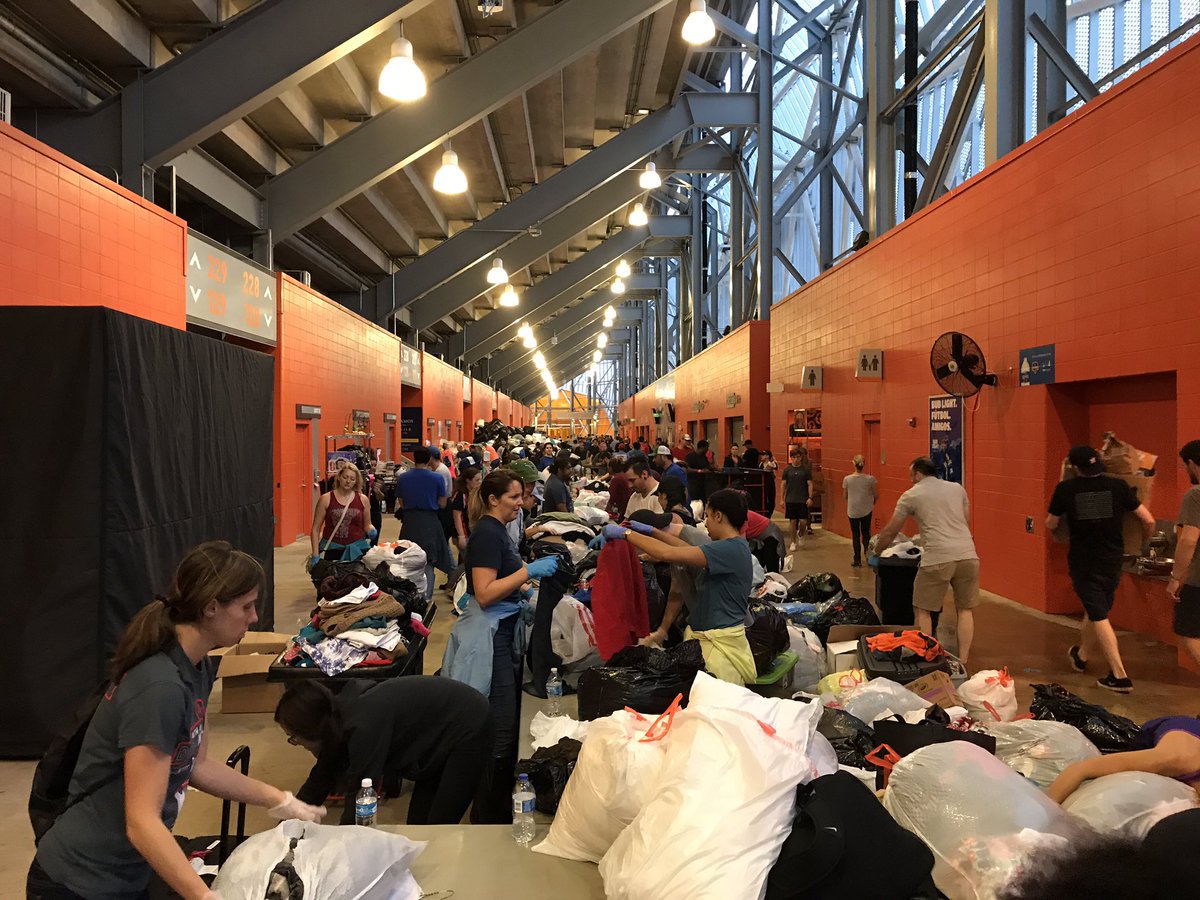 Houston is still coping with the aftermath of Hurricane Harvey. The storm powered up to a Category 4 hurricane before slamming into southeast Texas. It's since moved back out to the Gulf Coast, ramped down to a tropical storm, and then made a second landfall. Harvey has already broken rainfall records and will go down as one of the worst storms in recent US history. At press time there have been about 30 confirmed fatalities.
As government agencies and relief organizations mobilize to help families get to safety and get the city and the region functioning again, the rest of Houston, and the country as a whole, is trying to help out as best they can. Even the friendly neighborhood mattress store.
The Houston Dynamo have also leaped into action. As the relief and clean-up effort grew, the city's MLS franchise—along with the Dash, the city's NWSL team controlled by the same ownership group as the Dynamo—opened the doors at BBVA Compass Stadium to collect food, clothing, and first aid supplies. By midday on Wednesday, the collection drive had reached capacity.
Incredible show of selflessness from Houstonians tonight at @BBVACompassStdm.

Taking donations again tomorrow at 7am. #HoustonStrong pic.twitter.com/RZMDbaPunn

— Houston Dynamo FC (@HoustonDynamo) August 30, 2017
They're also selling T-shirts to benefit relief efforts.
Support the city of Houston and show that together, we are #HoustonStrong. Proceeds benefit Hurricane Harvey relief: https://t.co/H3ZKbK0Sgh pic.twitter.com/IosQg2bXNJ

— Major League Soccer (@MLS) August 31, 2017
In addition to the collection drive, the Dynamo and Dash ownership group pooled funds with MLS to donate at least $1 million to the American Red Cross.
Meanwhile, former Dynamo and US midfielder Stuart Holden announced he'll be hosting a charity soccer game featuring current and former players (both men and women), celebrities, and local first responders. Details are still being sussed out, but proceeds from the game will go toward Harvey relief. The revenue from the game will no doubt be welcome; the people of Houston, along with the greater South Texas region and Louisiana, will need help rebuilding their lives and their communities for weeks and months to come.
@stuholden I'm in pimp let me know what's up

— Clint Dempsey (@clint_dempsey) August 31, 2017
The Dynamo, rightfully, have received a lot of positive attention for their collection efforts. Their facilities, assets, organization, and public profile gave them unique opportunities to harness resources and a desire to help, both in Houston and across the country. And of course, hearing stories of people coming together to help one another in times of crisis serves a larger cultural good by reinforcing charity and volunteerism as civic virtues.
But should the owners be doing even more to help? The Dynamo are a private business and, like any private business, they're not held to any moral obligation to lift a finger to help hurricane survivors. They certainly don't have a legal obligation. It's nice when they do, certainly. "Mattress Mack" is being hailed as a hero for opening his mattress store to serve as a shelter for those who needed it, and it's precisely because he didn't have to do it.
Then again, "Mattress Mack" didn't receive millions in taxpayer dollars to open his mattress store.
The Dynamo, like practically all American professional sports teams, were the beneficiaries of public funds awarded to build BBVA Compass Stadium. The facility ran up $95 million in construction costs, of which $35 million was paid by the City Of Houston and Harris County. Yet despite the taxpayer investment in these facilities, they're not public assets in the way that, say, parks and libraries are. It's still private property, owned by private enterprises. (Yes, Green Bay Packers fans, we see you. We know you're the exception.)
Disasters like Hurricane Harvey raise an interesting conundrum: do sports teams who receive public subsidies have an obligation to serve the public interest? It's one thing to congratulate the Dynamo for doing so much for Harvey survivors, but isn't this what should be expected of them?
Hurricane Harvey Donations:

Houston Astros: $4M
Houston Rockets: $4M
Houston Texans: $1M

— Darren Rovell (@darrenrovell) August 29, 2017
This, of course, gets into some complicated political, economic, and sociological territory that is well outside the scope of this article. For now, at least, it's totally appropriate to acknowledge all the work the Dynamo are doing to help their community. But on any given day, proposals for new stadia for sports teams—in soccer and other sports—are winding their way through city council chambers and state legislatures. Those proposals, inevitably, include a request for taxpayer funds. Ideally, deliberations over these stadiums would include an interrogation of whether, and how, teams will serve the public interest in exchange for public funds.
And if those discussions don't happen, it might be worthwhile for the taxpayers who will end up on the hook for these stadia to ask why.
To help, consider a donation to the Greater Houston Community Foundation's Hurricane Harvey Relief Fund. 
---
Follow James on Twitter @thaumatropia.
Contributors
Bridget Gordon
TAGS
WELL, IT DEPENDS ON WHAT YOU MEAN BY "FREE."
Enter your best email for full access to the site.