Home
Dirty Tackle
Jose Mourinho reinvigorates himself by trading insults with Antonio Conte
Jose Mourinho reinvigorates himself by trading insults with Antonio Conte
January 7, 2018
The man who used to be the Premier League's most special takes his pleasures where he can find them in an otherwise nightmarish campaign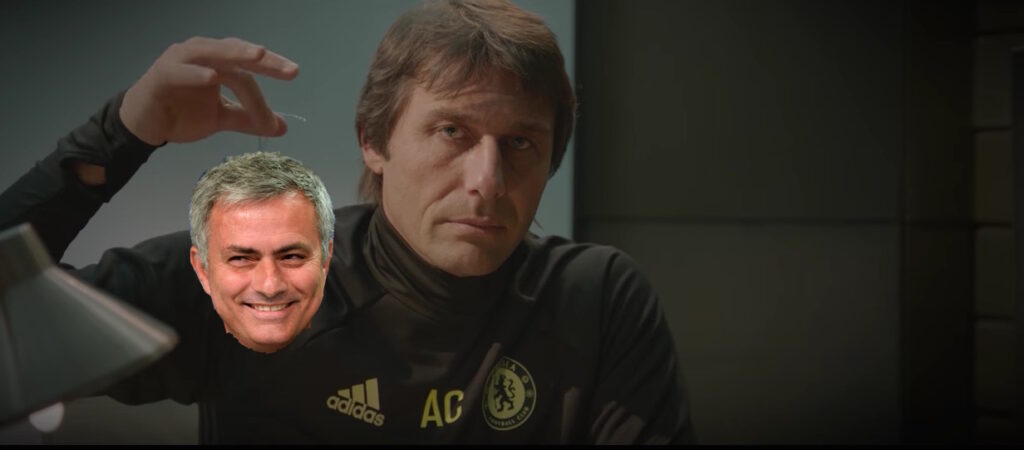 The 2017/18 season has not been one to remember for Jose Mourinho. His Manchester United have already been knocked out of the Carabao Cup (a competition they won last season) by Championship side Bristol City, he's a distant second to arch-nemesis Pep Guardiola in the Premier League table, and headlines like this are actually based on real quotes:

As David Rudin recently pointed out, Mourinho's repertoire of antagonism is wearing thin. But he's still found one person willing to engage in the vitriolic tango that feeds the need to be loathed that he thrives off of.
If you're Jose Mourinho, everything Antonio Conte has done since his arrival at Chelsea can be twisted into a personal assault. From the Italian's "humiliating" celebrations when his Chelsea beat Mourinho's Man United 4-0 to resurrecting the Blues and winning the Premier League the season after Mourinho was sacked to being praised for defensive tactics that Mourinho has been criticized for, Conte's existence has continually infuriated Mourinho for nearly two years now.
And Mourinho has made no secret of that fact—targeting Conte in front of an insatiable press corps every step of the way. But unlike previous Mourinho targets like Arsene Wenger, Rafa Benitez, and Guardiola, Conte seems to revel in his responses just as much as Mourinho does his instigations.
Over the last few days, this dynamic has reached new heights. When Mourinho said he doesn't have to "behave as a clown on the touchline" to prove his passion for Man United, the press interpreted that as a dig at the always animated Conte and needled the Chelsea manager for a response, to which Conte said Mourinho must have/be "demenza senile" to not remember his own cartoonish antics on the touchline at his previous clubs. That was then taken back to Mourinho, who said that he was actually talking about himself, but then punctuated a rather disarming speech by saying, "The only way I want to end the story is: yes, I made mistakes in the past on the touchline and yes, I will make less but I'll still make a few. What has never happened to me and will never happen is to be suspended for match-fixing. That never happened to me and it will never happen."
This was a grenade-like reference to when Conte was accused, and eventually acquitted, of failure to report match fixing during his time with Siena (Mourinho has already made a sly reference to Conte's hair transplant, so this was his next best piece of ammo). If you're wondering if this is a touchy subject for Conte, just watch this:
So, following a dire 0-0 draw with Norwich City in the FA Cup, Conte stepped up to the mic and kept the flame-war going.
From the Guardian:
"I think before you make this type of comment, before to hurt another person, you must pay great attention," Conte said of Mourinho, who had stated the previous day he had never been, and will never be, suspended for match-fixing.

"You show you are a little man. A little man. You don't know very well [what] is the situation. But I know him very well in the past. In the past he was a little man in many circumstances, is a little man in the present and for sure he will be a little man in the future. […]

"I remember a stupid example with Ranieri," he said. "When he offended Ranieri for his English. Then when Ranieri was sacked he put on a shirt for Ranieri. You are a fake. I think you have good consideration for a person or not. It doesn't change your opinion to be more sympathetic. If you want to fight a person, you try to kill this person. And then after two years you try to help this person, because maybe it's good for you, for your profile."
Both men know that this back and forth through the press is a handy distraction for them and will surely keep it going as long as it serves a purpose. Man United haven't improved enough to challenge for the title and questions remain whether Mourinho will stay for another season, while Chelsea have slid back to third after running away with the title last season. But this fiery diversion will soon add to the spotlight on the struggles of one or both managers when Chelsea face Man United at Old Trafford at the end of February. "Me and him face to face. I'm ready. I don't know if he's ready," Conte said of that date, as if it was scheduled to be a rap battle rather than a football match.
Meanwhile, an unscathed Pep Guardiola confidently luxuriates in his 15-point lead atop the table.
---
Follow Brooks on Twitter @BrooksDT.
Contributors
Howler
TAGS
WELL, IT DEPENDS ON WHAT YOU MEAN BY "FREE."
Enter your best email for full access to the site.