One loss doesn't make this Man City team any less remarkable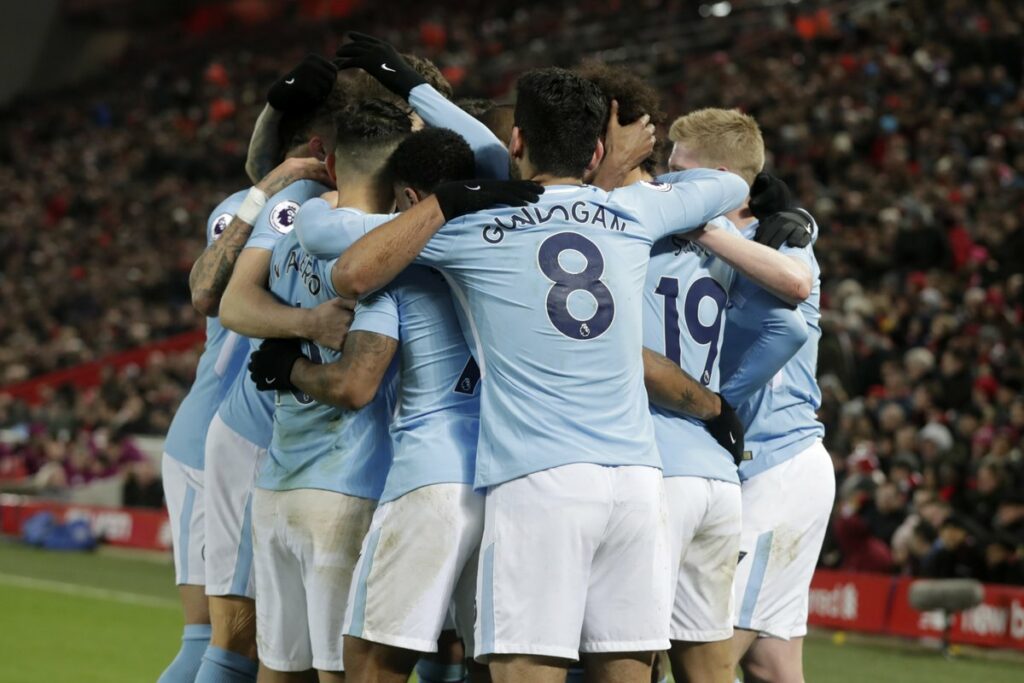 There's a certain magic to the rarest achievements in sports. Pitchers throwing perfect games. Basketball players racking up a quadruple-double. The Triple Crown (both the horse racing one and the baseball one).The Patriots not winning the Super Bowl. (I kid, I kid.) The myths behind these accomplishments can build up so much that when we so much as sense one on the far horizon, an awed hush can settle. We don't want to talk or breathe too loudly, lest we jinx it. Even if we're not fans of the players or teams in contention for something like that, we still tend to recognize the specialness of the moment. We want to be part of it, even if it's not our team.
But the magic is formed in part because of how ahistorical these achievements tend to be. In soccer, the most obvious candidate for exceptionally rare achievement has to be the Invincible Season. Manchester City seemed on course to become only the third English team to post an Invincible season. The media started blowing that horn in earnest last month, breathlessly wondering whether we would yet live to see another Invincible team storm into the history books. But it was not to be. Whatever dreams City had of carving out such a rare distinction for themselves were dashed this past weekend, tossed about and torn apart in the chaotic maelstrom of red shirts and high pressing known as Liverpool.
During post-match coverage, the on-site commentating team for NBCSN—Messrs. Arlo White, Graeme Le Saux, and Lee Dixon—sounded utterly distraught. The tone as they discussed this Invincible season that would never be was downright funereal. They invited City players onto the pitch at Anfield to unpack and process this fresh trauma. It took some very long minutes before the trio would even mention Liverpool as a party to such shocking proceedings; if you listened only to the first five or ten minutes you could be forgiven that there was no opponent that beat City, that this was just a thing that happened. Tragic, and (perhaps necessarily) abstract. It wasn't until Jurgen Klopp offered his own reflections and did something of a victory lap—complete with an F-bomb, which Arlo White later apologetically referred to as "fruity language"—that a context-ignorant viewer would learn that there was an instigator to this tragedy. City didn't just lose something valuable; someone took it from them.
The NBCSN trio were not alone in their shock. City's Invincible dream was "scuppered." They may have lost, the New York Times would reassure us, but their aura of invincibility was barely dented. Arsenal's legacy was preserved. The sentiment was becoming clear—City remain a strong team, one of the strongest in Premier League history, but the collapse of their bid for an Invincible season was nonetheless shocking. We need answers. We need to grieve. We need to find something to salvage what has otherwise been an exciting season.
As noted, only two English teams have pulled this off before.
The first was the legendary Preston North End team led by William Suddell in 1888-89. They won the inaugural season of the Football League and the FA Cup, tallying 23 wins and four draws across both competitions. The first top flight league champions, the first team to do the double, and, for over a century, the only team in England to claim the Invincible moniker.
That record was finally broken, of course, in 2003-04 by Arsenal. Whatever else one may say about Arsène Wenger and his legacy with the Gunners, he oversaw an imperious squad that went unbeaten over 38 Premier League games.
In some ways, that Invincible season has proven to be as much of a curse as a blessing. Nothing Wenger did at Arsenal, before or sense, lived up to the impossible standard he set for himself and for the team in 2003. That the Invincible season was one of the last to be played at Highbury only further distances it from the present day; that season was in living memory, in recent memory, but it still feels like an entirely different era. Before the Emirates Stadium. Before the Premier League became awash in Middle Eastern oil money. Before the Glazers, before Henry, even before Abramovich (barely). It may lie in the recent past, but it's still in the past. On a civilizational timescale it's no more recent than the PNE Invincibles, or the dominant Aston Villa sides in days of yore, or that brief period in the 70s when West Bromwich Albion were actually kinda good. An Invincible season might just be a once in a century achievement. (Maybe not even that! Neither English Invincible season happened in the 20th Century.)
So should we be disappointed when a strong team can't quite pull it off? Plenty of high-level elite managers lose their jobs due to failure to win the league, or to triumph in Europe. Real Madrid are expected to win a treble every season. Are we now going to add Invincibility to the list of expectations laid on the shoulders of elite European teams?
The 2017-18 Manchester City squad are dominant in a way that most players and managers and club chairmen can only dream of. They're easily one of the best in Europe right now. They're still on track to win a quadruple. They almost certainly have the Premier League title sewn up, notwithstanding the loss to Liverpool. This team isn't just very good; they're historically good, the kind that future managers will study in their coursework while studying for their UEFA A licenses. They also had a chance to do something that only five other teams in Europe, and two in England, have ever done before. They fell short, but it's remarkable that they got this close. To turn something so remarkable, so ahistorical, as an Invincible season into something expected would both serve as an unfair judgment on an otherwise dominant team and diminish the magic that such a season has.
Some big moments in sports happen every season, like a no-hitter in baseball. Some are once-in-a-generation accomplishments, like repeat gold medals in the Olympic 100 meters. And then there's the once-in-a-century occurrences, like the Cubs winning the World Series. Or, you know, an Invincible season. Those exceptionally rare moments are magical, but there are still games and seasons to play out. The Liverpool-City game this past weekend ended an Invincible bid, but it was also easily one of the best games of the season. It would be a mistake to overlook some of the magic that happens every weekend while waiting for something that your grandkids might not even get to see.
You can spend your whole life staring at the night sky waiting to see something that no one has seen before. But there's a case to be made for the sunrise as well.
---
Follow James on Twitter @thaumatropia. 
Contributors
Bridget Gordon
TAGS
WELL, IT DEPENDS ON WHAT YOU MEAN BY "FREE."
Enter your best email for full access to the site.