Milene Domingues: The Juggler Queen
March 15, 2022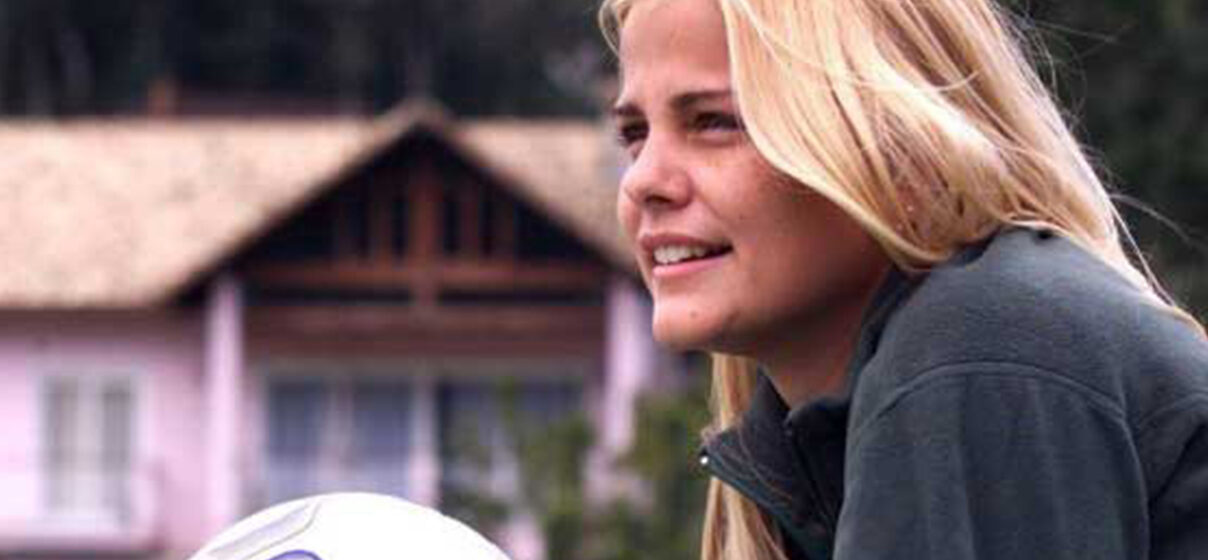 The unique footballing life of one of Brazil's greats
Sao Paulo has been home to some of Brazil's biggest stars—Rivaldo, Kaka and Socrates, to name a few—but rarely has a player tapped into the heart of Brazilian football culture in the same way as Milene Domingues, the Juggler Queen.
In 1999, Ronaldo was the biggest name in world football. He was the world's most feared striker—so good that they didn't just name him after a natural phenomenon, like a hurricane or an earthquake—his nickname was simply Il Fenomeno.
The title of best ball-juggler in his own family, however, didn't belong to Il Fenomeno.
That honor belonged to his wife, Milene Domingues, whom he married in 1999. Despite early criticism of their marriage from the Brazilian public — Ronaldo had previously been dating a popular model—Domingues soon won their hearts as it became clear that she could match her other half for talent.
In Brazil, there is sometimes more emphasis placed on self expression than other concerns, like tactics or team structure. The great Brazilians all have the ability to express themselves eloquently with their skill. From Pele to Garrincha, Kaka to Ronaldinho, and Neymar to Ronaldo himself, they all had the ability to be showmen.
In his book Futebol: The Brazilian Way of Life, Alex Bellos argues that "the purest form of this skill is encapsulated in ball juggling." And if this is true, then Milene Domingues is as pure as they come. In 1997, at the age of 17, she broke the women's world record for the most consecutive keepy-uppies, juggling the ball 55,187 times in a row.

Milene was born in June 1979, in the municipality of Sao Paulo. Her father died when she was one year old and she was brought up by her mother and her football mad brothers, who passed on their love and had a ball at her feet as a toddler. Her passion and interest in the beautiful game kept growing and eventually expanded in a crucial way.
Milene's obsession with football — stemming from her and her brothers' admiration of Maradona — led to constant practice in order to improve her repertoire of skills.
"One day, when I was 12, I saw Maradona on TV, he was kicking a ball with his feet, his knees, his thighs," she told The Guardian in 2003. "And the ball never touched the ground. It was astonishing. Immediately, I decided I would teach myself to do what he could do. Every break I had, I practiced ball juggling."
Those skills ended up providing her a path to fame. "One day the owner of the agency saw me and said, 'Show me what you can do,'" she said. "I did over a hundred keepie-uppies, and he told me to go along to his friend's club where they were setting up a team."
In 1994, at 14 years old, she was chosen as the halftime entertainment for Sao Paulo side Corinthians at Arena Corinthians stadium. She was paid 3,000 Brazilian reais per month (at the time roughly equivalent to U.S. dollars) to entertain the masses.
The success of the men's team at the 1994 World Cup caused a boom for women's football and Domingues joined an amateur club, developing her game further. As the glow of the World Cup faded and interest waned, the club folded and Milene was left on her own.
Milene wanted to make her name with a world record and she dedicated herself to the task. By 1997, her talent had developed to such a level that she was able to give the record a go, but she wasn't simply relying on skill.

"It was a meticulously planned challenge; she was trained by Moraci Santana, the Brazil fitness coach at the 1994 World Cup," Bellos writes. "Preparation included learning how to eat and urinate without the ball dropping."
In an event that lasted nine hours and six minutes, the 17-year-old broke the world record for most keepy-uppies in a row. She juggled a ball an astonishing 55,187 times in a row, all while still managing to eat, drink, and use the toilet.
Her success shot her to stardom. Across Brazil, she became known as rainha das embaixadinhas — the juggler queen. She became a national treasure, with billboards of her juggling a ball plastered around the country.
One man in awe of her talents was Ronaldo.
At this point, he was one of the biggest names in world football and certainly the golden boy of Brazil. The former Cruzeiro youngster was playing in Italy for Internazionale and had taken Europe by storm. In five years in Europe, he had played for PSV, scored 34 goals in 37 games for Barcelona and moved to Inter for a world-record fee. Even rival captain Paolo Maldini of AC Milan said, "Ronaldo during his first two years at Inter was a phenomenon."
Ronaldo saw Milene on television in 1999—two years after her record-breaking show—and quickly set about getting her number, eventually being introduced by a mutual-friend.
"When he asked me out for dinner, I thought it was a joke," she told the Guardian. "I didn't open my mouth for the whole night. After dinner, we, they, all of us, went to a samba concert and Ronaldo and I danced."
Their romance continued to pick up speed. By July she was pregnant and in December, the pair married at Ronaldo's mother's mansion in Rio de Janeiro. Milene's mother didn't attend the wedding, as she did not approve of the marriage. "They fell in love straightaway. For me it all seemed a bit quick. I was a bit worried," she said.

Domingues moved to Milan to be with Ronaldo following their marriage, but took a three-year break from the game. She had been playing professionally with Corinthians at this point, and scoring 60 goals in 118 games. During the hiatus, she gave birth to their son and then dealt with the fallout from a severe injury to her husband.
Six days after the birth of their son, Ronaldo returned to action following an injury, but he lasted fewer than 10 minutes as a substitute before his knee collapsed. At the time, it seemed as though his career could be over. The injury sent him into a state of depression; suddenly, Milene found herself nursing Ronaldo back to an emotional equilibrium while also raising their newborn son, Ronald. Despite being at the prime playing age of 21, focus on her own career faded as Ronaldo's recovery became a priority.
She finally return to playing in 2002, after a three-year hiatus.
"Since I arrived in Italy two years ago I have wanted to play soccer again," Domingues told the Evening Standard in March 2002. "I used to play back in Brazil, soccer is a passion for me, not a job. But first I was pregnant, then my son Ronald was a baby. Now he's grown up a bit. Ronnie (Ronaldo) told me I should play soccer again."
She joined a women's side, Fiamma Monza, who were based six miles outside of Milan. At the club, she instantly impressed and her return to the field led to another broken record. In 2002, following her husband to Madrid, she was signed by Rayo Vallecano for £200,000 — ten times the previous transfer record for a female footballer in Spain. Although a steep investment and huge increase on the previous record, the club knew that they could make more money out of the Brazilian — who had an unbelievable pulling power from a marketing point of view.
As well as her footballing skills, Rayo's owner, Teresa Rivero, also sought to capitalize on Milene's modeling work. In addition to her contract of £30,000 per year, Milene was also given a reported £100,000 in advertising work for the owner's bakery.
Spanish rules, however, dictated that Milene would not be able to play professionally for Rayo. Women's football regulations prohibited foreign players from playing professionally in competitive games. Neither Rayo, nor Milene, were aware of these rules.
As a result, Domingues, who was nicknamed "Ronaldinha" by the Spanish press (she didn't like the nickname), lived with her husband in Madrid, but flew back to Milan every week to play for her former side, Fiamma Monza. Their separate footballing lives meant the pair did not get to see much of each other. "When I am at home he has Champions League," she told The Guardian.
In 2003, a year after his big transfer to Madrid, Ronaldo and Milene divorced. The process was difficult, with financial differences and the support of their son Ronald at the heart of the debate. Over time, the feelings have smoothed out.
"We have a good relationship, we are not friends but he will forever be the father of my child and I know we can count on each other," she told Caras earlier this year. She also called the split her "graduation as a woman."
Her career didn't slow down after their divorce. A year later, Milene represented Brazil at the 2003 Women's World Cup in the United States. She then left Rayo Vallecano, without ever playing a competitive game, to join AD Torrejón CF—one of the leading amateur women's sides in the capital city. It was there that she had her most fruitful spells since leaving Corinthians in her homeland. In three years playing for Torrejón, Domingues scored 22 goals in 70 appearances.
She played another two years after leaving Torrejón, joining CF Pozuelo de Alarcón Femenino, where she saw out the rest of her career in the Spanish Segunda Division.
As her career in football came to an end, Milene returned home to Brazil where she continued to be a star, focusing more on her other passion of modeling and raising Ronald, now 16, with her new partner Rubens Lopes — a jujitsu teacher. Milene frequently displays her love for her son in social media posts, but football fans will be disappointed to learn that the son of El Fenomeno and the Juggler Queen did not follow his parents into the beautiful game.
Domingues's story is bittersweet. She was so talented, but chose to sacrifice her own career in order to support her ex-husband in his. But she did succeed in making a name for herself, and in a way that is quintessentially Brazilian. Her skill matched that of Ronaldo's, and throughout her career, people fell in love with the Juggler Queen.
Contributors
Scott Salter
Scott Salter is a freelance football writer who has also written for the likes of These Football Times, The Football Pink and more.
TAGS
WELL, IT DEPENDS ON WHAT YOU MEAN BY "FREE."
Enter your best email for full access to the site.