While its players remain noticeably absent from the growing movement of athlete protests, MLS takes a muddled position on the matter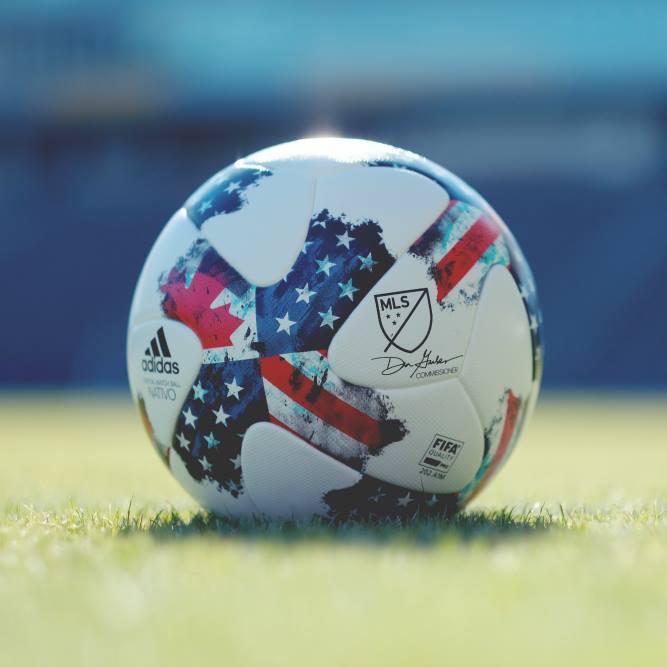 It's been a challenging time for Major League Soccer, as issues of race have recently dominated the national sports discussion. In a recent statement, MLS said, "Though we encourage our players to stand during the national anthem, we respect and support their right to express their personal beliefs." The league's statement stands in stark contrast to that of the United States Soccer Federation, who reiterated their support for Policy 604-1 on the same day.
Passed by the USSF's board of directors on February 9, the policy mandates that "all persons representing a Federation national team shall stand respectfully during the playing of the national anthems at any event in which the Federation is represented." It was enacted in response to Megan Rapinoe's decision to kneel in protest before the US women's team match against Thailand in September 2016.
The statement suggests that the USSF isn't interested in considering the powerful implications of what Rapinoe's protest represents in the first place, as the first white, gay, female athlete to join Colin Kaepernick in solidarity while also looking to draw attention to the inequalities suffered by LGBTQ Americans. According to Julie Foudy, the Seattle Reign winger said, "I'm disgusted with the way Colin has been treated and the fans and the hatred he has received in all of this. It is overtly racist."
The federation's response was disheartening, and it showcased their failure to acknowledge the purpose of the kneeling protest. According to Fox Sports' Stuart Holden, Sunil Gulati claimed that the measure was unanimously passed indicating that not a single member of the board feels comfortable addressing the difficult conversations required to confront racial inequality in the United States.
One of those board members is MLS Commissioner Don Garber, whose response to the passing of Policy 604-1 revealed his own opinion on the matter. "[The USSF] felt very strongly that if you are given the honor of being called up to play for your country, and you're going to wear our flag on your chest, you should stand for the anthem. And if you don't want to do that, you don't have to accept the call up, because there are dozens and dozens of other people who would probably enjoy that honor," he threatened in February. Garber further defended his position by suggesting that, as the USSF is "under the auspices of the United States Olympic committee" players should behave in the same manner as those who would be receiving medals on a podium.
In a series of tweets, MLS VP of Communications Dan Courtemanche parroted the league statement that MLS would respect players' rights to exercise freedom of expression. One tweet read, "MLS does not require players to stand for the national anthem. We respect and support players' rights to express their personal beliefs." But the 'we' he's referring to must not include the league's own commissioner and the statement seems rather hollow, considering.
The NWSL operates thanks to support from the USSF, so one would expect there to be some sort of oversight from the federation. MLS, on the other hand, is sanctioned by the USSF but supposedly operates independently, which might explain the opposing stances. That and the league has teams in both the United States and Canada. No spokesperson for the NWSL has come forward with a statement, and it's telling that no action has yet been taken against Rapinoe and teammates Lauren Barnes, Diana Matheson, Elli Reed and Madalyn Schiffel, or FC Kansas City's Becky Sauerbrunn, Sydney Leroux, Yael Averbuch and Desiree Scott who all remained in the locker room during the playing of the national anthem before recent matches.
Previously: Washington Spirit owner demonstrates how not to handle a protest
President Trump's unhinged attack on NFL athletes choosing to exercise their first amendment rights betrays the President's own muddled understanding of the purpose of their protest and his position sets a dangerous precedent for American citizens. More worrying still is that those in positions of power may take their cues from a man who has misrepresented and mischaracterized what could be a powerful movement for change.
Last year, Carmelo Anthony took to the streets of Baltimore to protest the death of Freddie Gray in police custody. After the police killing of 12-year-old Tamir Rice, Cleveland Browns wide receiver Andrew Hawkins wore a shirt that read, "Justice For Tamir Rice." The Browns were adamant that they respect their players' rights to take on causes they find important. After the killing of Eric Garner by New York police, Lebron James and Derrick Rose, among others, wore "I Can't Breathe" T-shirts in their pre-game warmups. The NBA's decision not to fine them for violating dress code spoke volumes. However, NBA Commissioner Adam Silver decided to make a statement addressing his expectation that players would stand for the national anthem, despite the fact that no NBA player has kneeled in protest, though he failed to specify a punishment for doing so.
Like the USSF, the NBA is seemingly making decisions based on the fear of any possible backlash from those who would challenge how much they love America, rather than addressing the real reasons for Kaepernick's protest. But MLS has an opportunity to do just that.
MLS, which boasts the most diverse league in American sports, has stayed out of the spotlight when it comes to matters of race in the United States. Perhaps, considering the league demographic — it is nearly 50% white — issues surrounding race are less in focus. Or, perhaps most MLS players don't feel as comfortable taking a strong stance on this topic.
As I mentioned in a previous piece, over 65% of players in the NFL and 75% of players in the NBA are African-American, according to a 2014 study by Harvard Sport Analysis. However, teams in the NBA and NFL attract viewers of a far more balanced demographic as both sports are watched and played in great number throughout the country. As such, their athletes and teams may have a unique platform from which they can communicate with fans.
It would seem it's not only the demographic breakdown of the players, but also that of the MLS audience which would incentivize the silence of the league and its players. Like the other professional sport leagues in America, MLS knows their bread gets buttered on both sides of the contentious socio-political conversations revolving around police militarization and brutality and race. According to Nielsen, Major League Soccer viewership has steadily increased over the past several years. Non-Hispanic white MLS viewership is nominally larger than that of African-Americans, Asians, and Hispanics. Moreover, this demographic has shown the highest increase in viewership as compared with the other demographics from 2009 to 2013.
As MLS continues to make significant gains in popularity, visibility and viewership, it remains very much in the league's interest to refrain from engaging in these conversations, whether or not such reticence is justified. Sure, the league's statement voices its support for players' rights to express their personal beliefs, but the statement is purposefully vague and it allows MLS to remain out of the conversation while seeming charitable. It's almost as if they're daring someone to act.
Frankly, it would be surprising if MLS players were to all of a sudden begin kneeling in protest during the national anthem after avoiding such displays for the past year. US captain Michael Bradley and Toronto FC coach Greg Vanney are still the only player and manager yet to use their platform to speak out on the violence and hateful demonstrations by white supremacists in Charlottesville. But very few MLS players have a platform that could rival those of athletes in the NBA or NFL and, due to more tenuous job security, they probably aren't willing to take such a risk, something of which Garber seems well aware.
It's not that MLS is against taking a strong stance on matters it feels deserve attention. Following the massacre in Orlando — the second most-deadly mass shooting in American history — several MLS teams produced touching tributes to the 49 victims. Major League Soccer's Twitter account produced a video with players from many teams speaking messages of unity with the city of Orlando. Commissioner Don Garber posed for a photo with talismanic midfielder and captain of Orlando City, Kaká, to show the solidarity of all the league's teams and players. It was a powerful gesture, and one which made clear the league's position.
In the wake of the crippling disaster caused by Hurricane Harvey, MLS made a concerted effort to work with local clubs, supporters groups and teams and owners across the league to collect donations and provide any miscellaneous aid they could to those in need in Houston. That the league has clubs based in Orlando and Houston, and considering its silence while issues of race have dominated the national spotlight over the past year and a half, makes their decision to take high-profile roles in the aftermath of major catastrophes seem cherry-picked and convenient.
Since the events in Charlottesville, and the most recent remarks from the President, the most MLS has done is post an article which linked to Michael Bradley's statements on Canadian website Sportsnet.
In a statement, the MLS Players Union vowed to defend the players' constitutional rights and condemned President Trump's unwarranted attack on NFL players. In part of the statement, the MLS Players Union included something rather interesting, which could serve as the impetus for MLS players to begin freely expressing their right to peaceful protest. "It is our deepest hope that the solidarity exhibited by professional athletes throughout North America can serve to encourage a more tolerant and less divisive society," the statement read.
The Union's statement suggests that we may soon see some sort of demonstration or show of support from MLS players for Kaepernick and his message. Regardless of their preferred form of activism, it appears that MLS players are ready to join the conversation about racial inequality that is the centerpiece of Kaepernick's protest. And it's about time.
---
Follow Amadi on Twitter @amadoit_. 
Contributors
Amadi Thiam
TAGS
WELL, IT DEPENDS ON WHAT YOU MEAN BY "FREE."
Enter your best email for full access to the site.