Fleshing out the lives of men who don't have as much control as it might seem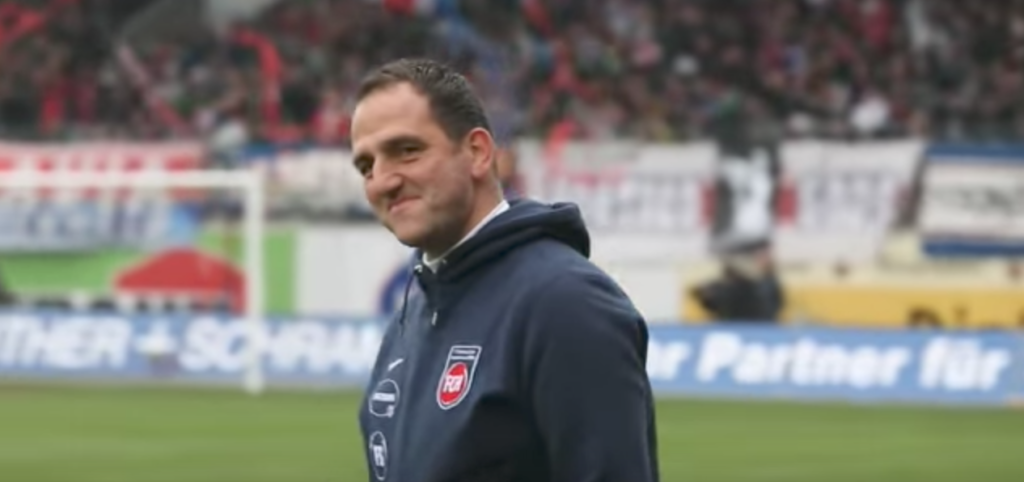 Football coaches are categorized in absurdly reductive terms. For example, the clueless buffoon is one category, and the stylish auteur might be another. Sadly, all coaches spend at least some time in the former category ("the man's a fraud, BLUD"), while the latter category is reserved for the lookalike coiffured intellectual (Pep). Surely, we can do better than these reductive caricatures in our public imagining of football coaches.
The German-language documentary Trainer! by Aljoscha Pause (currently available on Netflix in the US with English subtitles) certainly expands the public imagination of who football coaches are. Pause presents coaches as human beings with insanely complicated managerial jobs. In this director's hands, coaching football is simultaneously demystified (disenchanted even?), but also is made to look a whole helluva lot difficult than I ever imagined.
The documentary's protagonists are three graduates from Germany's famed DFB coaching academy: Frank Schmidt, Stephan Schmidt, and Andre Schubert. Viewers follow these three storylines during the 2012-13 season. Each storyline offers unique insight about coaching, as well as contrasting results. Not all endings are happy here. Yes, sacking is involved. Moreover, veteran coaches like Jürgen Klopp, Armin Veh, Thomas Schaaf, Michael Oenning, Peter Neururer, and Hans Meyer play supporting foils in shorter interview clips, offering insight corroborating with the bruising psychic burdens carried by the three younger protagonists.
Personality abounds with the Schmidts and Schubert. Frank S. has warm intensity, twinkling eyes, a barrel frame, and propensity to slug the dugout. Stefan S. is a product of Berlin's vicious football cage culture—a childhood from the wrong side of the tram—the kind of coach player supposedly would "go to battle for," i.e. charismatic. Meanwhile, Schubert is aloof and cerebral, frequently studying footage on his laptop while sipping frothy coffee beverages in his thick hoodies; his gaze wins the show.
Finally, the main coaching cast is completed by the man of many talents and insights: Frank Wormuth, the coach whisperer, as well as then-manager of the DFB academy. With his homey haircut, non-smart cell phone, umbrella, tucked polo shirt, and kind blue eyes, Wormuth almost steals the film. Some of my favorite moments are footage of Wormuth either in the classroom or on dark sleet-drenched training pitches observing the coaches in training. In a sense, he's the still point upon which German football itself revolves. Really. No wonder former SC Freiburg teammate Jogi Löw counts Wormuth as a dear friend.
Pause's narrative weaves together footage of all three new coaches from the 2012-13 season. We follow Frank Schmidt with then-third division FC Heidenheim, Stefan Schmidt with then-second division Paderborn FC, and Andre Schubert with St. Pauli. This technique, especially with its jump cuts, many establishing shots, and focus on minute physical details create visual texture that surely mimics the grinding experience of a professional football season itself. In particular, Pause's footage of coaches driving (always alone and in a BMW!) in the seemingly half-haunted German countryside becomes a sort of visual metaphor for the coaching professional itself, given the coach's lonely journey and role in connecting two other groups of people: admin/staff and players. These driving scenes reminded me so much of similar scenes from David Peace's Red or Read, a stunningly beautiful novel about legendary Liverpool boss Bill Shankly.
The real genius of Pause's documentary, however, is that the coaches themselves—simply through their coaching activities and interviews provide the film's content and commentary. Somehow, despite the three coaches' vastly different personalities, this content and commentary coalesces around unified themes, as if the coaches were telepathically channeling each other. For example, similar problems with media coverage emerge for all three, as do understandings about fans, the phenomenon of time/timing in coaching, the ubiquity of scapegoating, and, most importantly, the sheer "weight" of coaching.
Indeed, the "weight" or "burden" of coaching is probably the documentary's most significant theme. On this topic, the veteran coaches like Klopp, Veh, and especially Oenning offer the well-earned philosophical wisdom, humor, and perspective that, you sense, is built on years of intense psychological suffering as coaches.
In Pause's narrative, the psychic weight of coaching comprises the extraordinarily complicated (and interdependent) network of stakeholders, goals, vision, timing, planning, and sheer logistics of a single football season. Let alone two. Or 12. I mean, just surviving a single season as a professional football coach in the 21st century is a managerial job magnitudes removed from the halycon days of the likes of Herberger or Shankly. Furthermore, an indirect lesson from Trainer! Is that too much control is presumed by admins, coaches, and players alike. While too little is presumed to be random chance. Of course, too many decisions are made accordingly.
Although Pause seems to see through this somewhat misguided football management tendency to ceaselessly scapegoat others. Technocratic control simply breaks down at some point. Always. Indeed, after an agonizing 10 months of planning and playing, it all might simply come down to a couple of matches with that silly ball pinging off crossbars. What then?
At this chaotic moment, Pause indirectly offers a reason why we should show empathy toward our coaches. They just control so little, ultimately. At least this is the film's message in its final words when Frank Schmidt speaks to the Heidenheim's locker room after the final matchday: "That is football. That is Sport. That is life."
---
Follow Travis on Twitter @tptimmons. 
Contributors
Travis Timmons
TAGS
WELL, IT DEPENDS ON WHAT YOU MEAN BY "FREE."
Enter your best email for full access to the site.